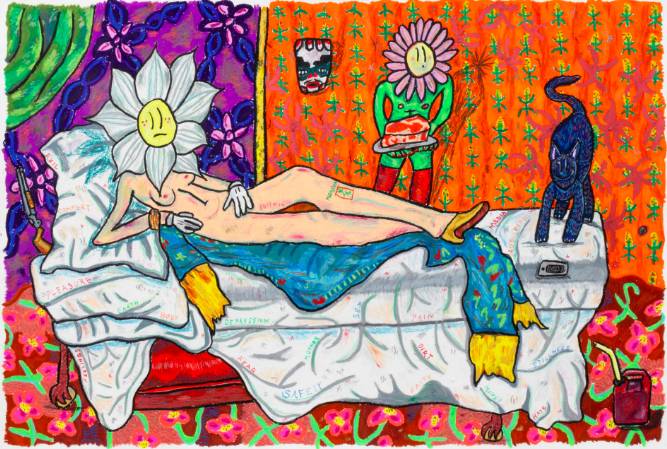 Marcel Alcalá: Sissy No Fool
204 S. Avenue 19 Los Angeles, CA 90031
Oct 18, 7 PM - 11 PM — ends Nov 17, 2019
Sissy No Fool
Hairy girl, long brown hair
Down below a package.
Gifted by mother, Non-Binary
Butch hand, manicured nails.
Yet misunderstood by basic folks.
Folks burning bridges to get a car started
Folks obsessed with common commodity
Folks believing that this land belongs to them
Sissy sisters don't talk to them
Cuz sissy sisters ain't no fools.
Those regulars treat the girls like dirt
And those regulars don't understand that this dirt is magic.
We all come from this dirt, and later become it.
Sissy girls ain't no fools.
Inside sissys got them spirits of ancient love.
Pure hearted filled with bliss
BUT don't get the girls mad.
They've been treated like sin for centuries, speaking them sissy words.
Watch out bias folks.
Mr. Regular
Cuz sissy no fool.
Nope!
Marcel Alcalá (b. 1990 in Santa Ana, CA) is a queer chicanx artist
currently living and working in Brooklyn, NY. Their work has been
featured at the Hammer Museum, MCA Chicago, Swiss Institute,
Ekebergparken, Rogoland Kunstsenter, Blum and Poe, Queer Biennial,
Tom of Finland Foundation, Consulate General of Mexico,
Los Angeles LGBTQ Center.