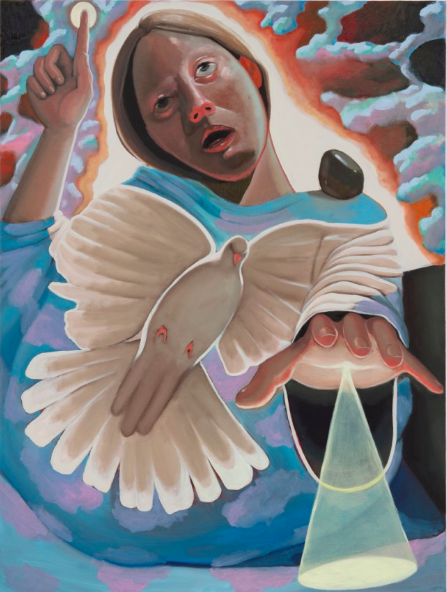 Anja Salonen: The Key of Chiron | Thomas McDonnell: Special Day
👀
Santa Monica 90405 address supplied with rsvp
Oct 26, 12 PM - 5 PM — ends Dec 21, 2019
Anja Salonen: THE KEY OF CHIRON

In 1977, a small planetoid named 2060 Chiron was discovered in our outer Solar System. Although a photographic record of it reaching back to the 1890s has been assembled, no one had noted it before that day at an observatory in Pasadena. In Greek mythology, the centaur Chiron embodies Jung's 'wounded healer' archetype. After facing early life abandonment, Chiron is fatefully pierced by his own poison arrow, incurring an unhealable wound that he carries with him for the rest of his life. This injury propels Chiron to a resurrection and transcendence of the physical experience, leading to a lifelong journey to discover and share the healing qualities inherent in nature.

Anja Salonen (b.1994) lives and works in Los Angeles and attended the Rhode Island School of Design and California Institute of the Arts, where she earned her BFA in Fine Arts. She is a visual artist, musician, performer, and Reiki practitioner. Along with artist Allegra Jones, Salonen collaborates in an ecstatic musical performance project called Dove Stone. She has had solo exhibitions at SADE, ltd Los Angeles, Lei Min Space and As it Stands in Los Angeles. She has exhibited at NADA NY and Miami, Foxy Production, Sargent's Daughters, Fredericks & Freiser, Thierry Goldberg, and The Hole in NYC, Material Art Fair, Sunday Art Fair London, NAM projects Milan, Mänttä Art Festival in Finland, amongst others. Her work was included in the Pacific Coast #127 edition of New American Paintings, has been featured in Juxtapoz Magazine, Elephant Magazine, and the New York Times, amongst others.


--------

McDonell's recent paintings call to mind the hard edge abstraction of the 50's and 60's. Their colorful interlocking shapes are reminiscent of later compositions by Lorser Feitelson or Frederick Hammersley or even Ellsworth Kelly, however their pictorial information is not derived from any representational starting point, they are not abstracted. They are sculptural paintings with a twist, containing all the standard formal qualities of color, line, weight, value and depth - but the materials are transformed by McDonell's skill, as he pours and molds everyday basic substances to make these "paintings". The works are loose in a way akin to more expressionist behaviors; the shapes that occupy most of the space are not geometric, and the edges of the canvases are sometimes festooned with controlled, chaotic drips – like distant constellations or confetti after a parade. Toeing a line between the cool-cerebral and hot-emotional, they are evocative, feeling as if a party has just begun or, perhaps, just ended.

Thomas McDonell (b. 1986, New York, New York) lives in Los Angeles. His interdisciplinary work, often ranging from painting and sculpture to performance and intervention, has been included in recent exhibitions at Aetopoulos gallery in Athens, Ramiken Crucible and Marlborough Contemporary galleries in New York, and Roberts Projects, Edward Cella Art & Architecture, and Phil Gallery in Los Angeles. His curatorial work includes a video art exhibition at Best Buy and an exhibition of sculptural installations at the Southwest Museum of the American Indian that took place during its merger with the Gene Autry Museum. He has contributed to recent issues of the Buffalo Zine, Marfa Journal, and F Magazine, and is currently installing a city-wide public video art exhibition in Sao Paulo, Brazil.