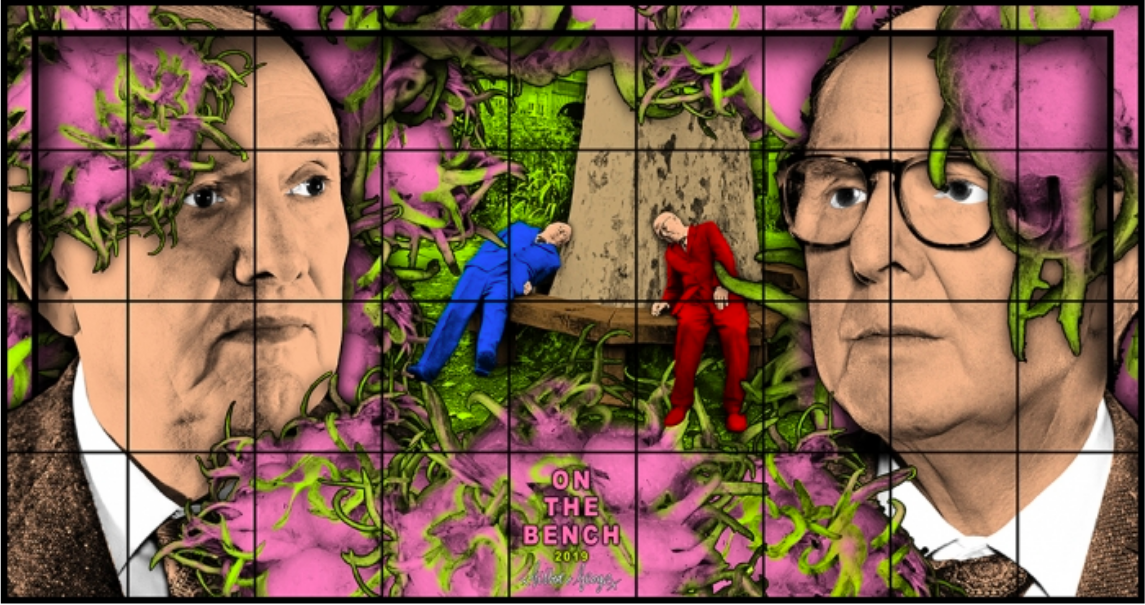 Gilbert & George: THE PARADISICAL PICTURES (+ Conversation 11/16)
5900 Wilshire Boulevard Los Angeles, CA 90036
Nov 15, 6 PM - 8 PM — ends Jan 25, 2020
Gilbert & George have created art together as one visionary, artistic entity since 1967, when they met at Saint Martins School of Art in London. Recognized by institutions and collections worldwide for their groundbreaking, fiercely independent and influential art across diverse mediums, they continue to produce confrontational, richly emotive and thought-provoking art that, more than fifty years later, pushes into ever-new territory. Sprüth Magers is honored to début Gilbert & George's PARADISICAL PICTURES, a new group of thirty-five major pictures that mark the artists' first solo exhibition in Los Angeles in nearly two decades. In these dense, richly colored vistas, references emanate from disparate eras of cultural history, including nineteenth-century Romanticism and the pop milieu of science fiction and comic books. No object is necessarily as it seems in the PARADISICAL PICTURES' strange, mind-altering scenes.
-------
-------
SATURDAY NOVEMBER 16, 4PM:
Gilbert & George Conversation & Book Signing
Sprüth Magers, Los Angeles 5900 Wilshire Boulevard
On the occasion of Gilbert & George's exhibition THE PARADISICAL PICTURES at Sprüth Magers, Los Angeles (November 16, 2019 — January 25, 2020), the gallery is pleased to present a conversation between the artists and critic Jonathan Griffin. Since the late 1960s, Gilbert & George have worked together as one artistic entity, conceiving an approach to art-making that explores modern morality, human frailty, the city and the natural world through commonplace yet intensely emotional imagery. Under cover of their deceptively straightforward visual language, they tackle critical, provocative subjects that tap into the deepest drives of contemporary society. Jonathan Griffin, born in London and based in Los Angeles, is a freelance writer, critic and a contributing editor to Frieze magazine. He writes regularly for Frieze, Art Review, Apollo, and the Financial Times, among other publications, and is the author of numerous essays in monographs and exhibition catalogues.
Seating is limited; please RSVP by emailing
rsvp.la@spruethmagers.com
or calling +1 323 634 0600.
Free