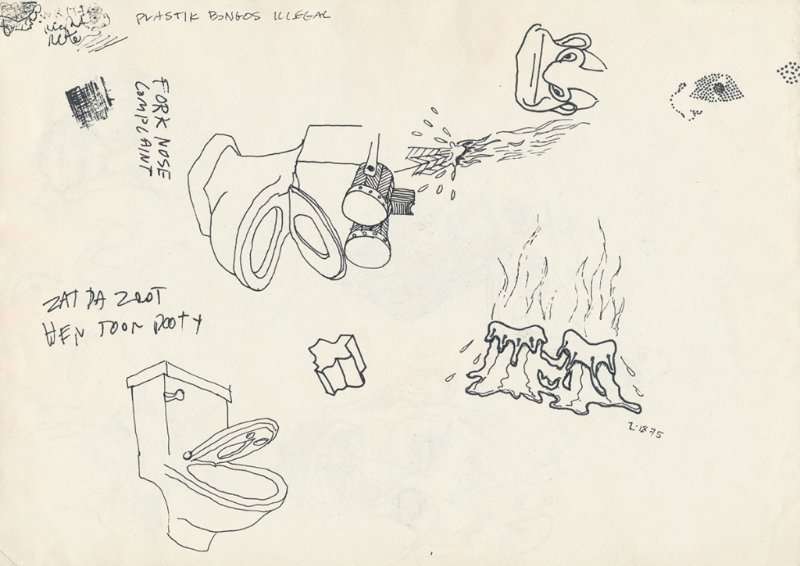 DON'T THINK: TOM, JOE AND RICK POTTS
2130 VALLEY BLVD ALHAMBRA, CA 91803
Dec 08, 6 PM - 8 PM — ends Feb 16, 2020
POTTS is pleased to announce its final exhibition, DON'T THINK: TOM, JOE AND RICK POTTS. Comprised of historical works spanning a period of more than four decades, this presentation will bring the brothers' work together for the first time at the exact site of their creative origins their family's former plumbing parts store in Alhambra, which namesake POTTS gallery now occupies.

In 1973 the Potts brothers co-founded the seminal experimental music collective, Los Angeles Free Music Society (LAFMS), staging their first performance under the moniker Le Forte Four. LAFMS, whose impromptu methodology of absurdly layering sounds from found objects, handmade and traditional instruments, and sampled material, would later grow in membership, achieving underground eminence and significantly influencing the history of avant-garde music. The Potts, continuing to operate at the core of the collective, quietly pursued individual projects.

From growing up in the plumbing parts store, their aesthetically disparate work came to be characterized by a resourceful, do-it-yourself ethos. This exhibition will consist of key works from their development as visual artists, along with a number of more recent projects and shop relics.

Eldest brother Tom's functional assemblages demonstrate an unconventional pragmatism. Originally sourced from discarded plumbing parts and now comprised of objects found near his rural Montana home, his works straddle the line between aesthetics and utility. One example is a sort of meta-sculpture: a sprawling pipe rack made from surplus pipes and fittings.

Joe's work will be drawn from the numerous series of graphic works he's made over the years, beginning with a selection of prints from the Daily Planet series from 1983, in which he developed a photomechanical transfer technique to enlarge and layer multiple exposure Xerox prints. Joe attended art school, where his convictions on the function of art began to take shape. For him, art exists in the response of a viewer to whatever stimuli they've been presented with. He describes both his sound and visual art as creating situations - opportunities to activate channels of communication between separate entities. In his visual work, as in his music, he often inserts subliminal messages and employs mind control techniques, in attempts to elicit a certain response. To this end, he has made numerous series of drawn, collaged, painted or photo-mechanically transferred graphic works using imagery culled from forensic pathology textbooks, porn, manga, tarot cards and thrift store paintings, often with unspecified apocalyptic overtones.

Youngest brother Rick, interested in the darker aspects of the human psyche, mines the subconscious through his paintings, works on paper and small sculptures. Equally influenced by underground comics, Dr. Seuss, Surrealism, Mad magazine, Rube Goldberg and Hieronymus Bosch, he has employed absurdist humor and an iconoclastic impulse in the creation of strange mutations since the mid 1970s.