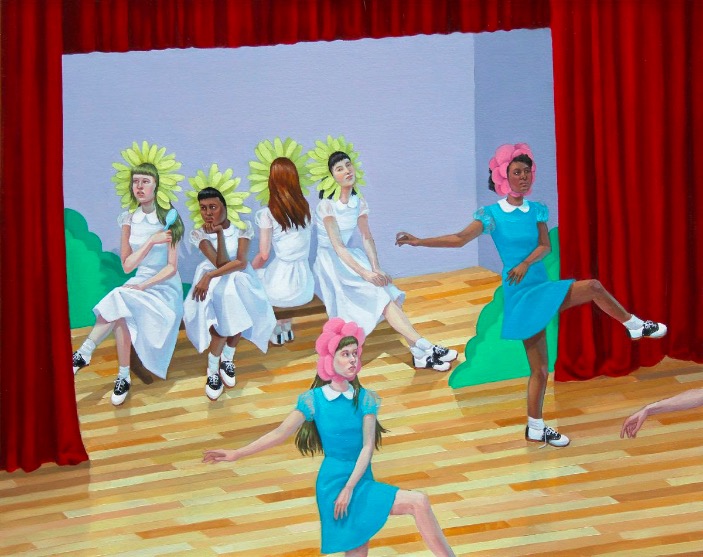 BEAUTY IS A LIAR
1923 S Santa Fe Ave Los Angeles, Ca 90021
Jan 11, 6 PM - 9 PM — ends Feb 01, 2020
Opening January 11th, PARISTEXASLA is pleased to present BEAUTY IS A LIAR, the gallery's first-ever group show including works by Eve Ackroyd, Natalie Baxter, Melissa Brown, Lindsay Burke, Leah Guadagnoli, Zoe Hawk, Staver Klitgaard, Melanie Moczarski, Lilah Slager Rose, and Kyle Staver.

The exhibition is curated by Hilde Lynn Helphenstein.

In BEAUTY IS A LIAR, Natalie Baxter's quilted guns point coyly at an allegorical painting by Kyle Staver. Watch as Melanie Moczarski's figures are eaten alive by flora and fauna. Sit with Eve Ackroyd's painted ladies, frozen in booze-drenched glamour giggling with Staver Klitgaard's masked bunny as she commits cold-blooded murder. Melissa Brown's Year of the Pig sits shiny, hustling you for spare change in all of her Chinatown splendor. Lindsay Burke's flat paintings are timing you through the days of your life. Lilah Slager Rose soft sculptures create a maze and the secret is that you're never getting out. Haley Josephs paints girls and flowers, but they're possessed by the devil. Leah Guadagnoli's sculptures are beautiful but they could kill you. Zoe Hawk paints packs of thugs adorned in lace. Throughout BEAUTY IS A LIAR is an invitation to the viewer to ponder the eternal shade that beauty casts and how good that feels.