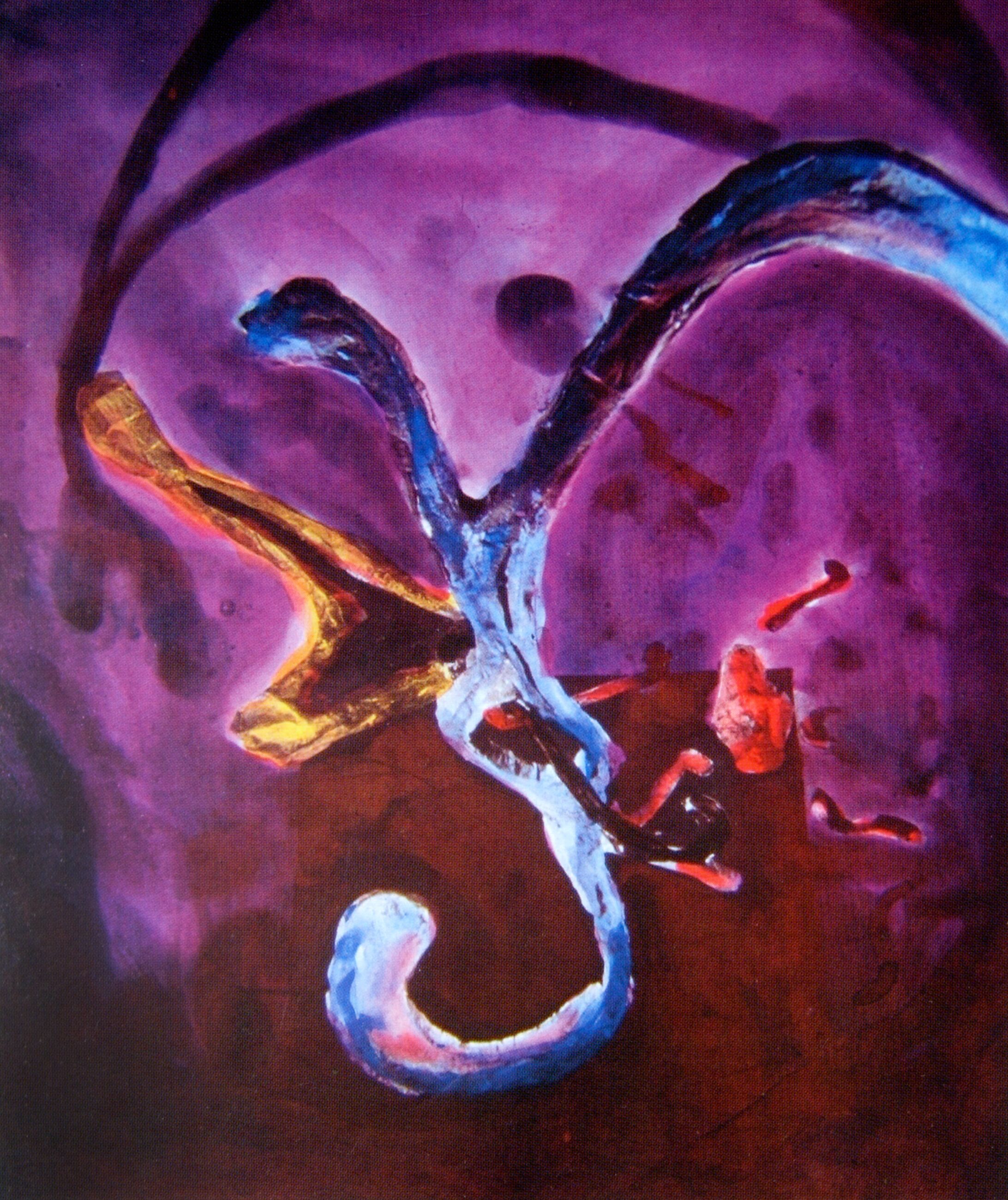 Lucio Fontana: Walking the Space (+Curator Talk) | Nicolas Party: Sottobosco | Artist Talk: Avery Singer in Conversation with Aram Moshayedi
901 East 3rd St. Los Angeles, CA 90013
Feb 15, 3 PM - 7 PM — ends Mar 28, 2020
Join us for the public opening of 'Lucio Fontana. Walking the Space: Spatial Environments, 1948 – 1968,' the US debut of the first comprehensive presentation of Lucio Fontana's (1899 – 1968) groundbreaking 'Ambienti spaziali' (Spatial Environments). Fontana, a visionary whose revolutionary practice continues to influence contemporary movements worldwide, conceived of his first environmental work in 1948, predating the conceptual achievements of Robert Irwin, James Turrell, and Donald Judd by more than a decade.

Arranged chronologically and beginning with Fontana's first spatial work, the exhibition will feature 9 self-contained installations spanning from 1948 to 1968, revealing the artist's revolutionary approach to artmaking in order to 'open up space, create a new dimension, tie in the cosmos, as it endlessly expands beyond the confining plane of the picture.'

Through collaboration with the Fondazione Lucio Fontana, Milan, this landmark exhibition, curated by Luca Massimo Barbero, will highlight Fontana's critical contribution to the evolution of conceptual art and the confluence of art with science and technology as a means to explore aspects of human perceptual experience.

--------------------------
Opening Day Curator Talk: Luca Massimo Barbero on 'Lucio Fontana. Walking the Space: Spatial Environments, 1948 -1968'

February 15, 2020 | 2pm
On opening day, join curator and leading Lucio Fontana scholar Luca Massimo Barbero for a discussion on Fontana's most radical, but least well-known body of work – the spatial environments – as presented in 'Walking the Space: Spatial Environments, 1948 – 1968.'

This event is free, however, reservations are recommended.


-------------------------------
Nicolas Party: Sottobosco

Join us for the public opening of critically admired, NY-based Swiss artist Nicolas Party's first LA solo exhibition; in conjunction with Frieze Los Angeles 2020. The Neoclassical South Gallery will be transformed into a universe of brilliant hues and surreal personae in an enveloping, site-specific environment including a monumental installation, murals, and sculpture.

-----------------------------
Artist Talk: Avery Singer in Conversation with Aram Moshayedi

Join Avery Singer, a pioneering contemporary voice whose work explores the possibilities in the convergence of painting and technology, and Hammer Museum curator Aram Moshayedi for a discussion on the occasion of Singer's solo presentation of new paintings at Frieze LA and first project with Hauser & Wirth. Together they will explore Singer's distinctive use of digital tools, including 3D modeling software, her deft engagement with established traditions of archival documentation, and her groundbreaking techniques that she uses to question the ways in which images and their distribution are increasingly informed by new media and technologies.

The presentation at Frieze LA follows Singer's participation in the 2019 Venice Biennale and solo museum presentations at Museum Ludwig, Cologne, Germany (2019), Stedelijk Museum Amsterdam (2016), and the Hammer Museum, Los Angeles CA (2015).

This event is free, however, reservations are recommended.

About Avery Singer
Avery Singer (b. 1987) was born and raised in New York. Her parents, the artists Janet Kusmierski and Greg Singer, named her after Milton Avery. Growing up in a creative community, Singer experimented with photography, film, and drawing, but in those years never considered working with paint. In 2008, Singer studied at the Städelschule, Frankfurt am Main, and in 2010, she received her BFA from Cooper Union, New York. During her studies, Singer engaged in performance art, video making, as well as sculpture utilizing carpentry, metal casting, and welding. After graduation, she discovered her chosen art form from an unanticipated experiment with SketchUp, a program used by her peers to design exhibition spaces, and airbrushed a black-and-white painting based on a digital illustration. Since then, Singer has employed the binary language of computer programs and industrial materials in order to remove the trace of the artist's hand while engaging the tradition of painting and the legacy of Modernism.


About Aram Moshayedi
Aram Moshayedi is a writer and the Robert Soros Curator at the Hammer Museum in Los Angeles, where he most recently co-organized (with Connie Butler) the exhibition and publication 'Paul McCarthy: Head Space, Drawings 1963–2019.' Other exhibitions include 'Stories of Almost Everyone'; 'Made in L.A. 2016: a, the, though, only' (with Hamza Walker); and 'All the Instruments Agree: An Exhibition or a Concert.' Since joining the Hammer in 2013, he has curated projects by artists Lawrence Abu Hamdan, Marwa Arsanios, Andrea Bowers, Andrea Büttner, Simon Denny, Mario Garcia Torres, Shadi Habib Allah, Maria Hassabi, Jasmina Metwaly, Oliver Payne and Keiichi Tanaami, and Avery Singer. He was formerly associate curator at the Roy and Edna Disney/CalArts Theater (REDCAT), where he organized exhibitions and oversaw the production of new works by Tony Cokes, Geoffrey Farmer, Erlea Maneros Zabala, The Otolith Group, Slavs and Tatars, Jordan Wolfson, and Ming Wong. He has contributed to numerous exhibition catalogues as well as Artforum, Art in America, BOMB Magazine, Frieze, Metropolis M, Parkett, X-TRA Contemporary Art Quarterly, and Bidoun, for which he is a contributing editor.