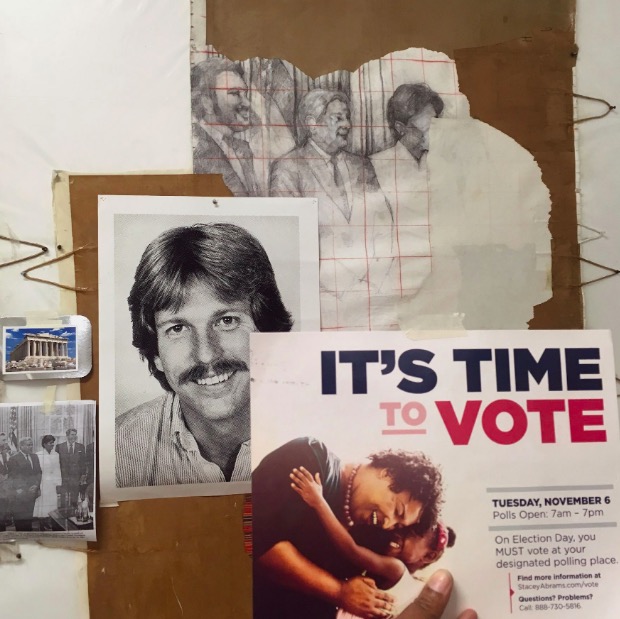 Tomashi Jackson: Forever My Lady | Miyoshi Barosh
2276 East 16th Street, Los Angeles, CA 90021
Jan 11, 6 PM - 9 PM — ends Feb 08, 2020
Night Gallery is pleased to announce Forever My Lady, a solo exhibition of new works by Tomashi Jackson. This will be Jackson's first exhibition at Night Gallery as well as her first solo exhibition in her hometown of Los Angeles.

Tomashi Jackson's multimedia practice places formal and material investigations in dialogue with recent histories of displacement and disenfranchisement. Drawing centrally from Josef Albers' research on the relativity of color and the unconscious processes by which the brain organizes and reconciles information, Jackson's work bridges gaps between geometric experimentation and the systematization of injustice, incorporating images hand-painted from photographs and materials chosen for their relevance into formalist compositions.

Jackson's latest body of work principally concerns the question of democracy, taking up its conceptual origins in Ancient Greece, with its contingent notion of obligatory civic participation. She compares this history of democracy to the realities of the present-day United States, with particular attention to the Voting Rights Act of 1965, written to prevent discriminatory practices at the state and local levels that prevented Black Americans from exercising their right to vote. Jackson cites the enactment of this law as the true beginning of American democracy, though she points to subsequent public crises – the rise of gerrymandering and the the crack epidemic that began in Los Angeles in the 1980s – to question democracy's true status in the US today.

The works in Forever My Lady trace these histories through strategic use of material, including ephemera from recent contested elections in the US and recent ballot materials from Greece. Jackson also crosshatches images from a wide array of sources, including portraits of investigative journalist Gary Webb, whose reporting exposed the CIA's role in the crack cocaine trade; the damning photographs that implicated US Presidents Reagan and Bush Sr. in this activity; and photos from her own family archives. Mounted on wedgelike frames that protrude at right angles from the wall, the works become sculptural, taking on the appearance of the low-profile awnings that characterize the Athenian cityscape and suggesting metropolitan space as it defines our notions of society and community.

Though the works offer analysis at a sociological scale, they are also intimately defined by the artist's personal experiences, born out of her own recent residency in Athens as well as her Los Angeles upbringing. Indeed, projected throughout the exhibition are original music videos set to R&B songs, chosen to reflect Jackson's own history and as well as the possibility of music as another avenue to collective memory. In tandem with the rest of the exhibition, the works explore the possibility of personal fulfillment within a ruthless structure. She writes,

This work [...] places the myths of American democracy in visual collision with its perverted reality (suppression of Black voters and the crack explosion of the eighties). Something of an excavation of origin for the idea of Democracy and the fact of what we have actually experienced. After walking through ancient ruins and seeing marks of humanity surviving and mourning, I thought of the impact on a people whose humanity has been consistently compromised, debated, and undermined. What mania must naturally arise when our behavioral links to all other people and civilizations of the world, knowable by respect for cultural antiquity, has been severed and we have been left othered like a side show? What is the impact of denied public recognition of crimes against our humanity sold to us as normal alongside the notion of the supremacy of American democracy and exceptionalism?

Masterful formal compositions in their own right, Jackson's works immediately attract the viewer with exuberant color, bold geometries, and intricate layerings of material, affirming the vitality of visual art. Her evocative materials and optical illusions provoke immediate responses but call for closer attention and consideration, revealing the social crises and personal histories present in all visual experience. Though spirited, the works are mournful testaments to the urgency of what is happening before our eyes.


Tomashi Jackson was born in Houston, Texas in 1980 and grew up in Los Angeles, California. She was included in the Whitney Biennial 2019, and her first solo museum exhibition, Interstate Love Song, took place at the Zuckerman Museum of Art in Kennesaw, Georgia in 2018. Her work has also been included in group exhibitions at MOCA Los Angeles; MASS MoCA; and the Contemporary Art Center, New Orleans. Jackson was a 2019 Resident Artist at the Skowhegan School of Painting & Sculpture. In 2020, she will have solo exhibitions at the Radcliffe Institute at Harvard University, Cambridge, MA, and the Parrish Art Museum, Water Mill, NY. Her work is included in the collection of the Whitney Museum; MOCA Los Angeles; the Baltimore Museum of Art; and the Pizzutti Collection, Columbus, OH;. She has taught at the Rhode Island School of Design, Providence, RI; the Massachusetts College of Art, Boston, MA; and Cooper Union, NY, and she has been a visiting artist at New York University. Jackson lives and works in Cambridge, Massachusetts and New York City.
------------

Night Gallery is pleased to host an exhibition honoring the life and work of the late Los Angeles artist Miyoshi Barosh (1959–2019), held in tandem with exhibitions by Luis de Jesus Gallery and The Pit.

Over the last fifteen years, Miyoshi Barosh made her work with humor and dystopian irony in a style she called "Conceptual Pop," with an emphasis on cultural blindness toward death, decay, and the disintegration of both utopian social constructs and ultimately the individual body itself. Barosh saw her work as "a manifestation of competing emotions around cultural conceits and identity politics through a handmade carnivalesque, a mischievous confrontation." Given her untimely death in 2019, her message is made even more poignant, if not tragic, because she lived it.

Night Gallery's exhibition highlights Barosh's use of vernacular craft processes and folk traditions in combination with digital technologies, made with both comic irony and heartfelt sincerity. These include the cartoonish "Large Legs," 2014, a site-specific installation first shown in the window at the Craft in America Center in Los Angeles, and "Holey America," 2005, made after Katrina as an embodiment of physical and cultural destruction.

In speaking about her work, Barosh said, "Questions of value, including perceived aesthetic value, are part of the narrative. Ideas about originality and authenticity are mocked while pointing to larger cultural failures that have to do with consumption and ecological disaster. I talk about materialism, accepted notions of value, and resulting anxieties through my work—subjects that are relevant to everyone. While socio-economic questions are raised around ideas about women's labor and value in the use of craftwork, 'value' also becomes a projection of ourselves onto things like cute animals on the Internet, mythic American landscapes, and the built environment."

Text by Carol Ann Klonarides

More information about each exhibition can be found on the galleries' individual websites.



Miyoshi Barosh (1959-2019) made work in a wide range of materials and techniques that humorously expose the socio-political underpinnings of American culture. Her work has been exhibited in New York and Los Angeles, with solo and group exhibitions at Luis De Jesus Los Angeles, and in group exhibitions at The Pit in Glendale. Recent museum exhibitions include Thread, Long Beach Museum of Art (2019) and Material as Metaphor at the former Craft & Folk Art Museum, now Craft Contemporary (2017). Other exhibitions include Verge Center for the Arts, Sacramento, CA.; Los Angeles Municipal Art Gallery at Barnsdall Park, Los Angeles; the Craft in America Center; the San Diego Museum of Art; and The Fellows of Contemporary Art in Los Angeles.

Barosh was an Artist-in-Residence at the Pilchuck Glass School, and a 2015 recipient of both a Guggenheim Artist Fellowship and the City of Los Angeles Individual Artist Fellowship (C.O.L.A). After receiving a BFA in painting at Rhode Island School of Design, she moved to New York, where she became the first Managing Editor of BOMB magazine. Upon receiving a Masters of Fine Art from the California Institute of the Arts, Barosh became involved with A.R.T. Press, publishing and editing her own arts journal, Now Time, as well as becoming involved in the artist collaborative, Project X. She conducted book-length interviews with artists such as Vija Celmins, Mike Kelley, and Felix Gonzalez-Torres as well as with poet David Rattray and cultural theorist Sylvère Lotringer. She died in Long Beach, CA in February and a memorial in her honor was held at Craft Contemporary in Los Angeles in July 2019.