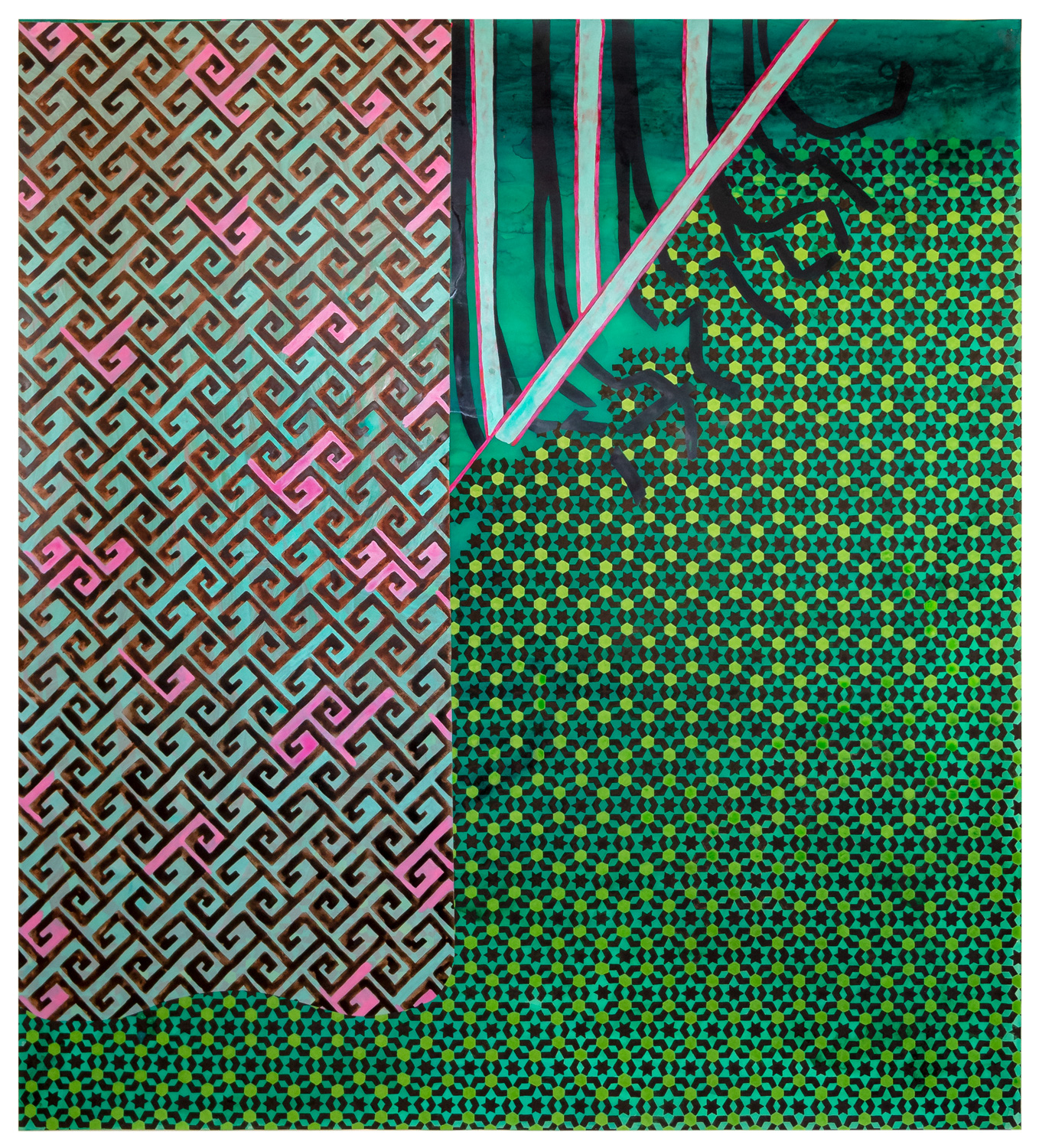 Carole Silverstein: in your thousand other forms
169 W Channel Rd Santa Monica Ca 90402
Jan 25, 3 PM - 6 PM — ends Mar 28, 2020
Gallery 169 is pleased to announce an exhibition of works by Carole Silverstein entitled in your thousand other forms on view from January 25 to March 28, 2020. The gallery is located at 169 Channel Road, Santa Monica, CA. The public is invited to the Opening Reception on Saturday, January 25, from 3pm - 6pm. The artist will be present.


Carole Silverstein elevates the feminine and the mystical through a sensuous and extravagant beauty. In her paintings, Silverstein traces by hand, combines, and alters ornamental patterns from many cultures and places in an effort to understand and embody the sacred languages they symbolize - Islamic tiles and architecture, Japanese clouds, Celtic knot-work, and Spanish, Indian, and Kuba textiles, among others. She gets her inspiration predominantly from non-Western patterns that celebrate a diversity of form, often acting as veils and screens to another consciousness. Yoga, Buddhist meditation, and other mystical traditions are longtime supports to her practice.

Silverstein makes her art on the floor. The trance-like elaborate patterns are painted by hand, often traced through the translucent mylar and then altered. The process is repetitive, obsessive, and devotional. She also will add stains and rub with rags, to project an image of architectural or calligraphic lines into the composition. The acrylic inks are alternately reflective, metallic, matte, transparent, and opaque. The subtle spatial shifts in the work between color, surface, and scale contribute to an ongoing sense of veiling and unveiling, absence and presence. Responding to the contemporary speed of technology, the paintings invite a meditative slowness, designed to invite dreaming and reflection.

Carole Silverstein is a Los Angeles based artist who received her MFA from Queens College CUNY and BFA from The School of The Art Institute of Chicago with additional summer study in Umbria, Italy. Silverstein's art has been shown in galleries and alternative venues throughout the United States, and was featured in We Must Risk Delight: 20 Artists from Los Angeles at the 2015 Venice Biennale, an official collateral exhibition. Her work also was in a traveling exhibition in London, Paris, Berlin, Manila, Cape Town, and Johannesburg. In addition to numerous private collections, her work is in the permanent collections of The Los Angeles County Museum of Art, Art in US Embassies in Djibouti, Art for Healing, and Citibank.