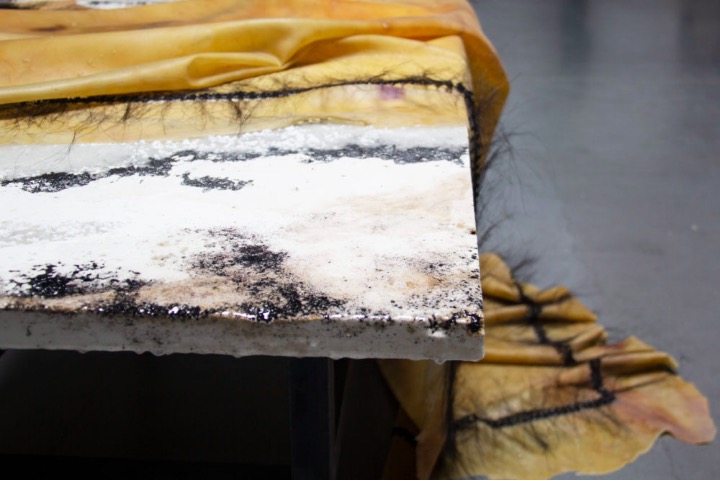 Flavia D'Urso: Slippage of a Strand
125 N. Broadway Santa Ana, California 92701
Feb 01, 7 PM - 10 PM — ends May 10, 2020
Guest Curator: Elizabeth Rooklidge

Opening Reception: Sat. Feb 1 from 7-10pm

Slippage of a Strand, a collection of new and recent works by Flavia D'Urso, is grounded in the intersection of physical, emotional, and cultural experiences of the queer female body. With sculpture, mixed media on paper, and video, the exhibition presents interpretations of the body that destabilize expectations of sameness and insist on their own existence. D'Urso positions the human as a hybrid by abstracting its physical forms and using the animal body and objects as surrogates for the human. The artist's work repurposes materials such as salt, iodine, horse hair, and blood meal to draw on their inherent bodily associations while pushing them beyond their conventional function. These materials are combined with terra cotta and paper, as well as packing foam and latex, which she frequently shapes through systems of repetition and replication. D'Urso's hybrid structures deftly dissect, digest, and re-present expectations of female and queer identities.

ABOUT THE ARTIST

Flavia D'Urso is a Sicilian American artist working in sculpture, video and mixed media to create bodily assemblages to animate potential ways of being and embrace the rich territory of failure, breakage, and degenerating processes of production as inherently queer and feminized strategies of survival. D'Urso received her MFA from California College of the Arts in San Francisco and her BA from Skidmore College in New York. She was the recipient of the Toby Devan Lewis Fellowship Award in 2018. D'Urso's work has been exhibited at the San Diego Art Institute, Bread & Salt Gallery, and The Front Gallery in San Diego, Minnesota Street Projects, Root Division and Embark Gallery in San Francisco, ConArtist Gallery in New York, as well as Nova Gallery in Weimar Germany. D'Urso lives and works in San Diego.