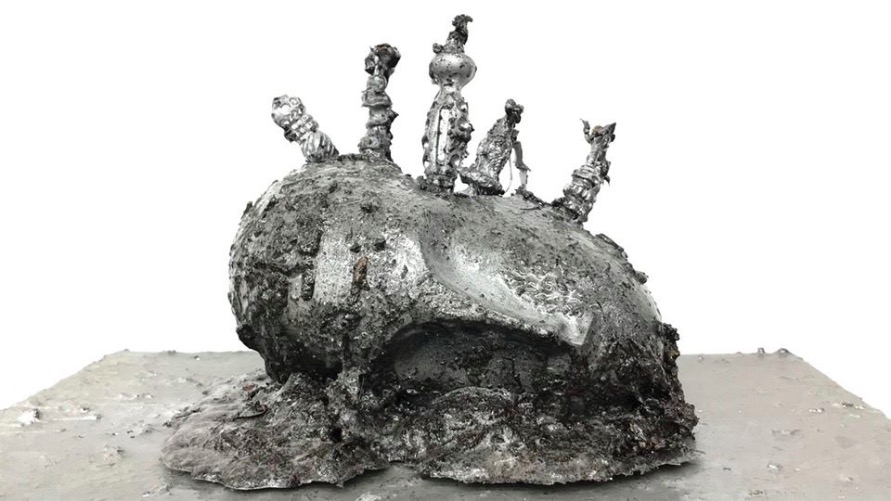 Young Joon Kwak: Dilectio | Biomythography: Making Visible | Molly Schulman: This Is Not A Balloon Dog
👀
11110 Alondra Blvd., Norwalk, CA 90650
Feb 10, 6 PM - 9 PM — ends Mar 13, 2020
YOUNG JOON KWAK | DILECTIO
2019 Cerritos College Art+Tech Artist-in-Residence
Plastics and Composites

February 10, 2020 – March 13, 2020
Reception: Monday, February 10, 2020 @ 6-9PM
Artist Talk: Monday, February 24, 2020 @ 3PM in FA134

The Cerritos College Art Gallery is pleased to present Dilectio, an exhibition of work produced by LA-based artist Young Joon Kwak during their time as the 2019 Cerritos College Art+Tech Artist-in-Residence. Created using the specific equipment and processes available at the Cerritos College Plastics and Composites facilities, combined with their own unique artistic practice, Kwak's work in Dilectio explores the parallel contemporary paranoias of plastic as a dangerous industrial material and plasticity as a mode of being. In this new series of "plasticized bodies" queerness is rethought through the material realm of composited bodies, blurring the lines between the organic and the inorganic, ultimately reflecting how bodies are always already composites of other organisms, multiple forms of matter, and other unseen forces.

For the exhibition, sculptures have been collectively incorporated into an immersive installation that also includes laser-cut and etched plastic forms, LED neon light pieces, and associated drawings to imagine a future in which the boundaries between plastics and human bodies are made permeable, opening doors to new ways of viewing and interpreting bodies as mutable and open-ended. The completed installation is presented in the Projects Room of the Cerritos College Art Gallery, alongside the annual rotating Window Dressing installations in the outdoor Gruen Display Gallery and Biomythography: Making Visible, an exhibition focusing on the visibility of underrepresented communities, guest-curated by Chris Christion and Jessica Wimbley, in the Main Gallery space.

-----
BIOMYTHOGRAPHY: MAKING VISIBLE
Guest Curated by Chris Christion and Jessica Wimbley
February 10 - March 13, 2020

Opening Reception: Monday, February 10 @ 6-9 PM
Performance (Deadnaming by Thinh Nguyen): Monday, February 10 @ 7 PM

Caz Azevedo | Logan Dandridge | Chuck Feesago | Thinh Nyugen | Marton Robinson

Biomythography: Making Visible is the eighth exhibition in an ongoing series that seeks to investigate biomythography as a visual arts practice. The term biomythograpy is a literary device created by Audre Lord to expand on limited demarcations of identity. UC Santa Cruz Dance Professor Ted Warburton defines biomythography as "the weaving together of myth, history, and biography in epic narrative form, a style of composition that represents all the ways in which we perceive the world."

---------------
WINDOW DRESSING 2020
Cerritos College Art Gallery

Molly Schulman
THIS IS NOT A BALLOON DOG
(CECI N'EST PAS UN CHIEN BALLON)
Feb 10 – Feb 21, 2020

Reception: Monday, February 10 @ 6-9PM

Molly Schulman's installation, This Is Not A Balloon Dog, provokes a playful sense of revolution against the art world's status quo by riffing off of the work of two highly-regarded Surrealist artists and one over-hyped commercial artist. André Breton, in his noteworthy diatribe "Away with Miserabilism" (1956), questions a sense of safety and complacency through a consumerist and capitalist culture that in reality masks an individual's dulled misery. Likewise, René Magritte, in his iconic painting "Treachery of Images" (1929), paints a pipe along with the text "Ceci n'est pas une pipe", questioning the oppressive conventions of language and more broadly of the bourgeoisie itself. The art world, Schulman posits, acts as a microcosm of miserabilism with its notion of artist as celebrity, auction sales with skyrocketing highs, and the marketing of not just the art, but an entire line of merchandise that accompanies almost any artist with major success. The installation will include three elements, each representing an aspect of today's art world, all dancing together on stage: columns (the Institution), balloon dogs (Capitalism, as symbolized by Jeff Koon's record-breaking sales), and a performance (the Avant-garde). Mimicking a fanciful shop window display, Ionic columns will be placed at varying heights, depths, and in unexpected directions throughout the vitrine. Balloon dogs will be strewn throughout. During the night of the opening reception, the artist will perform in costume, blowing up and twisting more balloon dogs, and releasing them into the space of the vitrine, where they will be set to float randomly around the space, made active by multiple fans blowing in various directions. The effect will resemble a dream-like snow-globe that plays with the idea of hierarchy in the art world, blurring the lines between art and commodity, form and function, the real and surreal. The levity of the balloon dogs floating around the columned vitrine will spark curiosity in the passersby as they consider what it all means and this very act of questioning one's surroundings is the necessary antidote to miserabilism and the true purpose of art itself.