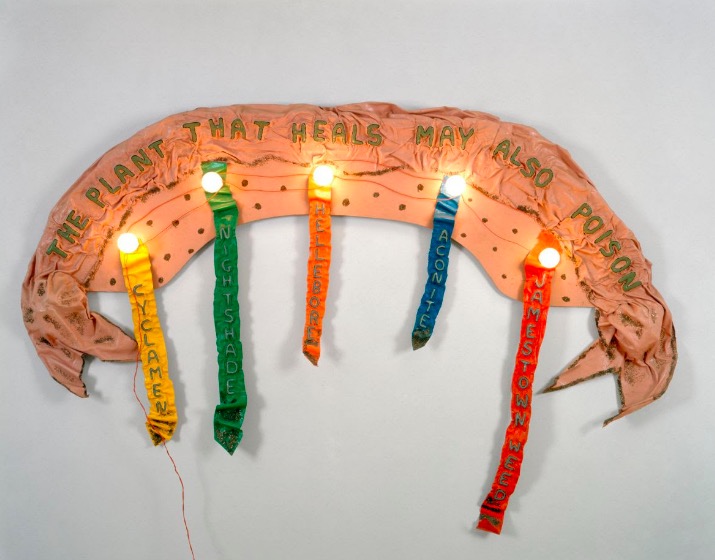 [Virtual Walkthrough] Ree Morton: The Plant That Heals May Also Poison | Ann Greene Kelly
1717 East 7th Street, Los Angeles, CA
Feb 16, 2 AM - 5 PM — ends Jun 14, 2020
Virtual ICA LA Walkthrough:
www.theicala.org/en/learning/20-digital-projects
Ree Morton: The Plant That Heals May Also Poison
Ann Greene Kelly
The Plant That Heals May Also Poison is the first major United States exhibition of artist Ree Morton (1936-1977) in nearly four decades. The exhibition features several rarely seen works, including a selection of installations, drawings, sculptures, paintings, and archival materials which span a single decade of artistic production before Morton's untimely death in 1977.
Throughout her career, Morton produced a philosophically complex body of work rich in emotion. Though celebrated by peers and younger artists, Morton's influence on contemporary art remains considerable yet muted, her legacy widely underrecognized. The eclectic arc of Morton's practice was rooted in Postminimalism, the inclusion of personal narrative—through literary, theoretical, and autobiographical references—and use of bold color and theatrical imagery infused her objects with sly humor and a concern with the decorative, generating a feminist legacy increasingly appreciated in retrospect. Reimagining tropes of love, friendship, and motherhood, while radically asserting sentiment as a legitimate subject of artmaking, Morton's conceptually rigorous work demonstrates generosity towards the viewer, its spirit of playfulness and joy inflecting all aspects of the exhibition.
________________
The Project Room—recently named in honor of Elsa Longhauser, the museum's director from 2000–2019—features an exhibition of new sculpture and drawings by Los Angeles-based artist Ann Greene Kelly (b. 1988), marking her first solo institutional presentation. Kelly looks to the tradition of the readymade (common objects displayed as works of art), combining everyday items, such as mattresses and tires, with plaster, stone, and other sculptural materials. These unique combinations invest the objects with a sense of affection and understanding that is both distinctive and familiar, while simultaneously opening up new and engaging modes of sculpture. Likewise, her drawing practice explores the relationship between domestic, interior space; the urban, industrial landscape; and personal experience.
The exhibition includes surreal sculptural references to familiar private and public objects: a bench, tires, and a mattress. The specificity of materials combined with residue of use points to Kelly's interest in both formal and human concerns. She often uses gestures of patching or mending, supplementing everyday objects with deliberately constructed incisions or grooves. In this world, man-made objects designed to assist with daily activities like transportation and sleep begin to resemble the human body and are dissected and augmented. In Untitled (2019), a small, circular mattress has an onyx drain embedded at its center. In another untitled sculpture from 2019, tires are sawed in half and stacked, their insides revealed to show a bedsheet inlay pressed into the grooves of the surface and hand-drawn with colored pencil.