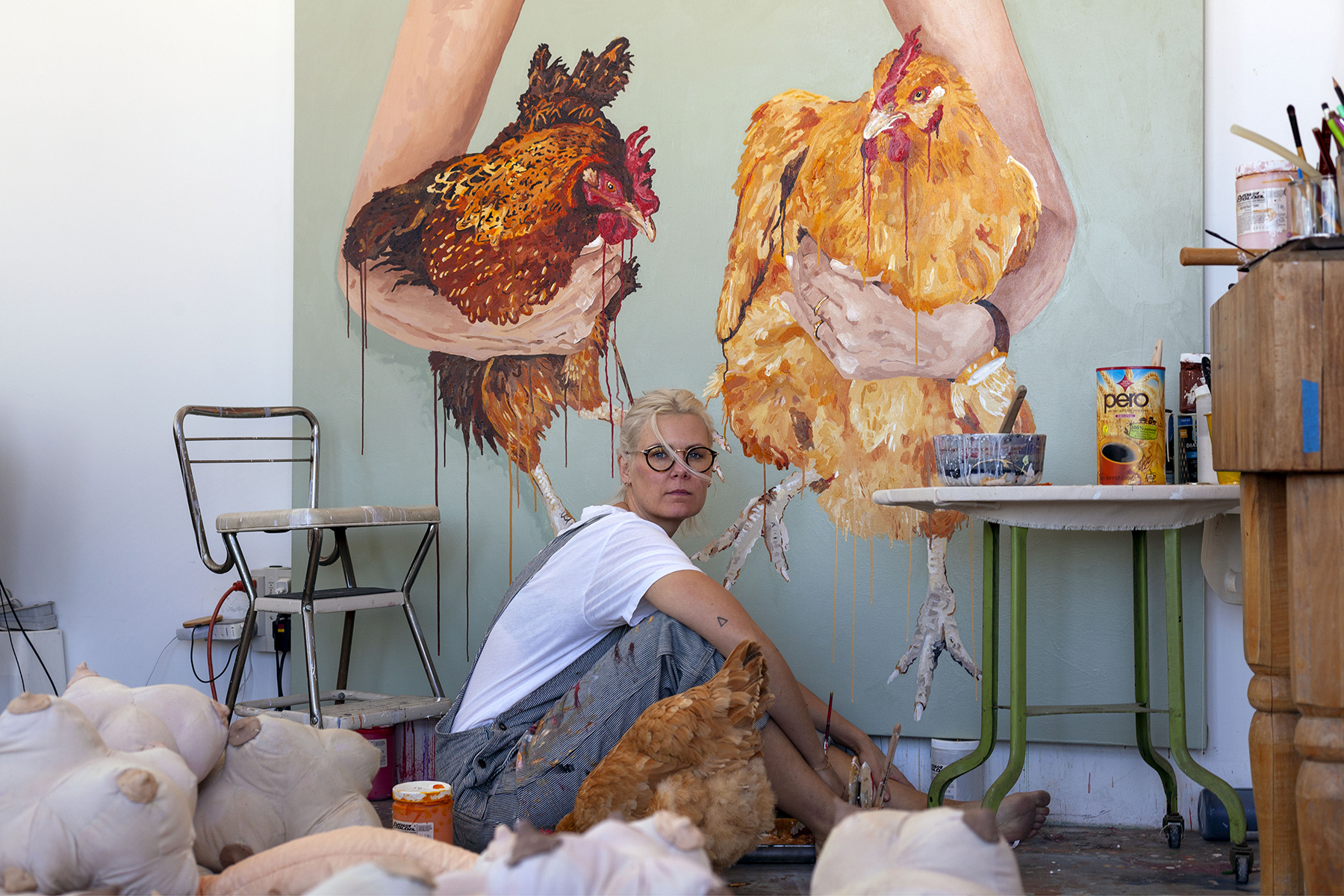 Nike Schroeder: TAKE AWAY
2642 S La Cienega Blvd., Los Angeles, CA 90034
Feb 29, 6 PM - 9 PM — ends Mar 28, 2020
Walter Maciel Gallery is pleased to present TAKE AWAY by Nike Schröder marking her fourth solo show with the gallery. Schröder is a multi disciplinary artist who settled in Los Angeles eight years ago from Germany, her native country.

The overall theme of Schröder's new work relates to her female identity exploring notions of sensuality, nurturing, inclusivity, motherhood and power. Presented as a cohesive series, the show includes paintings, stitched portraits, bronze and porcelain sculpture and ceiling installation based work made out of soft sculpture with porcelain. Upon entering the exhibition, oversized portraits of chickens are presented in a series of four paintings. The observations of Schröder's own chickens laying eggs on a daily basis began her thoughts on the natural processes of birth, death, our consumption of animal products and her overall fascination with the power of eggs. The paintings are intersected by a large thread painting blending characteristics from Schröder Fragments and Convex/Concave series. In the center of the gallery is a selection of bronze sculptures showing multiple breasts which are joined together in an orb-like form with the nipples protruding in every direction. The female breast can be sexualized while at the same time be a nurturing form that creates contradictory sentiments of exploitation and perfection through comfort and security. The distinct interaction of the chickens with the human body parts alludes to the strength and power of the female gender within all vulnerabilities and expectations.
In the adjacent gallery small portraits of women are displayed as a group of paintings made from stitched line and painted color on raw linen. A fine layer of wood shavings is laid out in the floor of the gallery creating an aroma of cut wood while emulating a hen house. The installation makes reference to the security of a safe quiet place to gather and the importance of peer support to empower women.
An installation of hundreds of boobs made from stuffed and dyed canvas with attached porcelain nipples is suspended from the ceiling in the larger adjoining gallery. Each sculpture is similar in form and consists of seven breasts with hand casted porcelain nipples in different skin tones to represent the diversity of color and nipple shapes. The sculptures float in front of two large linen cloths covered in an organized grid of porcelain nipples. In addition there is a wall of individual nipples which can be taken as a souvenir of the show resulting in a constantly evolving wall painting and a reminder of the overall giving trait of women. As in previous series of work, Schröder challenges herself to explore new mediums within her ongoing progression of fiber works. Heavy in symbolism, the intensive labor and raw materials reveal traditional craft methods of making objects by hand. For her it is as a way of staying engaged. The work intentionally draws awareness to the strength of women while exuding a touch of humor.