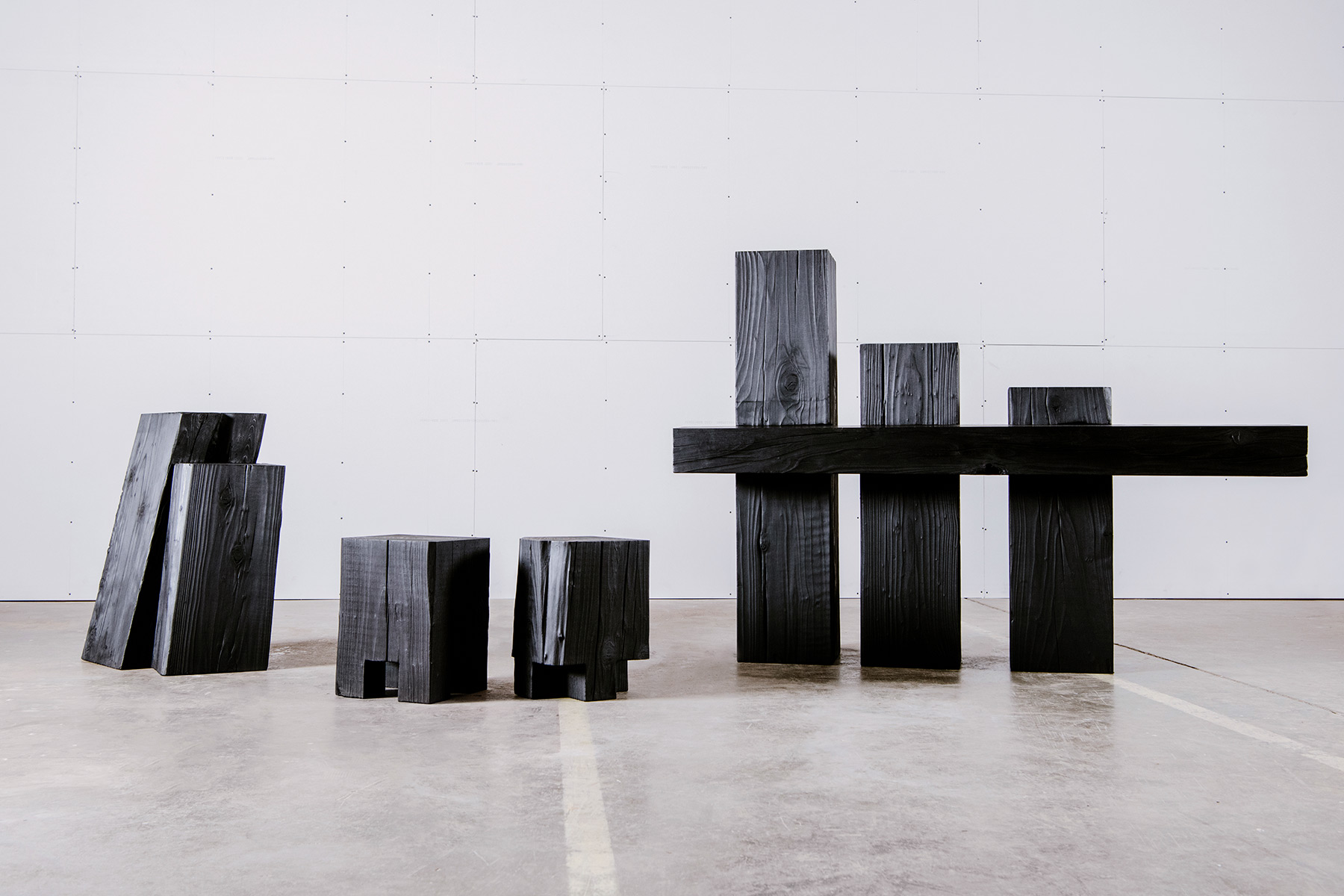 Lindsey Muscato & Joshua Friedman
1545 West Sunset Blvd, Los Angeles, CA 90026
Mar 07, 6 PM - 9 PM — ends Mar 28, 2020
Marta is pleased to present "Kodama" — a series of new entries in an ongoing body of works by Lindsey Muscato (b. 1984, Bellflower, CA) and Joshua Friedman (b. 1980, Santa Barbara, CA) of Los Angeles furniture practice Base 10.

Kodama comprises seven unique large-scale furniture works, constructed of salvaged California redwood (sequoia sempervirens) and composed using the principles, methods, and hand-tools of traditional Japanese wood joinery and timber-framing. The pieces, removed from a would-be architectural context, present themselves as thoughtful, monolithic compositions: elegant exaggerations / distillations of joinery details that showcase a mastery of, and reverence for, material, precedent, and procedure.

Spanning sculptural abstractions of seating, table surfaces, and consoles, the finished works in "Kodama" outwardly present the processes inherent to their creation: coastal redwood timbers from Palos Verdes and La Cañada Flintridge are hand-cut, -sawn, -chiseled, -planed, -joined, and finally blackened using a combination of natural alchemical patination and yakisugi (or shou sugi ban) — the darkening and sealing of the wood via spot-burning. The pieces, expertly devoid of the fasteners and glues typical of furniture-making, are at once coarse and refined, offhand and precise, traditional and contemporary.

Gently recalling the works of exemplars in minimalist sculpture (e.g. Carl Andre) and mid-century wood-work (e.g. George, and later Mira, Nakashima), Muscato and Friedman's recent output builds upon previous academic studies and more than a decade of experience in Japanese-style carpentry, timber-framing, and architectural building.

"Kodama" — loosely translated from its context in Japanese folklore as 'wood spirits' or 'spirits of the trees' — is Base 10's first solo exhibition in Los Angeles.