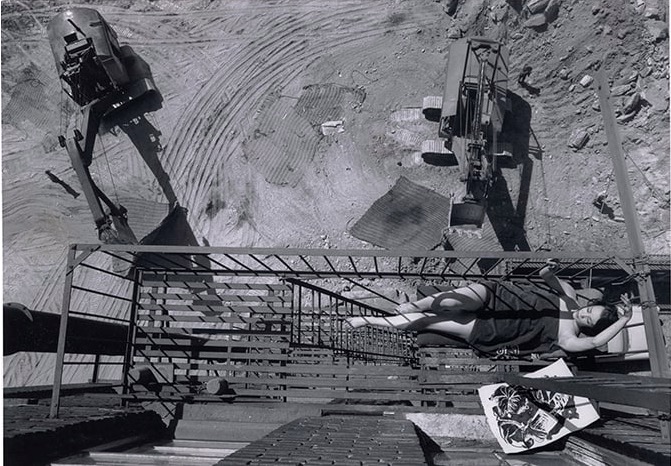 Henri Dauman: Looking Up
633 N. La Brea Ave, LA, CA 90036
Feb 29, 7 PM - 10 PM — ends Mar 28, 2020
:: Opening Reception: Saturday, February 29th, 7–10pm //
To Attend : RSVP to rsvp@kpprojects.net
:: Media Inquires contact info@kpprojects.net / +1.323.933.4408 : The Artist will be in attendance Opening Night

KP Projects Gallery in Los Angeles will be hosting their third
U.S. solo exhibition of works by photographer Henri Dauman

According to TIME magazine, Henri Dauman created "photos that play like a slideshow of some of the biggest moments in American history and popular culture." From JFK to Brigitte Bardot, Henri Dauman's iconic photography defined the 20th century.

Born in 1933 in Montmartre, Dauman's early childhood was plagued by tragedy during World War II. In the face of extreme adversity, Dauman found purpose and solace behind the lens of a camera. Following a photographic apprenticeship at Courbevoie, and entertainment photography at Radio Luxembourg, and the Bernand Agency in Paris, Dauman immigrated to New York at the age of 17.

Henri's early fascination with film taught him how to tell a story. Without a formal photography education, Dauman started working for France-Amérique, and expanded his horizons to European publications Paris-Match, Jours de France, Epoca, and Der Stern. The European publications that were printing Dauman's work did not go unnoticed by bigger American publications, and in 1958, at the age of 25, he received the first of many assignments commissioned by Life Magazine.

While on assignment, Dauman captured poignant images of celebrities, musicians, politicians, pop culture icons and a myriad of pivotal moments in American history. His wide range of subjects included film sirens Brigitte Bardot and Marilyn Monroe, music legend Elvis Presley, Pop icon Andy Warhol, John and Jacqueline Kennedy, and writers Truman Capote and Tennessee Williams. He also travelled internationally to bring the Castro revolution in Cuba, and Buddhists protest in Vietnam, to international newspapers and media.

No matter whom he shot, an innately alluring aspect exists within Dauman's work. His sensitivity to his subjects allowed him to capture unguarded moments with precision and beauty. Artistically he admits a debt to the visual language of cinema, and by closely observing cinematic techniques - sequences, short cuts, close-ups, contrasting backlight – he created a powerful technical arsenal where image, caption, and text became one. For Dauman, the layout of magazines often echoed the sequential efficiency of American films.

Dauman's poignant vision of the world around him was the driving force in his ability to tell the stories of socio-political unease, shifting cultural values, and beauty in unity through glimpses into the day-to-day life of the latter half of 20th Century America. His vision is that of a man whose life experience, and subsequent triumph over many of life's hurdles, put him in a privileged position to tell the story of a multi-faceted American Dream.

Henri Dauman's photographs have been exhibited at the Tate Liverpool, the German Historical Museum in Berlin, the Museum of Modern Art in New York, the National Gallery of Canada, the National Portrait Gallery, The Smithsonian Institution in Washington, D.C., "The Manhattan-Darkroom" exhibition comprised of over 200 prints at the Palais d'Iéna in Paris, 2014 ; the Nicéphore-Niépce Museum of Photography in Chalon-sur- Saône in 2017, and the Breman Museum, Atlanta.

A feature length documentary entitled Henri Dauman: Looking Up, shedding light on the artist's life story and career will have its US theatrical release in the first quarter of 2020, by Samuel Goldwyn Films. This exhibition will feature 40 new and never before seen silver gelatin photographs.

Inquiries about Henri Dauman can be directed to KP Projects Gallery, Los Angeles : info@kpprojects.net / +1.323.933.4408.

Photograph ©Henri Dauman/daumanpictures.com / KP Projects Gallery – All rights reserved,
This photograph may be used, reproduced or posted on the internet, televised solely in connection with the review and promotion of The KP Projects exhibition of "Henri Dauman: Looking Up" starting February 29. 2020 in Los Angeles, CA. Adjacent copyright credit-line listed above must always accompany use, without exception.