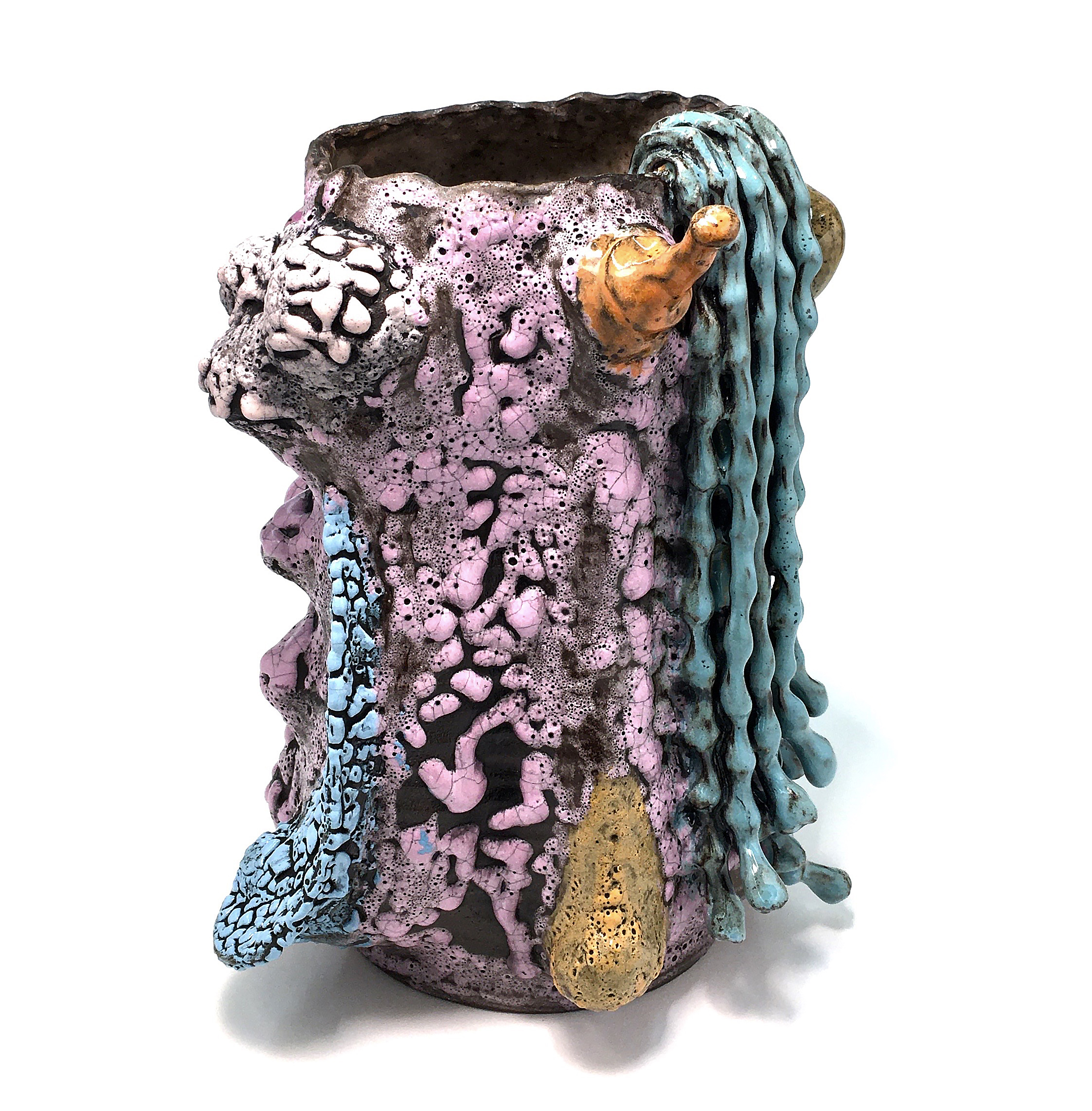 Vince Palacios: Soul Vines
👀
7101 North Figueroa Street Unit E Los Angeles CA 90042
Mar 07, 4 PM - 7 PM — ends Mar 28, 2020
ODD ARK•LA is pleased to present Soul Vines, a solo exhibition of new ceramic works by Vince Palacios. The show will open March 7th, and remain on view through April 11th, 2020. An opening reception will take place Saturday, March 7th, from 4:00-7:00pm.

In Soul Vines, Palacios has produced a series of clay and glazed vessels that were fired multiple times to create dynamic, colorful and textured surfaces.

In these recent works, natural processes of growth, survival and decay are expressed through the collision and confluence of raw materials - pushed through the process of human intervention. The physicality of the artist's clay-wrangling and mark-making of improvised forms capture and freeze vine-like tendrils that are in the midst of reaching both inwards and outwards while perched on Palacios' substantial vessels. And as vines do, they seek and find their way into the world for nourishment and stability. In the natural world, the velocity of this dance is not evident to the eye, yet we know it's there and its presence is felt. In Palacios' works, nature's entelechy is not only suspended for our amazement, but it also hints at aspects of humanity's own metaphorical root and vine systems - of seeking and reaching through our own personal evolutions for stability and connection within the arc of civilization's crawl.

Like many of Palacios' colleagues in the currently burgeoning field of 'Contemporary Ceramics', his choice to work with the traditional form of a vessel, contextualizes his sculptures in formal aesthetics, while reminding us that clay is a through-line to our primordial past - when early humans first built containment vessels to carry water and food, as well as for ceremonial purposes.

Although couched in archetypal abstraction, Palacios' vessels are also anthropomorphic, teasing glimpses and possibilities of the human body. From certain angles, bulges, protrusions and contours mirror our own bodies, and like our own physical nature, the expression is at times awkward, elegant and impermanent.