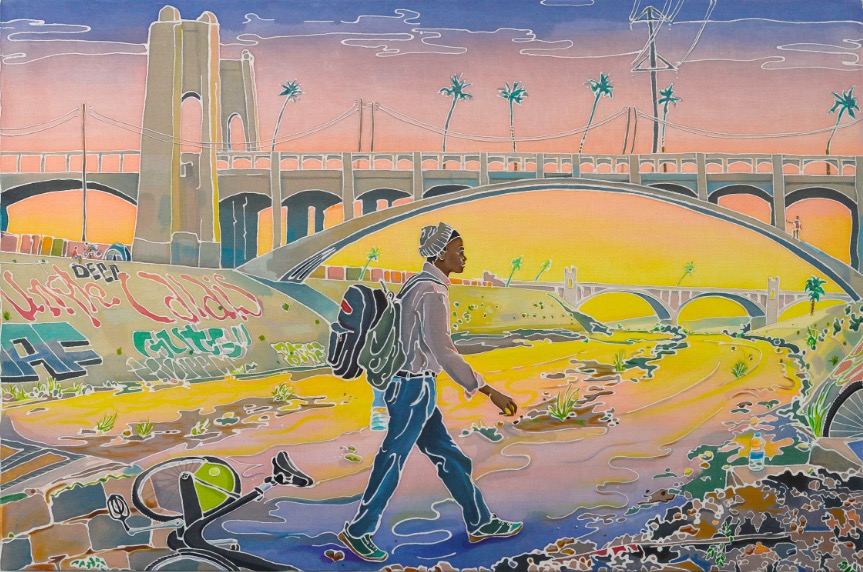 Tammy Nguyen & Adam de Boer: Facing New Axes
5513 Pico Blvd. Los Angeles Ca 90019
Mar 15, 11 AM - 6 PM — ends Mar 28, 2020
Hunter Shaw Fine Art is pleased to announce Facing New Axes, an exhibition pairing recent works by Tammy Nguyen and Adam de Boer. Incorporating themes of diaspora and resilience, Facing New Axes uncovers beauty and integrity within the challenges of current and future class and climate realities. Nguyen and de Boer address their contemporary subjects employing materials and formal strategies traditional to their respective heritages, articulating a continuum from the ancestral to the eventual. Integrating social awareness into observational landscape painting, these works articulate a vision that is both critical and compassionate.

For the past several years, Adam de Boer has created artwork investigating his family's Dutch-Indonesian ancestry, apprenticing with master craftsmen in Java and cultivating a deep relationship with the techniques and materials indigenous to the area of his family's origin. In particular, de Boer makes frequent use of batik, an ancient textile dyeing process in which an artist draws on fabric with molten wax to create outlines between objects and colors. Pushing the limits of traditional Indonesian iconography while combining it with Western modes of oil painting, de Boer has generated a distinctive body of work which examines the legacy of colonialism within his own identity as a first generation Asian-American.

In current works de Boer further explores batik while turning his focus to new vistas, namely the landscape of downtown Los Angeles where the artist currently resides. Utilizing a prehistoric technique to depict scenes of contemporary urban life, de Boer adapts batik to the visual lexicon of present day LA, generating images befitting the cultural hodge-podge of this particular setting while maintaining a strong connection to his own immigrant heritage. In Riverwalker (2019), a young man crosses the graffitied and litter-strewn LA River at daybreak. His stuffed knapsack and canteen allude to transience - perhaps he has been on the move for ages. Regardless, he pushes forth on his journey, walking with dignity and purpose. Monday Evening Studio View (2020) presents a 1:1 rendering of the view from de Boer's studio window in downtown's Flower District. Within it a summary of Los Angeles can be found: palm trees, a sunset, warehouses, graffitti, flower shops, the tips of luxury lofts hanging above a skyline peppered with homeless encampments. Yet the image achieves a quality of magical realism, blending specific local detail with subtle, symbolic exaggeration: a pentacostal revival takes place in a box truck-turned-altar beneath an impossibly large canary palm. While the revival is an actual weekly occurrence in the neighborhood, the massive palm is both iconic of the city, and representative of colonial legacies and the sometimes unexpected beauty of finding things out of place in a Modern World.

A complimentary blend of fantasy and social critique is also evident in a recent series by Tammy Nguyen which imagines future weather seasons as the Earth recalibrates into new climates: dust season, volcano season, flood season, and fire season. Each painting is comprised of four vertical panels, a direct reference to East Asian and some Southeast Asian multi-panel paintings depicting the four seasons mankind is currently familiar with. Nguyen's imagined seasons are inspired by bizarre weather events she has witnessed first hand and on the news including the dust storms and bushfires that have ravaged Australia, the floods that have engulfed the Mekong, and the eruption of Taal in the Philippines. It is estimated that the planet will exist for another 1.75 billion years regardless of humans instigating - or surviving - the 6th mass extinction. Based on our current and past behavior, it is reasonable to assume that future humans will adapt to their conditions for as long as possible, even finding comforts along the way. In these paintings ducks are roasted in the flames of a forest fire; feet relax on a bed of grass overrun with ladybugs as a volcano erupts in the distance; people sleep as pollen swarms around their sinuses; others wade at leisure enjoying a new flood.

As one gazes at these propositions, it becomes clear that the historic four-paneled paintings Nguyen draws upon emerged from a time when humankind could rely on a cycle of four steady seasons year after year after year. Likewise, de Boer's use of batik draws attention to the handmade quality of his work, posing questions of obsolescence and tradition. Throughout the works on view, Nguyen and de Boer examine the slippery threshold between adaptation and erasure, yet there is a softness and relatability in the humanity evident in these images. This exhibition aims to emphasize solidarity and compassion for the ways in which people respond to the eternal force of change, finding humankind forever Facing New Axes.

Tammy Nguyen was born in San Francisco, CA and lives and works in New York CIty. Nguyen received a BFA from Cooper Union in 2007. The following year she was awarded a Fulbright scholarship to study lacquer painting in Vietnam, where she remained and worked for a ceramics company for three years thereafter. In 2013, Nguyen received an MFA from Yale, and was awarded the Van Lier Fellowship at Wave Hill in 2014. Her work has been exhibited at the Rubin Museum of Art, The Factory Contemporary Arts Centre in Vietnam, the Bronx Museum, and is included in the permanent collections of Yale University, the Philadelphia Museum of Art, MIT Library, the Seattle Art Museum, the Walker Art Center Library, and the Museum of Modern Art Library. Recent solo and two person exhibitions include, The Ship Named Atlast, Virginia Commonwealth University, Richmond VA (2019); Necessary Fictions with Ha Ninh Pham, The Factory Contemporary Arts Centre, Ho Chi Minh City, Vietnam (2019); The Ship Named Atlast, Lightwell Gallery, University of Oklahoma, Norman OK (2019); and One Blue Eye, Two Servings with Nicole Won Hee Maloof, CRUSH Curatorial, New York NY (2018). Tammy Nguyen is also the founder of Passenger Pigeon Press, an independent press addressing geopolitics, science and identity through visual art and writing.

Adam de Boer was born in Redlands, CA. He received a BA in Painting from College of Creative Studies at the University of California, Santa Barbara in 2006, and a MA in Fine Art from the Chelsea College of Art, London in 2012. De Boer was awarded a Fulbright fellowship to Indonesia in 2017, where he researched indigenous crafts in Central Java. Other grants include those from Arts for India, The Cultural Development Corporation, DC Commission on the Arts and Humanities, and the Santa Barbara Arts Fund. Selected solo and two-person exhibitions include Traveller's Palm, Hunter Shaw Fine Art, Los Angeles (2018-2019); Legacies Real and Imagined with Jumaldi Alfi, PT Jakarta Land and ISA Art Advisory, Jakarta, Indonesia (2018); Jungle Flame, Redbase Foundation, Yogyakarta, Indonesia (2017); Night Swimming, Hunter Shaw Fine Art, Los Angeles (2016); Bend Sinister with Sinta Tantra, Indonesian Contemporary Art Network, Yogyakarta, Indonesia, (2014).