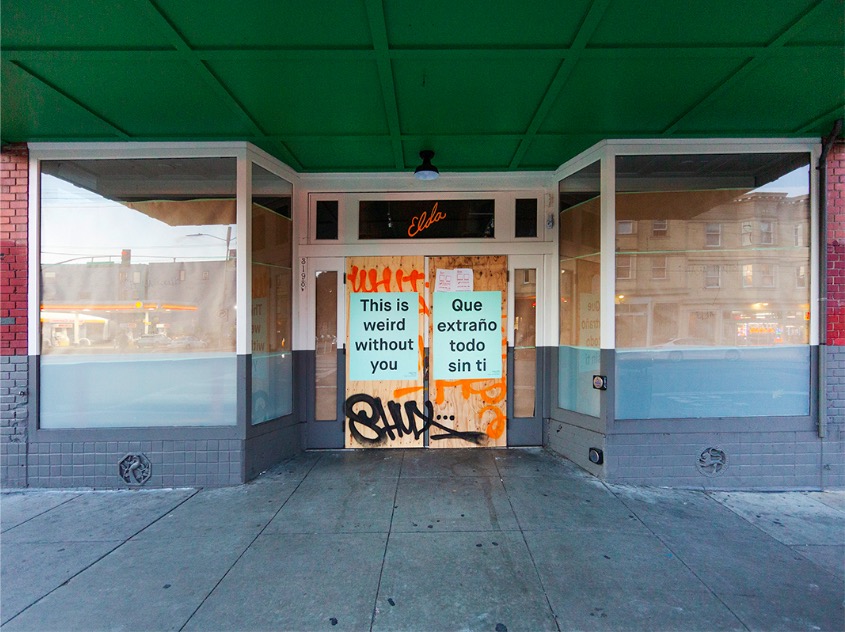 [Online Exhibition] Marcela Pardo Ariza, Juan Carlos Rodriguez Rivera & Felipe Garcia Jr.: THIS IS WEIRD WITHOUT YOU
3301 W Washington Blvd, Los Angeles, CA 90018
May 18, 12 PM - 5 PM — ends May 31, 2020
View here:
www.ochigallery.com/exhibition/this-is-weird-without-you/
THIS IS WEIRD WITHOU YOU is a project originating from artist Marcela Pardo Ariza, Elda bartender Felipe Garcia Jr. and California College of the Arts assistant professor Juan Carlos Rodriguez Rivera's daily walks while observing safer-at-home ordinances in San Francisco, CA. Seeing so many of their favorite businesses in San Francisco closed and boarded up during this unprecedented time, an action many have taken in major metropolitan areas as a precaution, grew increasingly disheartening. Many of the housemates', turned collaborators', dearest friends have been significantly impacted by the closures of local businesses.
After seeing the businesses' hopeful and earnest messages circulating on social media, the group got in touch with a number of them to discuss a potential collaboration. Their idea was to support these local businesses by wheat pasting excerpts of the notes they had shared on the boarded-up doors and windows of these storefronts, to relay messages of resilience (sometimes through humor) all while underscoring the significance of many of these businesses in their community. The project aims to use the strong graphic identity of wheat pasted posters, along with the poetic energy of the project existing whimsically across mediums, to activate public space (both online and IRL) in order to emphasize the fact that we are all interconnected and need each other's support now more than ever.
#thisisweirdwithoutyou