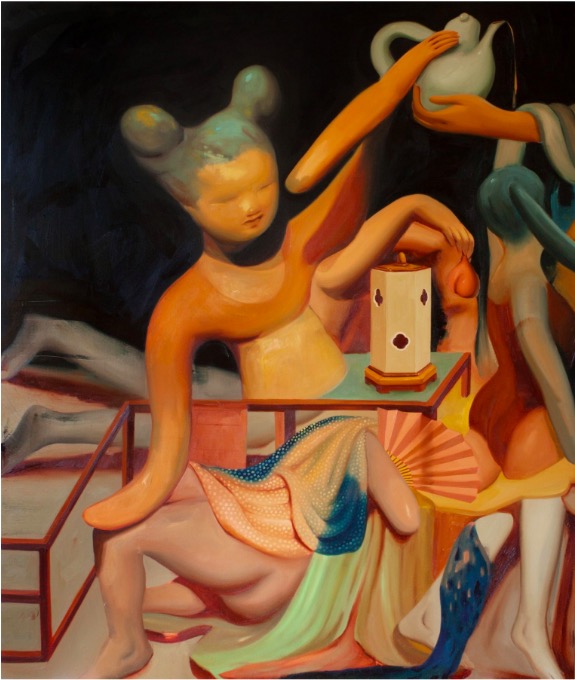 [By Appointment Only] Dominique Fung: Relics and Remains
1700 S Santa Fe Avenue, #160, Los Angeles 90021
May 30, 12 PM - 6 PM — ends Jul 03, 2020
In Cantonese, jook-sing is a pejorative term for persons of Chinese descent who live overseas and identify more strongly with western culture. The term itself evolved poetically from the word for "bamboo pole." Bamboo rods are hollow and compartmentalized, so if one is to pour water in one end, it is trapped, unable to flow through to the other side.

Dominique Fung was born and raised in Ottawa, Canada, to first-generation parents from Shanghai and Hong Kong. At home, she spoke Cantonese, at school English. Her early artistic passions were informed by Vermeer, Manet, Rembrandt, and Goya, but her sense of Chinese heritage was largely informed by vessels and objects she saw at home and on display in the Asian art section during visits to the Met in New York.

The relics in the museum, Fung thought, were jook-sing like her: anonymously Asian in appearance, separated and oftentimes stolen from their original contexts by oceans, hemispheres, and centuries, imbued with identity by masters long since deceased. She imagined what the objects' lives were like when they were born, what they held within their bodies, who touched and used them, how they felt about it. She began to think of them as concubines, with personalities, secrets, and stories to share. She wondered what they'd look like with hair. She realized her relationship to her own Cantonese identity was shaded by a sort of 19th century Orientalism.

In her 2018 essay "Ornamentalism: A Feminist Theory for the Yellow Woman," Anne Anlin Cheng defines 19th century Orientalism as such: "that opulence and sensuality are the signature components of Asiatic character; that Asia is always ancient, excessive, feminine, available, and decadent; that material consumption promises cultural possession; that there is no room ... for national, ethnic, or historical specificities." The Asian art section at the Met is Orientalist, thought Fung. In a way, so was she.

Relics and Remains, Fung's first solo exhibition with Nicodim, is the result of the subsequent years of research into her motherland's cultural history, casting the objects in the Met she once fetishized as an entry point. These paintings are the artist's dark and playful exploration of her own jook-sing-ness; they navigate and reclaim the water of her identity suspended within bamboo.

Dominique Fung (b. 1987, Ottawa, Canada) lives and works in New York. She received her BAA from Sheridan College Institute of Technology in Toronto in 2009. Recent exhibitions include Hollywood Babylon: A Re-Inauguration of the Pleasure Dome, Nicodim, Jeffrey Deitch, and AUTRE Magazine, Los Angeles, USA (2020); If On A Winter's Night A Traveller, MAMOTH, London, UK (2020); Skin Stealers, Nicodim Gallery, Los Angeles (2020); Trans World, Nicodim Gallery, Los Angeles, USA; Galeria Nicodim, Bucharest, Romania (2019); Wash Your Corners, Ross + Kramer, New York, USA (2019, solo); Dominique Fung, Taymour Grahne, London, United Kingdom (2019, solo); Barmecide Feast, The 14th Factory, Smithsonian National Air and Space Museum, Washington DC, USA (2018).