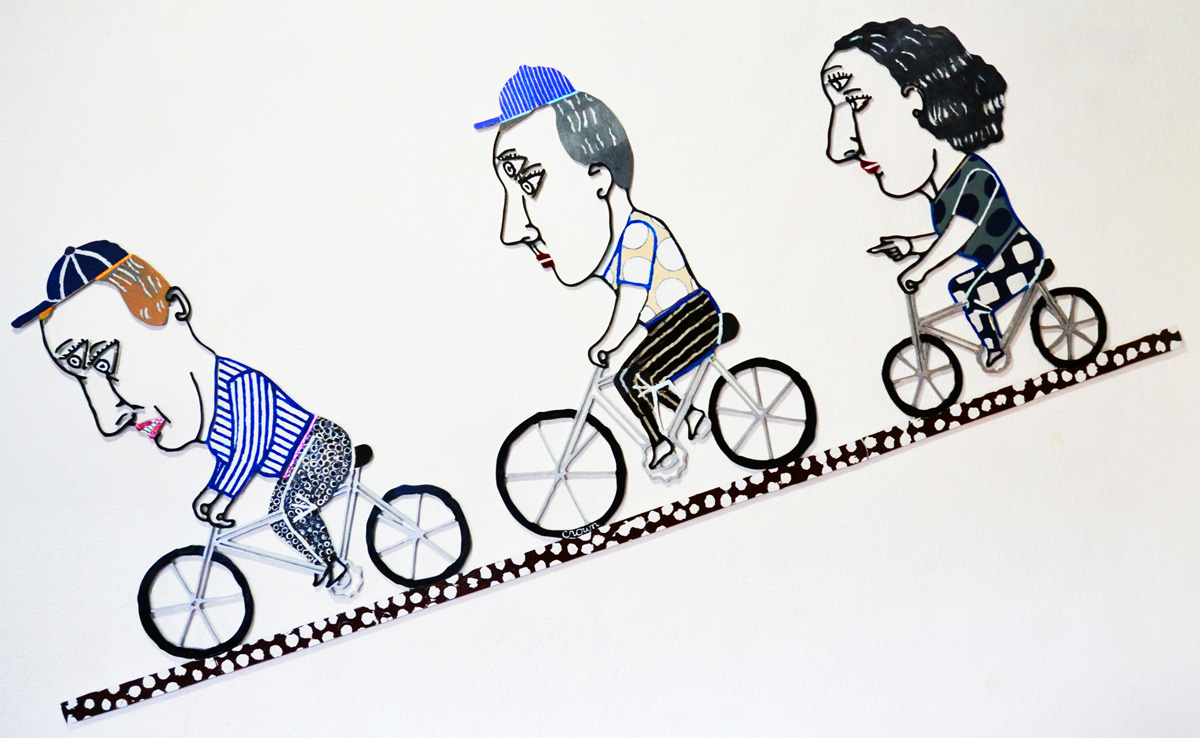 Katie Crown | Sally Jacobs | Shelley Lazarus | Toni Reinis
5458 Wilshire Blvd Los Angeles, CA 90036
Jun 18, 11 AM - 5 PM — ends Jul 11, 2020
When entering public spaces please follow social distancing guidelines set by the city and state.
Due to COVID-19, no reception will be held.

Katie Crown - Really Big Drawings

TAG Gallery is proud to present Really Big Drawings, a solo exhibition of large scale "metal drawings" by artist Katie Crown. The exhibition runs from June 16 - July 11. Crown's newest body of work accentuates her drawing skills, with subject matter jolted from her sketchbooks. In this endeavor, the artist looks to billboard-esque, metallic wall sculpture to investigate the roles that both humor and horror occupy in the hustle and bustle of everyday life while poking fun at coping mechanisms we form to get through each day. The figures depicted can be seen experiencing pancake induced anxiety episodes, depressive bike rides, and uncomfortable therapy sessions.

Humor has often been an element in Crown's practice. These new works take it to a more exaggerated, cartoonish mode. In addition to their linear aspects, the pieces include planes of pattern and color. The style amplifies the humor of each situation depicted. "With all the problems in the world, we need humor to survive." – Katie Crown.

Katie Crown graduated from the School of the Museum of Fine Arts, Boston, and Tufts University. Her artwork has been exhibited in museums and galleries in 12 states and Washington, D.C.

--------

Sally Jacobs - California Grown

Sally Jacobs is a watercolor artist and a farmers market devotee -- she combines her love for her art and the bounty of the markets in her contemporary botanical watercolor paintings. Each weekend she is at vendor stalls, ready to select her picks of the week for her kitchen and studio easel.

In her latest exhibit, California Grown, Jacobs, a long time Miracle Mile resident zooms in, portraying flowers and vegetables with dramatic precision unique for a watercolorist. She transforms a vegetable we choose for dinner or a flower for display, rendering its structure eye-catching and explicit, causing viewers to catch their breath in wonder at the feats of nature.

Jacobs has exhibited in numerous juried shows in New York and San Francisco, and at museums in New York, Minneapolis and Phoenix. She was an award winner at the Brand 37 Works on Paper exhibit and is one of the artists included in "Todays Botanical Artists," a publication of well-known nature artists.

Jacobs has taught botanical art at The Getty Center, Otis College of Art and Design, Los Angeles Arboretum, and the annual meeting of the American Society of Botanical Art. Currently she is teaching at the Brentwood Art Center in Los Angeles.

--------

Shelley Lazarus - Mostly H2O

TAG Gallery is pleased to present Mostly H2O, a solo exhibition by watercolorist Shelley Lazarus. The proceeds of this show will go to the Robert David Lazarus Pulmonary Rehabilitation Unit at Cedar-Sinai Hospital in memory of her son Robert. Shelley Lazarus was born and educated in New York, where as a teenager she attended Pratt College. She later attended Syracuse University studying fine arts and at the Parsons School of Design.

Living in a crowded city she became infatuated with the buildings around her. The urban landscapes that she captures in this series of paintings are from sketches she made while on location or peering out of windows. Never a purist watercolor artist, she renders her works with her signature style incorporating these works with pencils, pens, crayons, and different mediums.

Lazarus is a founding member of TAG Gallery and has served on its board since its inception. She has taught watercolor medium at the Brentwood Art Center for over 26 years. Her award winning works and can be found in both private and corporate sector collections domestic and abroad. Lazarus is also a member of various art related organizations including the Watercolor Honor Society.

------------

Toni Reinis - Moral Stain / Go Figure!

TAG Gallery is proud to present two bodies of work from contemporary figurative sculptor Toni Reinis. The bodies of work, respectively titled Moral Stain and Go Figure! will be on display in TAG's south gallery. The exhibitions will run June 16 - July 11.

The first of these exhibitions, Moral Stain comments on America's long history of what Reinis describes as "Moral Stains." These works aim to stir emotions and challenge the viewer to ACT. "It is up to the people of this nation to stand up because our lives and the future of democracy is at stake. "

America has a long history of "moral stains". We have enacted slavery, incarceration of Japanese Americans, civil rights abuses, voter suppression, homelessness, segregation, and Watergate. During the Trump administration, there has been a greater decline in social justice reform and policy, a horrifying lack of decency, lies and immorality to an extent never seen before. The work comments on a range of issues from the border crisis to systematic racism. Reinis urges viewers to use their voice in music, written word, march and most importantly……..VOTE.

The second of the exhibitions, Go Figure! explores the diversity, grace, and regality of the female figure by way of material experimentation. Reinis was inspired by the creative use of found objects, plants, flowers, beads, and jewelry found in African art and dress and aims to honor these traditions with her sculpture.