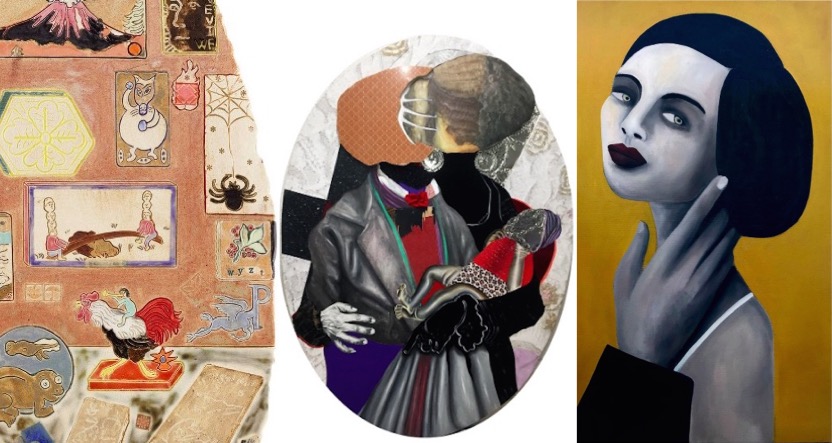 [By Appointment Only] David Shrobe: Walk the Air | Kevin McNamee-Tweed: Tableaux Vivant | Rebecca Brodskis: Tomorrow Is Another Day
6830 Santa Monica Blvd. Los Angeles, CA 90038
Jul 25, 11 AM - 6 PM — ends Aug 29, 2020
David Shrobe: Walk the Air
steveturner.la/exhibition/david-shrobe
Steve Turner is pleased to present Walk the Air, a solo exhibition by New York-based David Shrobe that features new assemblage paintings that were made in the last several months. During that time Shrobe has found solemnity and inspiration from his family and the Black Lives Matter movement. The works are mostly made from repurposed everyday materials sourced from his Harlem neighborhood; Shrobe disassembled furniture, separated wood from fabric and recombined them as supports for and elements in his paintings.
Many of Shrobe's works bear a relationship to early daguerreian portrait photography, especially the early images of Frederick Douglass. By combining found and repurposed materials with the photographic history of African Americans, Shrobe produces new narratives that feel intimate and personal without being anchored to a specific time or place. Shrobe explains that Walk the Air alludes to the African American folkloric secret language of flight. In these works, he more sharply focuses on his family and the sanctity of that bond during a time of pain, tumult and struggle. This is evident in At A Crossroads, where a mother, father and infant child contemplate the direction they will take while finding solace in each other.
David Shrobe earned his BFA and MFA at Hunter College, New York (2009 & 2013) before attending the Skowhegan School of Painting and Sculpture, Maine (2014). He has had solo exhibitions at Thierry Goldberg (2017 & 2019) and Jenkins Johnson, San Francisco (2018). This is his first solo exhibition at Steve Turner.
-------------------------
Kevin McNamee-Tweed: Tableaux Vivant
steveturner.la/exhibition/kevin-mcnamee-tweed-2#1
Steve Turner is pleased to present Tableaux Vivant, a solo exhibition by Kevin McNamee-Tweed which features a selection of new ceramic paintings which are his largest and most complicated works to date. Each shows a salon-like interior with a myriad of disparate images. In one of the works, TXT, all of these images nicely coexist: an active volcano, a cover of the fictional Iowa Review, a spider hanging from its web, a round mammal standing on its hind legs, a hexagonal trade sign with a leaf pattern, an ad with contorted fingers and the word "DONT," a houseboat at sea with a palm tree at the edge of land, a seesaw with a four-headed person on one end and three-headed person at the other, a sculpture of a trumpet-blowing figure riding a rooster, a headless pegasus with a large "P" where it's head would be, a pollywog in an enclosed glass sphere with a tailed frog just outside the glass. In his essay on the artist in the new monograph, Ceramic Paintings, Andrew Berardini writes, "This is a world of dreams and memories that erupt into pictures, they are signs of the new flowers and new stars sprinkling over the fields and skies of the fleeting, empty outer world. A sign of what is and what was and had been and can be and it is only ever a picture away."
The gallery is also releasing two publications to coincide with Tableaux Vivant. Kevin McNamee-Tweed: Ceramic Paintings is the artist's first comprehensive monograph on his ceramic works. It includes essays by Andrew Berardini and John Dilg as well as an interview by Lauren Moya Ford. It is bound in cloth, has 248 pages and 123 color plates. It will be available on August 1st on the gallery's new e-commerce website and is $75 plus shipping and handling. The second publication, Tableaux Vivant, consists of fifty new poems by McNamee-Tweed, illustrations of recent works including those in the exhibition, and a constellation of related material. It will also be available on the gallery's e-commerce website.
Kevin McNamee-Tweed (b. 1984) grew up near Chapel Hill, North Carolina before studying at New York University where he earned a BFA (2008). After living in Austin, Texas for seven years, he moved to Iowa City to enroll in the MFA program at the University of Iowa where he earned an MFA (2020). He has had solo exhibitions at The Still House Group, New York (2016); Rod Barton, London (2017); Shrine Gallery, New York (2018); Devening Projects, Chicago (2019) and Steve Turner, Los Angeles (2019). Tableaux Vivant is his second solo exhibition at Steve Turner. McNamee-Tweed lives and works in Iowa City.
---------------------
Rebecca Brodskis: Tomorrow Is Another Day
steveturner.la/exhibition/rebecca-brodskis#1
Steve Turner is pleased to present Tomorrow Is Another Day, a solo exhibition by Paris-based Rebecca Brodskis that features nine new highly pared down portrait paintings. According to Brodskis, all of her characters are in an "in between" state, one of suspended animation, frozen still in the precise instant before the storm hits. The figures do not come out of one particular time period. They also could be from the 1860s, the 1920s or from now. They are timeless and placeless and convey an overriding anxiety that reflects a highly uncertain future.
Rebecca Brodskis (b. 1988, Pertuis, France) studied at the Atelier des Beaux Art de la Ville de Paris (2007); Central St. Martins College of Art and Design, London (BA, 2010); Université de Strasbourg (BA in Sociology, 2013) and Université de Caen Basse Normandie (Masters in Sociology, 2015). Brodskis has had solo exhibitions at Canopy Gallery, Netanya (2019); Gallery Mario Kreuzberg, Berlin (2019); Septieme Gallery, Paris (2019) and Kristin Hjellegjerde, Berlin (2020). This is her first exhibition with Steve Turner.