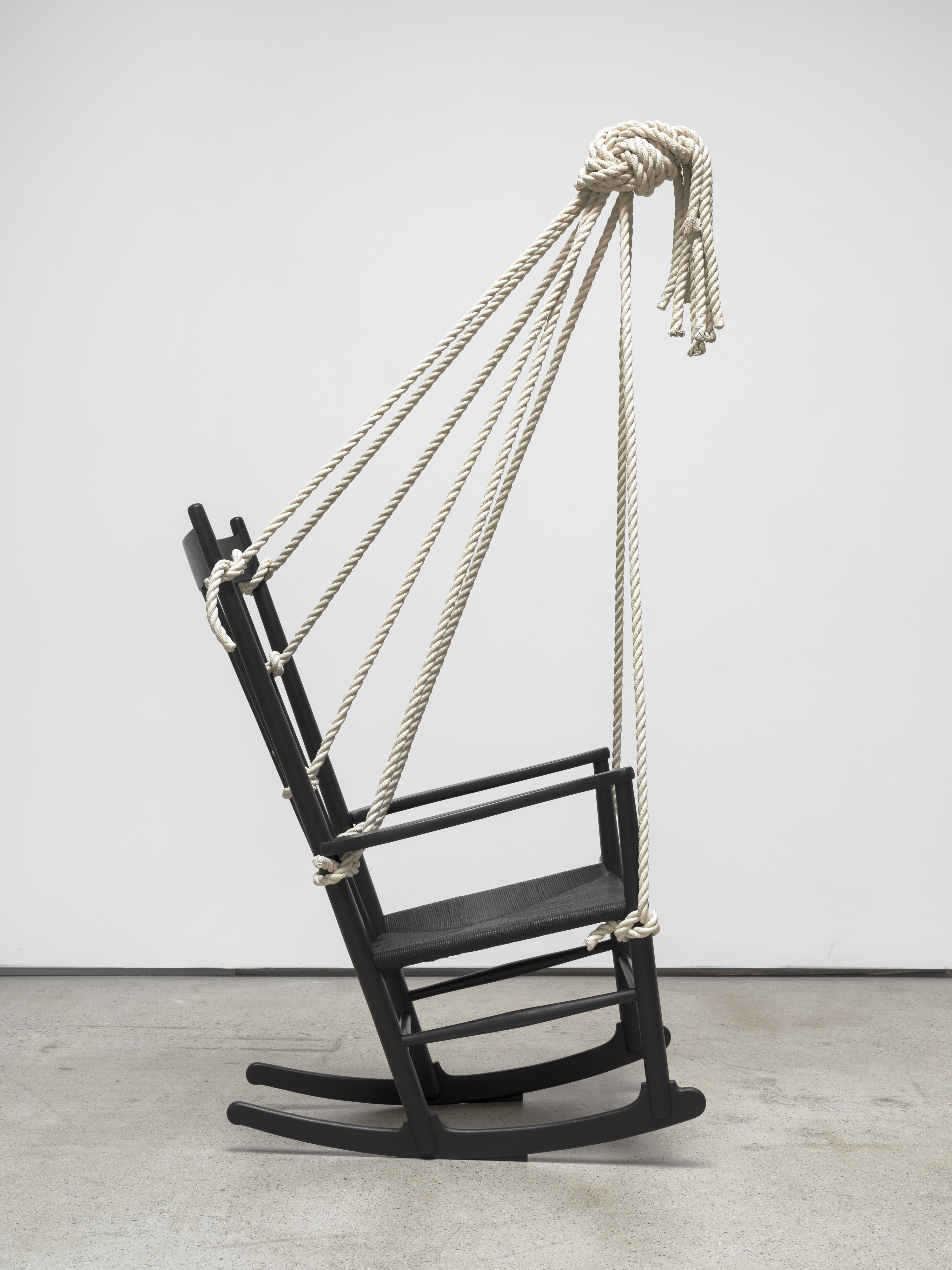 Ricky Swallow: BORROWED SCULPTURES | Doyle Lane: Weed Pots
5130 W. Edgewood Pl. Los Angeles, CA 90019
Jul 22, 10 AM - 6 PM — ends Aug 29, 2020
David Kordansky Gallery is pleased to present BORROWED SCULPTURES, an exhibition of new floor- and wall-based bronze sculptures by Ricky Swallow. The show will be on view at the gallery from July 22 through August 29, 2020. David Kordansky Gallery is currently open by private appointment only. Virtual visits are available.

Ricky Swallow transforms familiar objects and materials into bronze sculptures that challenge ordinary perceptions of space, mass, and color. This new group of works includes forms––among them several apparent readymades––that have accompanied the artist, whether literally or figuratively, for extended periods of time, fostering increased intimacy and a pointed, personally resonant surrealism.

Rocking Chair with Rope (Meditation Chair #1), a major sculpture comprised of a cast chair and cast ropes, is the third in a multi-year series of related works, and is notable for its precise sense of balance as well as its narrative intensity. The rocker from which the sculpture was cast served as the artist's studio meditation chair for many years, so that even in its original state it was a generative object integral to processes of making and self-reflection. Subtly narrowing its proportions, as Swallow does here, becomes a poetic act of renewal, as do the processes of casting and finishing that shepherd the work to its final state in bronze. Each step is a relinquishing of the object's previous iteration, and a reckoning with both its familiarity and evolving newness. With the chair resting solidly on the floor and the ropes pointing upward to the sky, the finished work is poised between the metaphysical and the earthbound, the ideal and the actual.

BORROWED SCULPTURES is defined by Swallow's propensity for locating forms in the domestic and studio environments that, when taken apart and recontextualized, pivot their way into dialogues about modernism, minimalism, and the experience of architectural space. Mirrored A's (hinged), a wall-based corner sculpture, consists of cast bronze parts from a deconstructed step ladder. Treated with a red patina, the object's deeply saturated coloration enhances its function as an unknown symbol or mysterious glyph, even as the wood grain maintained on its surfaces keeps its connection to the original ladder intact.

But the exhibition also poses questions about the way that furniture objects, like props waiting for a performance, evoke the presence of the bodies that might eventually use them. In this respect, the works in BORROWED SCULPTURES are part of a conceptually oriented discourse that has animated contemporary art throughout the postwar period. Artists like Richard Artschwager, Scott Burton, and Robert Morris are some of those who have addressed related concerns, demonstrating that movement can become most palpable when seen as an expression of still forms.

A new floor-based sculpture on view sheds particular light on this lineage. It features the cast of an entire step ladder and a tubular length of cast cane that snakes through and around its rungs. Works of and about steps and stairs have figured in Swallow's sculptures for years: graphic, composed of repeated shapes, and rich with metaphorical overtones (up and down, above and below), they provide fertile opportunities for formal investigation. Here he uses bronze to draw out the solidity of things considered to be insubstantial, but also, paradoxically, to show how dense objects have their own ways of defying gravity when activated via contrasting textures or materials.

Internal movement, meanwhile, becomes a key factor in Stringer, a wall-based sculpture produced from a cast of a twisting length of rope. The rope has been gathered into the silhouette of a stair stringer, a template used by builders to facilitate the construction of stairways, and therefore to negotiate a transition from flatness to dimensionality. Organic and fleshy on the one hand, the work also functions as a kind of linear drawing as the eye attempts to follow the course of the rope throughout its total shape. The play between two and three dimensions suffuses it at every level, from concept to final execution.

Swallow transposes this material syntax into a very different register––and a very different notion of scale––in a wall-based work that incorporates casts of four balls of twine installed in a clock-like configuration. While the work's components are small and visually dense, they open up an expansive visual field, tacitly implying that the wall might be opened like a vast cabinet. Swallow brings together two kinds of familiarity: the ubiquitous, handheld tangibility of twine and the abiding presence of the wall itself. In both cases he focuses attention on forms in the periphery, revealing foreground and background to be no more than relative terms.

Throughout BORROWED SCULPTURES, objects seem to emanate psychological charge and come alive from the inside out. In Duo, Swallow juxtaposes the cast of one small stool––again, a piece of furniture that has accompanied him through the production of many bodies of work––with the seat of another. Positioned on its side, this "extra" seat is pierced by one of the dowels that join the stool's legs. From some angles, the composition, with its shifting planes and biomorphism, resembles the modernist vocabulary of artists like Barbara Hepworth and Henry Moore. But from others, the sheer emotional resonance of these two embracing forms, inseparable from one another but stubbornly distinct, assumes center stage.

---------------------------
David Kordansky Gallery is pleased to present Weed Pots, an exhibition of ceramic vessels by Doyle Lane. Curated by artist Ricky Swallow, the show will feature more than five dozen examples of Lane's iconic, small-scale weed pots made between the late 1950s and late 1970s, on loan from collections throughout California, including the California African American Museum. Weed Pots will be on view at the gallery from July 22 through August 29, 2020. David Kordansky Gallery is currently open by private appointment only. Virtual visits are available here.

Doyle Lane (b. 1925, New Orleans; d. 2002, Los Angeles) is a significant, if underknown, voice in West Coast ceramic sculpture. His delicate vases and rigorous wall murals are expressions of a masterful command of traditional techniques; an innovative, tactile approach to glazing; and a quietly visionary understanding of geometry and three-dimensional form. He worked from a studio in the El Sereno district of Los Angeles for the majority of his career, producing highly focused, exquisitely proportioned objects sought after by many architects and designers throughout the region. Very much a mid-century "production potter," Lane would sell his pots directly to loyal collectors while also pursuing large-scale architectural commissions. As a Black artist, he exhibited at notable Los Angeles galleries founded during the Civil Rights and Black Arts movements, including Ankrum Gallery and Brockman Gallery.

The weed pots—so named because they were designed to hold individual sprigs and dried flowers—were among his most consistent sites of experimentation. In a 2014 essay on Lane's work, Swallow describes them as "jewels of California modernism [that] are most credibly understood and appreciated when viewed in groupings, which is how Doyle conceived and marketed them in both gallery presentations and architectural commissions. In this context, one can see the subtle shifts in scale and form of the pots, some plump and spherical with tiny collared throats, some wider—more UFO-like (think Nelson lamp) with flattened openings just large enough to support a single twig. This combined with the matte-satin glazed surfaces, varying in color and activity, creates a real rhythm in the groupings and gives one an abridged glimpse into the working nature and diversity of Lane's talents."

That Lane was able to maintain a long career and support himself by selling his art, without teaching or pursuing another profession, was itself a notable achievement, especially since opportunities were scarce in worlds of art and design that privileged the work of white artists. Circumstance and temperament alike seemed to inform his practical working philosophy. Rather than trying to garner attention with bombastic gestures, Lane took matters into his own hands by concentrating on the evolution of his technique and aesthetic intuition.

In an interview with artist Stanley Wilson, published as part of a feature entitled "Black Artists of Los Angeles" that appeared in a 1981 issue of Studio Potter magazine and was introduced by artist John Outterbridge, Lane observed: "When you're seeking fame, you force yourself to try and become clever and to be better than somebody else, which can be a very unhealthy situation there. I think the best way to seek fame is not to seek it, and to do just what you have to do—or can do—and let it go at that. To be spiritual is to be balanced."

The results of this way of thinking—really a way of life conditioned by both internal drives and external constraints—are objects whose small scale and subtlety are disarming. Each weed pot is a self-contained visual and tactile universe that nonetheless opens possibilities for further, and seemingly limitless, variation. As Swallow indicates, this lends the work a serial quality that inspired aficionados to seek out multiple examples, and there is evidence that Lane conceived of and installed his pots with this kind of multiplicity in mind. Like an expansive, plant-like organism consisting of many small parts, they can also be read as individual, differentiated elements that pertain to a single collective entity.

Weed Pots provides a rare window into the oeuvre of a figure whose contributions to the cultural landscape of Southern California—and beyond—continue to be fully appreciated. By remaining true to the ancient and evergreen parameters of the pot, and by condensing his energies with laser-like focus, Lane was able to realize a humane, accessible sort of grandeur that is rare at any scale, in any context, and at any moment in time.