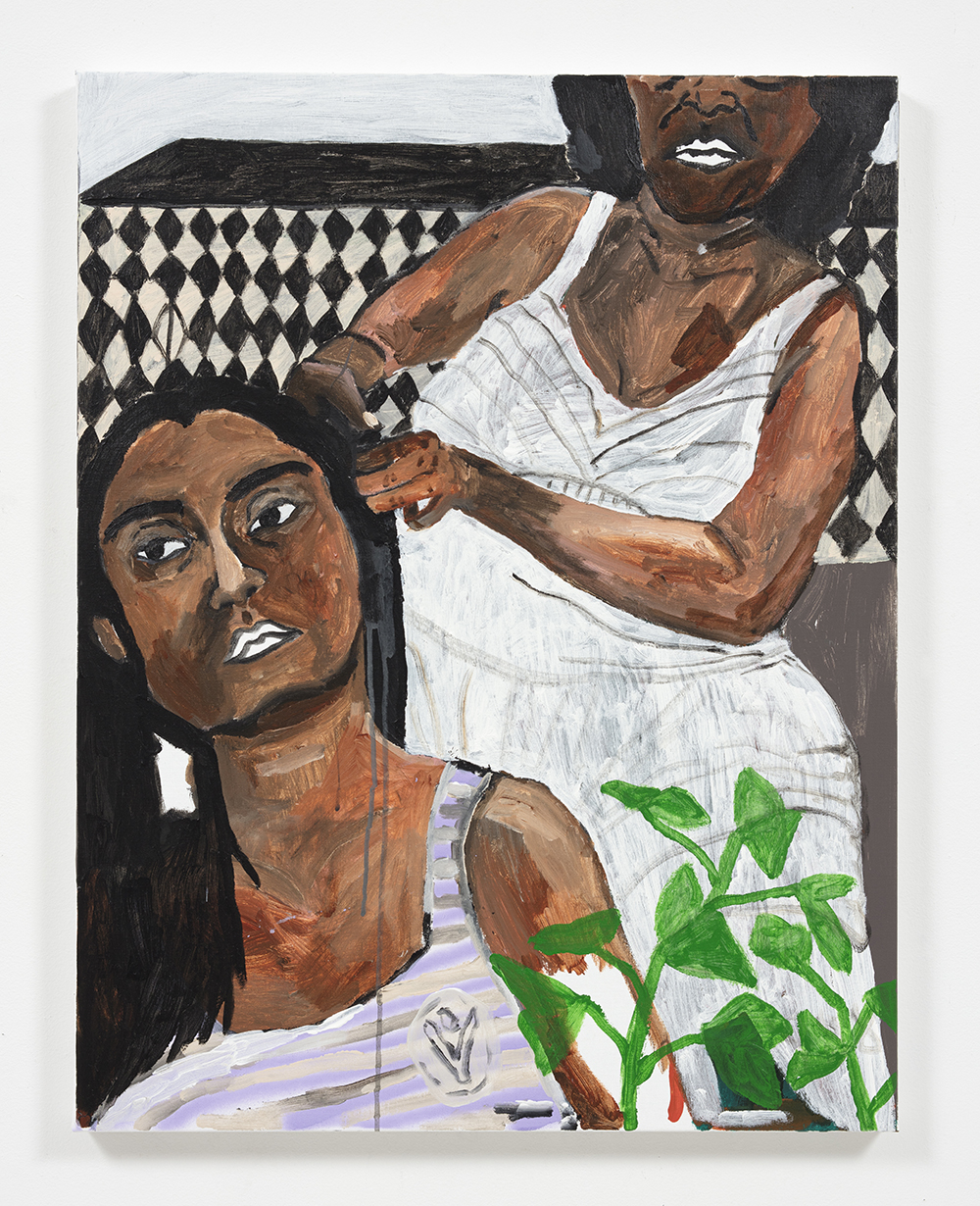 Shirley Villavicencio Pizango | Patrick Bayly | Aryana Minai
👀
6830 Santa Monica Blvd. Los Angeles, CA 90038
Sep 12, 11 AM - 6 PM — ends Oct 10, 2020
Shirley Villavicencio Pizango: Digging a Hole to the Surface
steveturner.la/exhibition/shirley-villavicencio-pizango#1
Steve Turner is pleased to present, Digging a Hole to the Surface, a solo exhibition by Ghent-based Shirley Villavicencio Pizango consisting of an array of portrait paintings, some of sitters in her studio, others based on memory. All the portraits encompass Villavicencio's fascinating history of living her first eighteen years in the crowded tenements of Lima and the last fourteen in the calm comfort of Ghent. The paintings draw deep inspiration from her memories of Peru, and where there might seem to be inspiration from her favorite European artists, these sources get processed through Villavicencio's Peruvian eyes. Sitters appear to resemble Villavicencio or other Peruvians who have Indigenous roots; most of the paintings include lush plants and undulating mountains and a simplicity of line work that is reminiscent of designs from ancient Peru. While she often portrays her sitters in a melancholy or thoughtful manner, she does so with a brush work that is passionate and energetic. She works quickly and leaves visible traces of undercoats that parallel her own multi-layered history. If the narrative of a particular painting is elusive, one can discern much from Villavicencio's choice of titles, the most Belgian aspect of her studio practice. Companion of Absence, Whispers of Nostalgia and An Abandoned Song are three works in the current exhibition.
Shirley Villavicencio Pizango (born 1988, Lima) earned an MA at The Royal Academy of Fine Art (KASK), Ghent (2013) as well as a Laureate Degree at the Higher Institute of Fine Art (HISK), Ghent (2020). She has had solo exhibitions at Geukens & De Vil, Antwerp (2018 & 2020) and Art Lima (2019). This is Villavicencio's first solo exhibition with Steve Turner.
----------------------------
Patrick Bayly: like a lion, my hands and my feet
steveturner.la/exhibition/patrick-bayly#1
Steve Turner is pleased to present like a lion, my hands and my feet, a solo exhibition by New York based Patrick Bayly which consists of a quartet of paintings, each composed with a dominant color that also is its title–violet, yellow, red and green. The major color of one work returns as an accent in the other works. For example, violet has a glowing green bar of soap; red has a green neon "BAR" sign; and green has an orange plastic crate. Bayly's paintings are at once whimsical and sinister; his neon palette produces a dramatic mood that is further heightened through pose, gesture and juxtaposition. In violet, two people reach down to a figure slumped on a checkered bathroom floor; in green, one person wearing a hazmat suit digs a hole while another plays the drums and in yellow, a woman holds a watering can as she stands in front of a curtain adorned with scenes from an orgy. The scenes are difficult to decipher, but the moods are palpable.
Patrick Bayly (b. 1994, Charleston, West Virginia) received an MFA from Columbia University (2020); attended the Skowhegan School of Painting and Sculpture (2018) and received a BFA from West Virginia University (2018). His work has been included in group exhibitions at Steve Turner, Los Angeles; Drawer, New York; Ki Smith Gallery, New York and Fireplace Projects, East Hampton. This is Bayly's first solo exhibition with Steve Turner.
----------------------------
Aryana Minai: The Dirt That Binds Me
steveturner.la/exhibition/aryana-minai#1
Steve Turner is pleased to present The Dirt That Binds Me, a solo exhibition by Los Angeles-based Aryana Minai that features new abstract paintings that are composed of recycled paper and inspired by the patterns and textures of Islamic and vernacular architecture that she experienced during her childhood in Iran. Minai recalls many family excursions to historic architectural monuments throughout the country. Old palaces in Isfahan or Shiraz decorated with tiles, bricks, reliefs and wallpaper remain vivid in Minai's memory and are a critical link to her past. She also acknowledges the importance of seeing craftspeople at work on her frequent walks between home and school in Tehran. Carpet weavers, illuminators of Persian miniatures, potters, calligraphers and artisans of Khatam-Kari (geometric inlay in bone and wood) were wonderful distractions to her and they inform her creative processes to this day. Minai favors materials that have a past life and can be recycled into something new. Many of her new works are made from recycled scraps of paper supplied by friends–paper plates and cups from social gatherings and protest meetings–as well as her own daily accumulation that she breaks down into pulp. Found bricks are then used as tools to emboss the dyed pulp as it dries and the final works are mounted to the screens that she used to make the pulp. The embossing is akin to the marks absorbed by buildings, the imprints of our existence.
Aryana Minai (born 1994, Los Angeles) moved with her family to Tehran when she was five months old. The family returned to Southern California when Minai was fifteen and she subsequently earned a BFA from Art Center College of Design, Pasadena (2016) and an MFA from Yale (2020). Her work has been included in group exhibitions at Perrotin, New York; Arvia, Los Angeles and Ed Varie, New York. This is her first exhibition at Steve Turner.