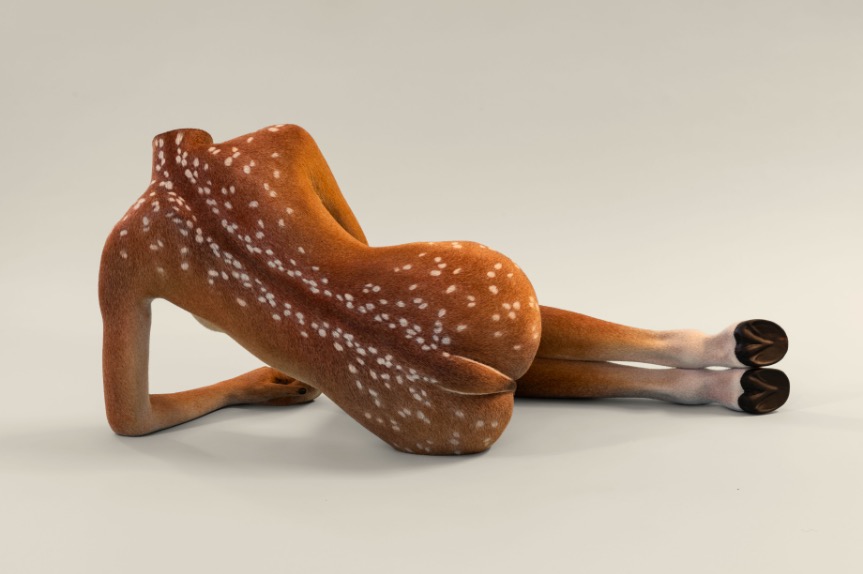 Isabelle Albuquerque: Sextet
👀
1700 S Santa Fe Avenue, #160, Los Angeles 90021
Sep 12, 11 AM - 6 PM — ends Oct 17, 2020
[By Appointment]
"Inside my head I wished for years that I could separate into ten different people to give each person I loved a part of myself forever and also have some left over to drift across landscapes and maybe even go into death or areas that were deadly and have enough of me to survive the death of one or two of me—this was what I thought appropriate for all my desires and I never figured out how to rearrange it all and now I'm in danger of losing the only one of me that is around." — David Wojnarowicz, In the Shadow of the American Dream: The Diaries of David Wojnarowicz
Isabelle Albuquerque is a dancer. Articulate in movement, she contorts her body into visual expressions of fleeting yet unforgettable waves of emotion, perfect in the moment, then gone. The body, to Albuquerque, is a porous vessel for empathy and individual emotion. It soaks in its surroundings through osmosis—a fight with a lover, a brush with the sublime, a crying child, an uncomfortably wet sock on a frigid evening—and fills itself with experience, only to gradually let these moments slip away again in some form, often unrecognizable to the body itself. Each fluctuation of the elbow is a forgotten memory reasserting itself, each curl of the toes is a past life searching for a new home.
An Orgy for 10 People in One Body, the series from which Sextet, Albuquerque's first solo exhibition is culled, is her attempt to freeze the escape of these unsolvable gestures, these reconfigurations of past experience indefinitely, yet allow them to remain open to currently inaccessible and incalculable contacts and understandings.
In Sextet, six headless casts of Albuquerque's body stand, recline, embalm, and birth themselves throughout the gallery. They populate and dominate the space like a self-possessed army, each figure announcing herself in formation: 1 is a musical adaptation of the rape or seduction of the artist casting herself as Leda from Yeats's "Leda and the Swan"; 2 is a perpetual birth and first motherhood by fire, an ourbouros of elemental initiations; 3 is diminutive in stature, yet possesses the ecstatic and orgasmic gravity of the sun within her solid walnut form; 4 perches herself on all fours, both fiercely on-guard and prone for a rear mounting; 5 is the artist as a doe on a pillow of grass, her cloven hooves singing of the surfaces and souls with which they've made contact; 6 is a sarcophagus-as-elegy for the shapes and spirits she once possessed and those she will become. They do not diminish the artist's presence through the separation of self, they amplify it, increasing her empathetic interior and surface area, so that we all become instrumental in her symphony of unsolvable gestures.
Isabelle Albuquerque is a Los Angeles-based sculptor and performer. She was a founding member of the music and performance duo Hecuba, and is a co-director of Osk, a collaborative studio that develops artificial and alien intelligence to create and look at art and individual experience through new human and nonhuman perspectives. Orgy for 10 People in One Body, Albuquerque's current sculptural journey, involves casting and 3D scanning her own body to create ten headless, human-scaled figures, each composed of a different solitary material. Pieces from the series have been highlighted in Nicodim's group exhibitions When You Waked Up the Buffalo (2020), Skin Stealers (2019), and Hollywood Babylon: A Re-Inauguration of the Pleasure Dome (2020), presented in collaboration with Jeffrey Deitch and AUTRE Magazine. Albuquerque is featured in conversation with Arthur Jafa in AUTRE Magazine's current issue, The Edge of Chaos. Sextet is her first solo exhibition with the gallery.
Reservations:
www.nicodimgallery.com/reservations