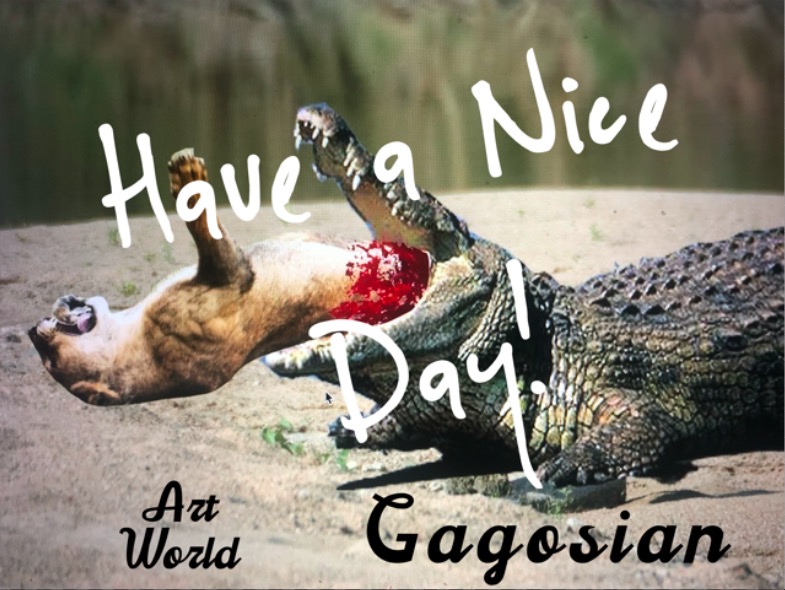 Lanier Laney and Terry Sweeney: Launder Your Dirty Money Here!!
65420 Winter Road, Joshua Tree, CA. 92252
Oct 14, 6 PM - 9 PM — ends Oct 25, 2020
Copper Mountain Curatorial is pleased to present Launder Your Dirty Money Here!!, artist duo Lanier Laney and Terry Sweeney's ethical absurdist series critiquing the intentionally obscurant practices of the contemporary art market which has been glamorously transformed into the perfect investment vehicle for the global criminal elite.
"We are happy the United States is far behind the UK and EU's efforts to end the shady back room dealings of the art trade" said Laney and Sweeney. "In keeping with the unbridled capitalist spirit here in America, we welcome sales of our art work to drug cartels, illegal arms dealers, international kleptocrats and any and all other dirty money launderers... no questions asked!!! Of course, as always…your identity and how much you paid will be kept a secret!!"
About Laney and Sweeney:
In the provocateur tradition of Gilbert & George, Banksy, and Maurizio Cattelan, Laney and Sweeney's text-based social justice practice utilizes serious absurdist satire to critique entrenched institutional oppression. Employing their unique brand of disruptive dark humor, their work confronts unjust economic and cultural hegemonies with the intention of creating sites of protest and resistance.
After Middlebury College and Parsons, the pair began as performance artists at venues like PS 122 on the Lower East Side of Manhattan, where they received rave reviews for their political and gender skewering by the New York Times. The duo were subsequently hired as SNL writers and in Sweeney's case, the first openly queer cast member of Saturday Night Live.
The EU is currently implementing it's 5th Directive to combat Art Market money-laundering complicity. The artists are urging the passage of the first bipartisan U.S. version currently languishing in Congress:
S. 1883 — 116th Congress: Combating Money Laundering, Terrorist Financing, and Counterfeiting Act of 2019. Updates at:
www.govtrack.us/congress/bills/116/s1883
.
Introduced by Senator Chuck Grassley (R-Iowa) and cosponsored by Ranking Member Dianne Feinstein (D-Calif.) and senators John Cornyn (R-Texas), Sheldon Whitehouse (D-R.I.) and Amy Klobuchar (D-Minn.).
"How much value would the alternative currency of art lose if its most corrupt aspects were to be regulated or restructured to benefit art's larger communities? How about even a minimum of rules in the market—gallery contracts, resale-time minimums, artist fees, remunerated internships? Introducing blockchain public records for the production, transaction, and locating of artworks in order to reign in tax fraud and money laundering?" Hito Steyerl e-flux journal #76 If You Don't Have Bread, Eat Art!: Contemporary Art and Derivative Fascisms.
Open by timed reservations, masks required.
Online Gallery Viewing starting October 14th @coppermountaincuratorial