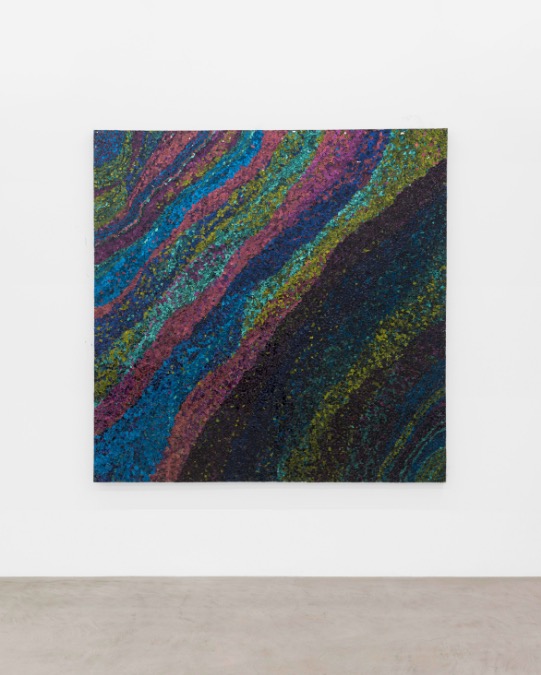 Alteronce Gumby: My Favorite Color is a Rainbow
👀
1326 South Boyle Avenue
Oct 02, 12 PM - 6 PM — ends Nov 06, 2020
Parrasch Heijnen Gallery is pleased to present Alteronce Gumby: My Favorite Color is a Rainbow, the gallery's second solo exhibition featuring new work by Bronx, NY-based artist Alteronce Gumby (b. 1985, Harrisburg, PA).
This new body of work, the majority of which was created this past summer in Los Angeles, is a distillation of Gumby's awareness of and fascination with the manifestation of energies throughout the universe. Working with thousands of fractured glass shards, gemstones, pigments, and acrylic medium, these meticulously composed images radiate a proliferation of hyper chromatic activity. Chatoyant reflections and refractions of glass shards and gemstones, upon surfaces spanning up to six feet, are activated upon interaction with light and motion, immersing the viewer in an interactive experience.
Each of the works in this new series reveals a fundamental interest in the energy of color. The artist subverts traditional understandings of light and color in order to establish his relationship to the universe, his body in the cosmos and the world he cannot see, and the instinctive gesture of mapping one's presence in relation to the stars. Gumby investigates the energy of chromatic perception through its universal origins — the cosmos and geology — relating astrological mapping, the geological formation of the earth, and the power of gemstones, to the process of abstract painting.
In each of the six wall reliefs and three large-scale works on paper in this show, Gumby builds a lexicon of abstraction through an amalgamation of sources, beginning with the energy of stars and the earth's core. Each work generates its own chromatic resonance and energy and reflects the artist's ruminations about the galaxy, that each star possesses its own unique temperature and color and has an integral relation to our own human biology: stardust from the earth's formation continues to fall on the planet and fertilize every living organism. Correspondingly, gemstones — which Gumby first charges in the sun and then uses as a medium — are derived from the earth's crust and exhibit specific frequencies and magnetic pulses in relation to their color. Gumby relates the objective energies of stars and gemstones to the history of astrology and color pigments. Birth of the Cool, for example, depicts the astrological constellation for Libra, the artist's star sign, along with one of his birth crystals, lapis lazuli. Gumby also considers the folklore of gemstones, used by humans for millennia as power stones, and the manufacture of color pigments such as lapis and amethyst - relating their sense of energy and color to the history of painting and abstraction itself, fostering what he describes as "awareness through abstraction."
Alteronce Gumby graduated from Yale University's MFA program where he was awarded the Robert Reed Memorial Scholarship, after earning a BFA from Hunter College, New York, NY. In 2019 he was a resident at the Rauschenberg Foundation in Captiva Island, FL and, in 2017 he completed a yearlong residency as the Harriet Hale Woolley scholar at the Fondation des Etats-Unis in Paris, France. He was granted the AAF/Seebacher Prize for Fine Arts as well as the Dumfries House Residency, Ayrshire, Scotland in 2015. Gumby has recently been featured in solo exhibitions at Long Gallery, New York, NY and the Fondation des Etats-Unis, Paris, France.
Alteronce Gumby: My Favorite Color is a Rainbow will be on view at Parrasch Heijnen Gallery, 1326 S. Boyle Avenue, Los Angeles, from October 2 – November 6, 2020, by reservation of a timed visit. The gallery has secure, private parking onsite. We will provide a doors-open, socially distanced experience to safely welcome you to view this exhibition. Gallery staff are also available to guide you through our exhibitions virtually via Zoom. For more information, please contact the gallery at +1 (323) 943-9373 or
info@parraschheijnen.com
.