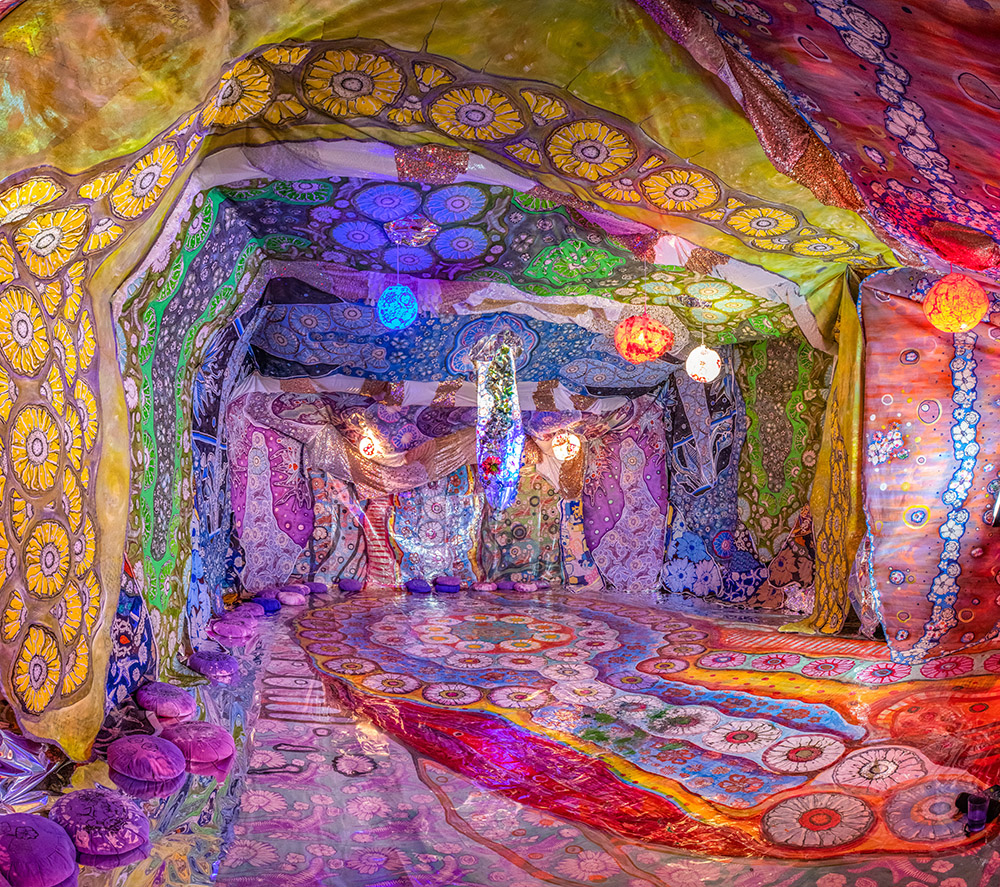 Take Me To The Color
649A South Ave. 21 Los Angeles, CA 90031
Oct 17, 4 PM - 9 PM — ends Dec 01, 2020
In person viewing tickets from $55
Take me to the color
After nearly seven months in quarantine, prolific artist Laurie Shapiro has more work than ever before, blooming and ripening for viewers. What better way to experience the work, than by having out of this world performers move through her installation? Olivia Mia Orozco has brought together an eclectic cast of movers displaying wearable art for her soft launch of Performative Pop-Ups, one of a kind performances in unique locations.  Featuring costumes by Mimi Haddon and Toban Nichols on Freckle, The Contaminator, Taylor Unwin, Courtney Hartman, and Chris Andrews, with a surprise performance every hour. A virtual gallery, videos, and live conversations will allow audiences worldwide to engage with the work on Laurie Shapiro's website from October 17th- December 1st 2020. Twenty percent of the proceeds will be donated to the Ron Finley Project helping change "South Central Los Angeles from food desert to food forest."
Description of Red Room and New Artwork
Shapiro is in the process of creating a seven-room immersive dream-scape installation primarily made of textile-based mixed-media paintings. Her work uses repetitive images of plants to create a visual meditation.  Like the seven chakras, each room takes on a specific color (red, orange, yellow, green, blue, indigo, violet), and one room leads to the next. Take Me To The Color is the first time the public will be able to see "The Entrance Within" or the Red Room in person. 
A series of new paintings have been made during the past seven months of covid that reflect life in this introspective and uncertain time. Through her work, she aims to bring audiences the same feeling of peace, healing, and oneness she feels when immersed in nature. Inspired by beauty, truth, and love, Shapiro is taken by moments and ideas which she paints intuitively.
In-Person Event Details- Address will be given only to ticket holders (Near Downtown LA)
An extremely limited number of tickets are available for the in-person experience on October 17th  from 4:00-9:00 pm with the purchase of an original print ($55), meditation pillow  ($75), or a package deal ($125).  This includes admission to step inside "Take Me To The Color" and a complimentary gift bag from brands we know and love. At the performance, you will receive your print and/or meditation pillow to take home. Guests will have 40 minutes in the space to view a performance by a surprise performer, enjoy time in the installations, and meet the artists. 
We will be adhering to all covid guidelines, guests must wear masks, have their temperature taken and remain six feet apart from performers and each other.
Click to Purchase a Ticket & Virtual Gallery:
laurieshapiroart.com/virtual-exhibition
Facebook Event:
www.facebook.com/events/628127101205234