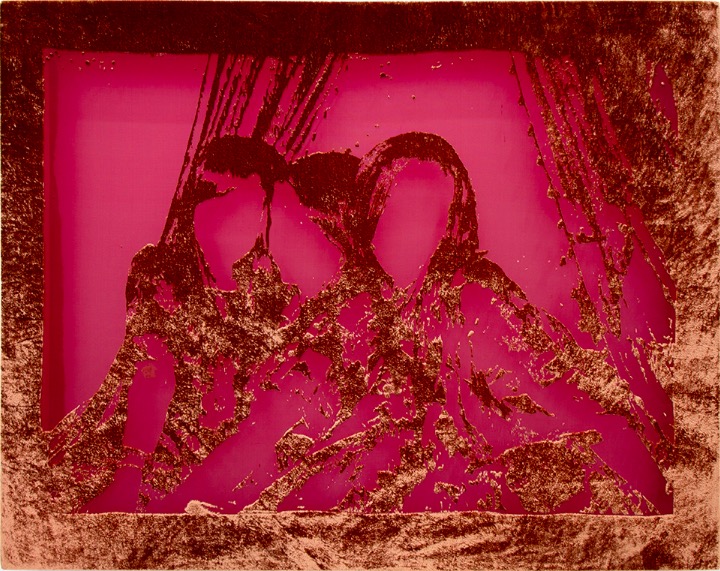 Yasmine Nasser Diaz: soft powers
3301 W Washington Blvd, Los Angeles, CA 90018
Oct 10, 12 PM - 5 PM — ends Nov 21, 2020
Ochi Projects is pleased to present soft powers, our first solo-exhibition featuring Los Angeles based artist Yasmine Nasser Diaz. This body of work, iteratively exhibited at the Arab American National Museum in Dearborn, MI, in a solo exhibition of the same title, reflects on coming-of age nostalgia and Yemeni-American girlhood. The exhibition showcases new silk-based fiber etchings that utilize photographic images depicting intimate moments of leisure amongst familiar company.

The notion of soft power is understood as the ability to attract and co-opt, rather than coerce.  Reframing this concept within her work, Diaz considers the covert skills that many of us begin to develop as children as we adapt to various environments. For children of immigrants, particularly those of families who have migrated from the Global South to Western societies, these skills are uniquely nuanced. Born and raised in Chicago to Yemeni immigrant parents, Diaz and her sisters often found themselves exercising these soft powers while negotiating the polarities of their daily lives.

Idle and affectionate moments in domestic spaces are depicted in a palette of warm-hued and plush silk velvets. Photography continues as Diaz's reference material – sourced from her personal archives as well as those she has collected from other Yemeni-American women. Like her previous collage work, Diaz has removed identifying facial features, both to preserve the anonymity of her subjects and as a reference to the various forms of censorship that play into their lives. In these spaces, their privacy is the setting for another type of soft power, a reclaiming of agency.

A new development in Diaz' practice, the fiber etching process involves the application of an acidic paste which reacts to cellulose fibers (in this case rayon), allowing areas to be etched away, leaving the silk-based mesh intact. The resulting 'burned out' fabric, also known as devoré, was popular in the 90s, an era that Diaz continually reflects upon in her work. This fabric is moreover frequently used in a Yemeni style of dress known as a dir'. Dir'oo (plural), usually made with sheer fabrics, are worn casually at home or on special occasions. Understood as being a symbol of womanhood, this style is typically worn by married or engaged women.

Diaz also presents a fourth, more minimal, iteration of her bedroom installation. The setting serves as a reference to the domestic space where the social conditioning (of 'eib') explored in her practice, and particularly in the neon work featured in the backroom gallery, begins. Diaz explains that عیب / eib is not easily translated into English. One of her favorite descriptions of its sentiment is depicted in the novel Guapa by Saleem Haddad, where he writes that, 'the closest word for eib in English is perhaps 'shame.' Haddad describes that eib is so much more than shame, and that the implication of eib is kalam il-nas, what will people say, and so the word carries a bit of conscientiousness, a politeness brought about by a perceived sense of communal obligation. It is a word Diaz heard often as a child and instilled in her little doubt about the many things she felt she needed to be ashamed of as a young girl. The photograph behind the mounted neon text, a bright pink عیب, is of Diaz, and was taken right around the age when she started to comprehend the extent of shame that her body could supposedly cause.

Adolescence and coming of age are life stages Diaz repeatedly revisits in her practice. With this work, she considers the transition from girlhood to adulthood in moments when the threshold between these stages grows increasingly thin. It is at these junctures where we seem to be continuously fluctuating back and forth, looking ahead with anticipation while simultaneously experiencing a burgeoning longing and nostalgia for childhood.

Yasmine Nasser Diaz navigates overlapping tensions around religion, gender, and third-culture identity using personal archives, found imagery and various media on paper as well as installation. She has exhibited and performed at spaces including the Arab American National Museum in Dearborn, Michigan, the Brava Theater in San Francisco, the Torrance Art Museum, Charlie James Gallery, and Station Beirut. Diaz recently joined Ochi Projects as a roster artist and is a 2019 California Community Foundation Visual Artist Fellow with works included in the collections of the LACMA, UCLA, the Arab American National Museum, and The Poetry Project Space in Berlin. She lives and works in Los Angeles.