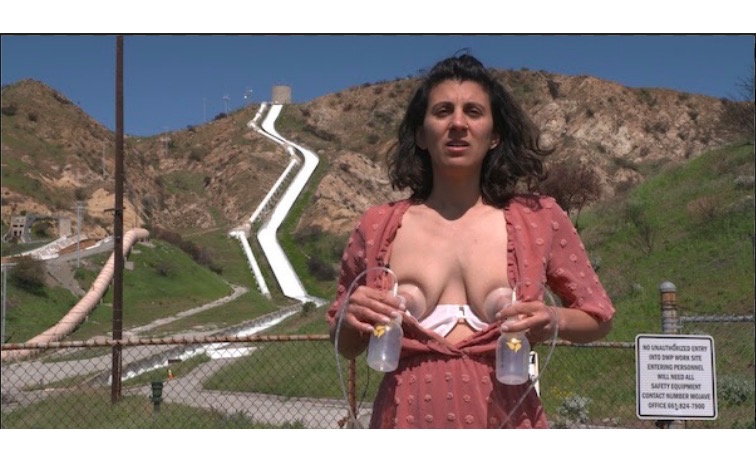 Patty Chang: Milk Debt
1639 18th Street Santa Monica, CA 90404
Oct 19, 6 PM - 9 PM — ends Jan 22, 2021
18th Street Arts Center is pleased to present a new solo exhibition of work by LA-based artist Patty Chang in the 18th Street Olympic Campus Main Gallery. With a new 5-channel film featuring 9 performers and lists of fears submitted by people from Los Angeles, New Mexico, and Hong Kong, Chang explores our debt to those who came before us, what it means to perform empathetic acts, and how we can make visible the hidden fears we share in this dark time.
Appointments:
www.eventbrite.com/e/patty-chang-milk-debt-nung-hsin-hu-incurable-nostalgia-exhibition-tickets-120423502939
-------------------------------
MILK AND WATER: A conversation between Patty Chang and Astrida Neimanis + 48 Hour Screening
Thursday, October 22, 2020 | 3PM PST
Join artist Patty Chang in a special conversation with Astrida Neimanis, author of Bodies of Water: Posthuman Feminist Phenomenology, marking the opening of Patty Chang's exhibition Milk Debt at 18th Street Arts Center. Neimanis and Chang will discuss confluences in their respective practices in the shadow of both a global pandemic and climate catastrophe. Their conversation charts a route through messy questions of toxic embodiment, mothers and their labors, environmental justice, and the banality of planetary collapse. What, they wonder, might the shifting scale of our fears teach us about what matters?
A 48-hour screening of Milk Debt will begin October 21 @ 3pm and run through October 23 @ 3pm so you can view the film online before or after the talk. The film (which is about 53 minutes) will start every hour on the hour.
The screening will only be available to those who register for the Zoom discussion