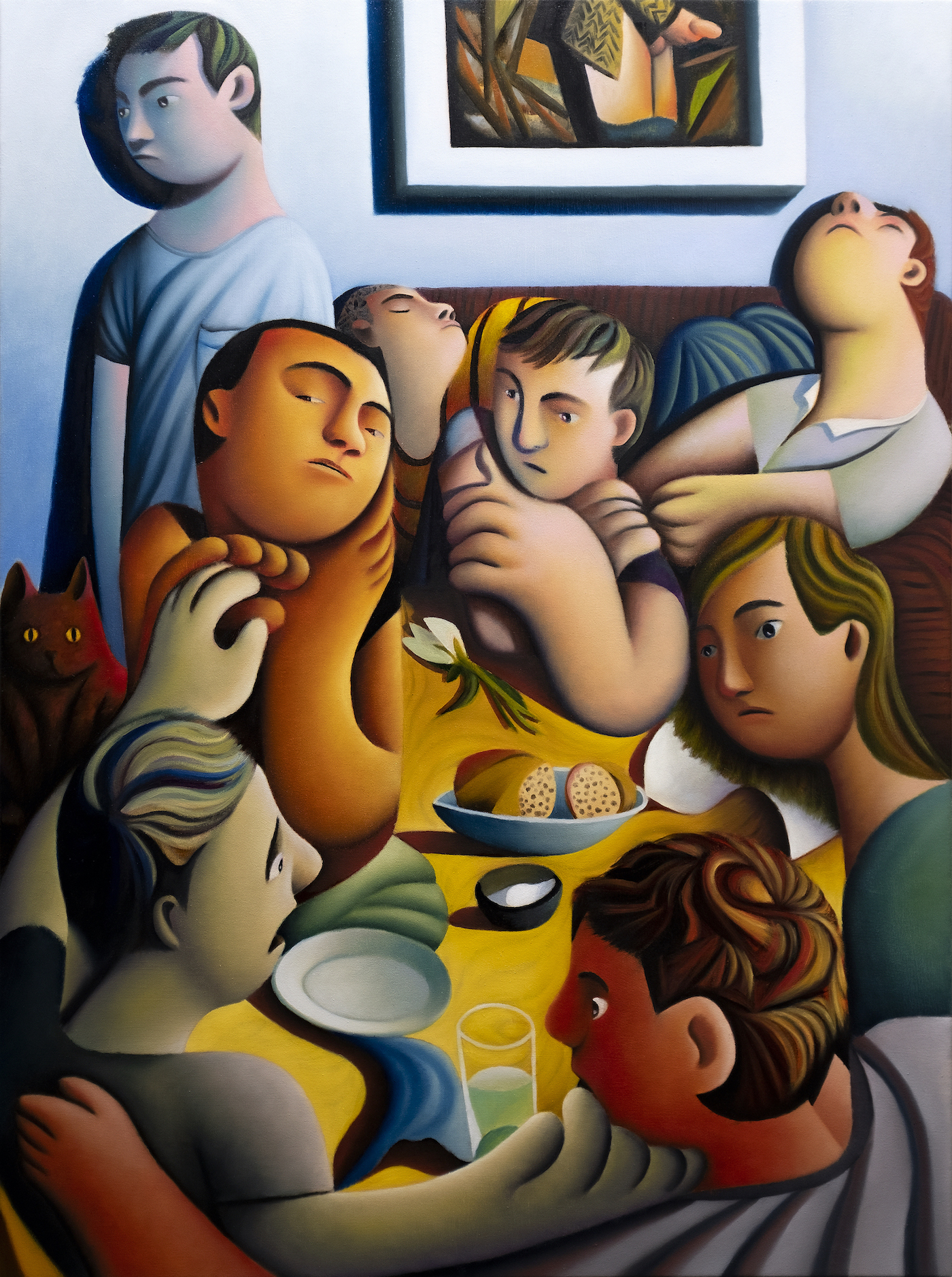 Justin Liam O'Brien: When Acting as a Wave
2525 Michigan Ave., Santa Monica, CA 90404
Nov 07, 2 PM - 2:30 PM — ends Dec 19, 2020
Richard Heller Gallery is pleased to present Justin Liam O'Brien - When Acting as a Wave. This will be O'Brien's first solo exhibition at Richard Heller Gallery.

From the Artist:

Sometime in August I had a conversation with a friend about the preparatory sketches I was making for this show. I was spiraling and making confusing scribbles of figures in group settings and it was going nowhere. I had been laid off from my day job and decided to make sense of starting to work primarily in my studio. This had been my goal all along but for it to materialize so unexpectedly in conjunction with a global pandemic felt misplaced, abrupt and surreal. Up to this point I had been interested in making paintings that reflected on tenderness and longing; reflections on the problems I was having as a young gay person in New York City. It did not feel relevant or helpful to do this during this time. I came away from our chat realizing that I'd need to plumb deeper to find the content for this work.

I decided to make a body of work that plays up elements that I considered to be subliminal in my previous work: rejection, captivity, and anxiety. These emotions have been more of an underpinning in my practice; something that adds an uneasiness or discomfort to an otherwise tender moment. For this show, I thought it would be appropriate to present them as explicit themes or even to exaggerate them to the point of it being absurd. I found helpful references for this in James Ensor, Otto Dix, Goya, and William Blake. I wanted to make theater out of how violent the experience of rejection, captivity and anxiety can be. As a result, this work ends up skewing darker than what I would normally make. It feels appropriate for the present.

~ Justin

Justin Liam O'Brien (b. 1991, Flushing, NY) received a BFA from Pratt Institute, Brooklyn, NY and an AS in Visual Arts from SUNY Suffolk, Selden, NY. Recent solo exhibitions include Losing in the Form of Darkness at Monya Rowe Gallery, New York, NY, Damned by the Rainbow, at GNYP Gallery in Berlin, Germany and his upcoming When Acting as a Wave at Richard Heller Gallery, Santa Monica, CA.

O'Brien's work has been reviewed in Juxtapoz, Artforum, and Gayletter, among others. O'Brien was selected by Jerry Saltz of New York Magazine for New American Paintings Northeast Edition (2020). Raw Meat Collective recently published a book, Losing in the Form of Darkness, based on O'Brien's sketchbook. The artist lives and works in Brooklyn, NY.