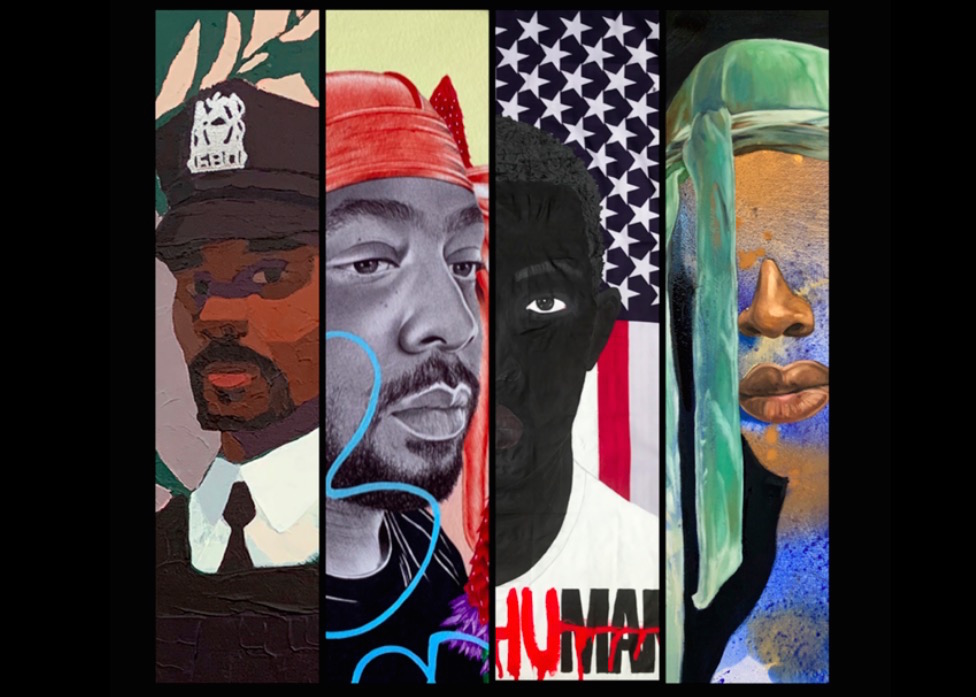 KANGS
👀
5376 W Adams Blvd, Los Angeles, CA 90016
Nov 14, 12 PM - 8 PM — ends Dec 12, 2020
Andrew Gray, Idris Habib, Tommy Mitchell Khari Turner

Curated By
Terrell Tilford & Melvin Marshall

Opening & Artists Reception
Saturday, 14 November 2020 | 12-8pm PDT

Virtual Walk-Thru via IG LIVE
Saturday, 14 November 2020 | 10am PDT

In a year that amplified the all-out assaults against Black people throughout the world at the hands of racial & social injustice, Band of Vices proudly embraces four young kings in their quest for visual reckoning... Their bold, defiant & fearless approach to their practice ordains these contemporary emerging artists as our young KANGS…

The exhibition centers its attention on four artists ---

Andrew Gray, Idris Habib, Tommy Mitchell and Khari Turner.
These four young African American kings are navigating being Black in America the best way that they know how-- by expressing it individually through their artwork. Their journeys have included contemplating their own personal history, challenging & disrupting the notions of ideal beauty, engaging with their connections to blackness & what it means to be a Black man in America, all against the backdrop of police brutality, the visibility/invisibility trope, systemic racism, and the canon of art history, to only name a few.

These artists are also responding to the current strife in our American society as it relates to the Black Lives Matter (BLM) Movement protests and demonstrations, in particular focusing on the recent senseless police murders of Breonna Taylor and George Floyd. The question of the 19th century asked: Do we want to be the America of Frederick Douglas & Abraham Lincoln or do you want to be the America of Jefferson Davis & Robert E. Lee? The query of the 20th century asked: Do we want to be the America of Martin Luther King, Jr. and John Lewis or Bull Connor and George Wallace? These young KANGS are expressing that it is time for America to make another definitive, generational decision regarding how we as a society will confront the race question: The choice is as stark and urgent today, in the 21st century: Do we want to be the America of Barack Obama, Joe Biden & Kamala Harris or do we want to be the America of Donald J. Trump, Mitch McConnell & Lindsey Graham?

These artists will be exhibiting work using traditional and avant garde techniques such as Gray's engaging use of oil & acrylic on canvas; Turner's ever exciting use of oil & acrylic on canvas & paper to engage with notions of blackness in order to elevate his African American brotherhood & sisterhood; Mitchell's expertise with the ball point pen adds an incredibly erudite sophistication to his urban portraits of African American women. Habib's modus operandi includes work with experimentation and a vibrant color palette. All four men wed these traditional and avant garde forms of expression to a deeper understanding and appreciation for American culture; all meant to inform and create more insightful associations that disrupt the staid historical narratives in order to develop a more inclusive and accurate portrayal of American art history.

By considering these artists collectively, curators Terrell Tilford & Melvin Marshall wanted to use this timely exhibition and opportunity to commemorate their 21year history of curating and creating exhibitions together. They have had the privilege over the years to exhibit and collect Modern and Contemporary Master artists along the lines of Grafton Tyler Brown, William H. Johnson, Richmond Barthe, Elizabeth Catlett, Charles White, Norman Lewis, Sargent Johnson, Romare Bearden, Jacob Lawrence, Samella Lewis, Sam Gilliam, Robin Holder, Robert Blackburn, Kehinde Wiley and Hale Woodruff to name a few.

KANGS will be on view from November 14th to December 12th, 2020 with a Virtual Walk-thru on Saturday, November 14th at 10am PDT. The curator duo will also launch their first podcast with this exhibition, at a later date, TBD.