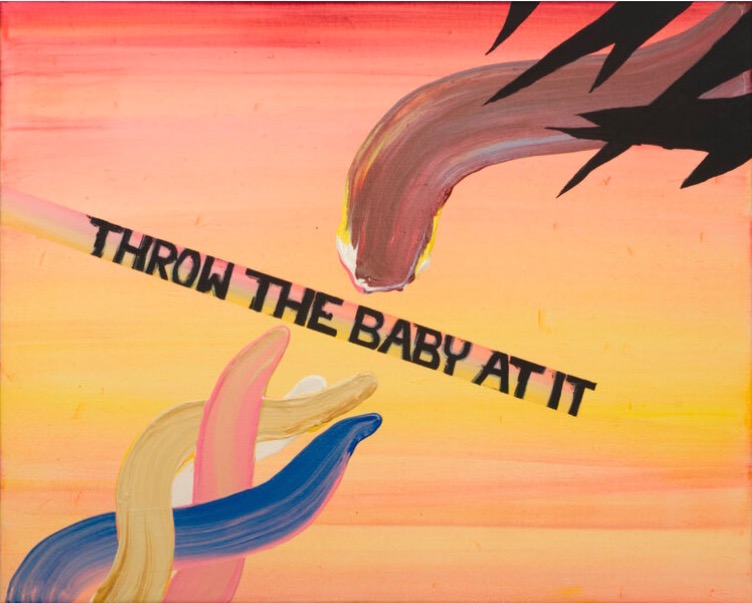 Senon Williams: Dead Night New Moon
1024 N. Western Avenue Los Angeles, CA 90029
Nov 14, 6 PM - 9 PM — ends Dec 12, 2020
By Appointment:
www.thelodge.la/contact-1?mc_cid=a742319530&mc_eid=36c8833590
The gallery holds itself as a three dimensional space in which Williams' timely new paintings on canvas complete the formula of a four dimensional manifold - a unique spacetime continuum. His kinematic gestures contrasting with the painted word provoke the viewer to consider their own place in space and time.
In the turbulence of 2020 Williams has reached out to new materials, working for the first time on canvas with paint : acrylic and flashe. With imagery ranging from stark silhouettes to lush landscapes and ambiguous forms staged in undetermined acts of hope and despair, his pairing of words and imagery encourage the viewer to contemplate their meanings beyond standard definitions. A poignant visualization of the inherent human struggle both ancient and contemporary.
"Words come first to me, the words inform the imagery. I may hear something odd or out of context from a friend, a passerby or the radio. I will wake from sleep and write a series of thoughts. I sit outside late in the evening as if I am in deep isolation miles from the nearest road in order to remove my mind from immediate contemplation and let the ideas come.
The words or phrases that make it into my work do not have the answers but a genesis towards an action or idea, these actions and ideas are different to each who view my work. "
- Senon Williams