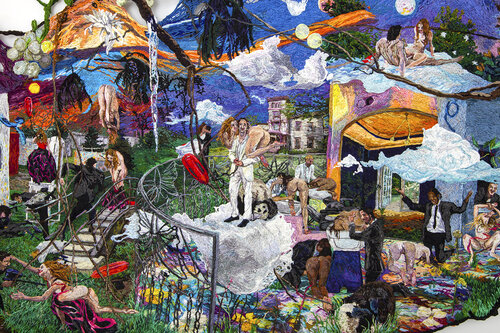 Sophia Narrett: Soul Kiss | Caroline Kent: A Sudden Appearance of the Sun
1227 North Highland Ave Los Angeles, CA 90038
Nov 28, 11 AM - 6 PM — ends Jan 15, 2021
Sophia Narrett: Soul Kiss

Known for her elaborately embroidered shaped canvases, Narrett weaves together spatially unfolding narratives of desire and sexuality. Each work invites the viewer to engage alongside it in a transcendent exercise of introspection, where the pursuit of sustained love is in concert with the search for the self.

----------------------------------

Caroline Kent: A Sudden Appearance of the Sun

Interested in a reevaluation of abstract painting, Kent's practice is founded on notions of language and textual translation. Much inspired by her Mexican heritage, Kent's artistry is influenced by the bold spontaneity and structuralist dynamics of Mexican sculptors and painters like Pedro Coronel, and the emotional architecture of Luis Barragán during the Twentieth Century. In parallel to Coronel and Barragán, Kent's large-scale works are sumptuous in color and texture, where experimentation and improvisation direct the process – an interaction with nature.