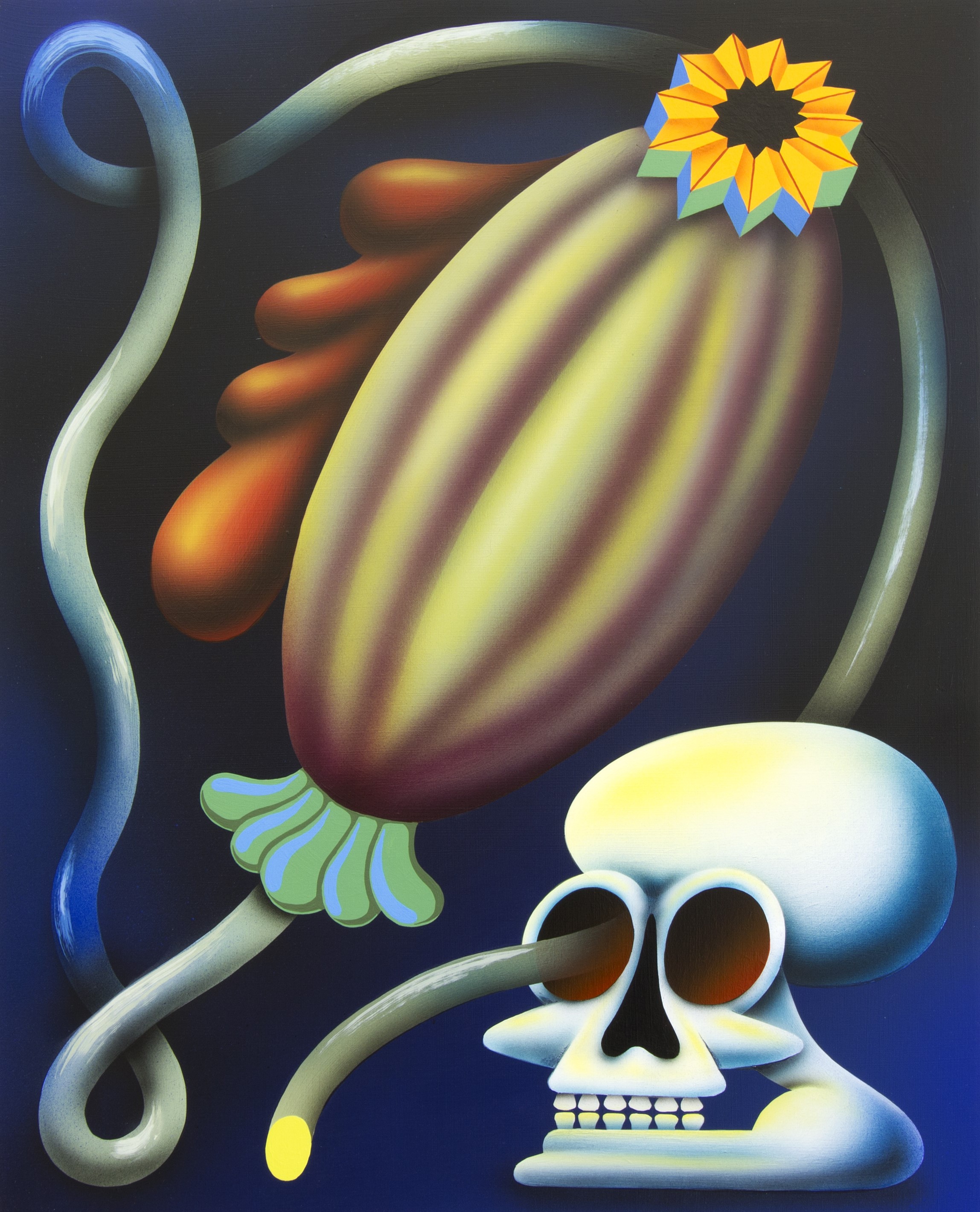 Ben Sanders: Poppies
3301 W Washington Blvd, Los Angeles, CA 90018
Dec 05, 12 PM - 5 PM — ends Jan 30, 2021
Ochi Projects is pleased to present Ben Sanders: Poppies, an exhibition of recent acrylic paintings and pen and color pencil drawings by Los Angeles artist Ben Sanders, on view from December 5, 2020 to January 30, 2021. This is Sanders' second show with the gallery.

In Ben Sanders: Poppies, Ben Sanders centers the Papaver somniferum or opium poppy flower. In a suite of panels and works on paper, graphic reductions of codified symbols float in airbrushed gradients of hazy pinks, violets, and greens. Abstract in their repetition, skulls, stems, flower buds and razors intertwine, mirror, and multiply, borrowing elements of one another to askew their own psychedelic anatomy. Hallucinatory colorfields of wonky blobs and swirls obscure the more sinister undertones of what would otherwise be a happy dystopia, a trip slowly spiraling out of control, unraveling in a dry pool of sparkling resin dust.

Somewhere on the pop side of Post Minimalism, Sanders' work eschews easy listening. Tension between color and surface appear to vibrate within milky, void-like washes. Skulls and vines glide as much as grow, slick protuberances pulse mid-discharge in sensual, cautionary arrangements reminiscent of the sculptures of Ken Price and Ron Nagle, or painter Victor Estrada.

Like a fetish object or tarot card, the charmed poppies hint at a concealed magic. Opium is born of the poppy tear, the sap secreted from within the plant's seed pod. Pleasure achieved and pain abated from the same elixir. The allure of fantastic escape or drip of salvation both cut only by the emblematic Sans Serif TOYOTA, like the rear view of pickup truck receding into the desert night at the end of a public service announcement — it's all drugs, kids. Crystalized in swathes of protuberances and pollen, Sanders's starry eyed organisms host the arcana of another trade, linking Middle America to another far off place. This too, in a puff of smoke.

Complementing his studio work is an enthusiastic, open-ended list of activities, materials and processes, inspired by the domestic and the designed. Whether facilitating highly curated social experiences involving food and beverages, or working with members of diverse, non-art communities, Sanders welcomes the influence of the everyday as a path towards meaning.