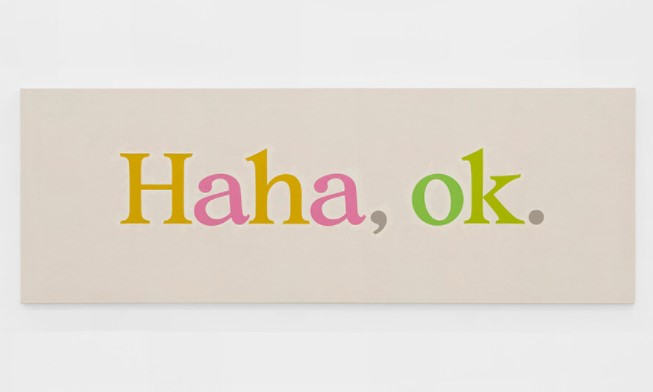 Ricci Albenda: Where the Twain Shall Meet
1326 South Boyle Avenue
Dec 05, 11 AM - 5:30 PM — ends Jan 22, 2021
Parrasch Heijnen is pleased to present 'Ricci Albenda: Where the Twain Shall Meet,' the gallery's first solo exhibition featuring recent work by Brooklyn, NY-based artist Ricci Albenda (b.1966, Brooklyn, NY).
Throughout the past three decades, Ricci Albenda has actively investigated the cognitive mechanisms of language. Toying with emotion, perception, and memory, he transforms the scale, perspective, color, and context of the printed word to produce spatial apprehension. This newest body of work crosses an imagined boundary between divergent utopic and dystopic realms, continuing the artist's exploration of the written word. The array of paintings in this show intentionally shifts reality and submerges the viewer into an unbalanced sphere.
All the works on view employ Albenda's 'Universal Color System,' which offers an adopted synesthesia, where certain senses cross to enhance the meanings of letters and words by giving them each their own unique color or color pattern. The system roughly maps the ROYGBIV spectrum onto the alphabet: a = Red; e = Orange; i = Yellow; o = Green; u = Blue; y being somewhere between Indigo and Violet. As Albenda describes, "It's a utopian project, envisioning itself being adopted everywhere, making reading better and more beautiful, for everyone; a quixotic endeavor in a world seeming to veer ever more headlong towards a dystopic future."
'Where the Twain Shall Meet' encounters such reservations with hope. In defiance of Rudyard Kipling's poem, "The Ballad of East and West," where "never the twain shall meet," Albenda insists that there is a place where they do. Displayed on both the walls and floor of the front gallery, works from the artist's "No Exit" series depict mirrored EXIT signs askew and aglow in an otherwise lightless abyss. With few exceptions, they eschew any frame of reference, either external or internal. By showing arbitrary excerpts of larger vistas with no discernible boundaries, these paintings represent the infinite, but on conspicuously finite objects. Like the mirror in Lewis Carroll's 'Through the Looking-Glass,' they beckon the viewer to a strange but familiar place beyond a seemingly unbreachable barrier, where nothing is quite what it seems.
The sense of scale dramatically expands in Albenda's text message paintings. With "Haha, ok., :(," and "Ugh.," the viewer enters a dialectic between the physical and mental state mirrored in the realm between inner cyber space and outer tangible space. These phrases reveal intimate emotions emphasized by color in one of the most ubiquitous forms of communication. The grounds of "Haha, ok., :(," and "Ugh." are painted to appear raw and flat, enabling the gleaming letters and punctuation to accentuate. Albenda achieves the tonal qualities of raw canvas in "Haha, ok.," for example, by using a laborious, multi-step glaze technique to restore a slight tint to the raw canvas that the application of clear glaze alone otherwise obfuscates.
Whether plumbed from the subconscious or the information superhighway, the imagery Albenda chooses has its own set of personal associations and affiliations, as well as community context. Text messages at once ubiquitous and private, grave and trivial, are enlarged by orders of magnitude. The textured grounds riff on the debate between "light" and "dark" mode. The synthesis of color and language is amplified on highly recognizable signs and logos such as Dunkin' Donuts and ebay. Albenda specifically and subtly shifts his colors from those of their sourced corporate logos. "Dunkin' Donuts" and "ebay" ignite no debate over light vs. dark, virtual vs. physical, or small vs. large; they're as at home on a smart phone as on a skyscraper. But in them the utopic meets the dystopic; private meets public. Capitalist underpinnings, seductive design: none of it diminishes the depth of feeling these sorts of images elicit and tap into. In the paintings, the corporate logos' original color-coded branding has been enhanced (or subverted) by the injection of Albenda's own. In becoming more richly and uniquely colored, by reinforcing memory and comprehension by adding layers of sensory information, they become—more—themselves. These cross-sensory connections emphasize the preeminence of feeling, in concert with color and language, in expressing mood and emotion. Albenda offers the viewer a new learned intuition in hopes of deepening our relationship with everything around us.
Ricci Albenda received a BFA from Rhode Island School of Design in 1988. His work has been exhibited extensively at venues including: The Guggenheim Museum, New York, NY; Tel Aviv Museum of Art, Tel Aviv, IL; Institute of Contemporary Art, Boston, MA; Brooklyn Museum, Brooklyn, NY; Castello di Rivoli, Turin, IT; Museum of Modern Art, New York, NY; MoMA PS1, Queens, NY; Centre Georges Pompidou, Paris, FR; The Rachofsky House, Dallas, TX, and New Museum, New York, NY. Albenda's work resides in prominent museum collections including: The Guggenheim Museum, New York, NY; Whitney Museum of American Art, New York, NY; and Albright-Knox Art Gallery, Buffalo, NY, among others. Albenda is represented by Andrew Kreps, New York, NY, Gladstone Gallery, Brussels, BE, and Parrasch Heijnen, Los Angeles, CA.
'Ricci Albenda: Where the Twain Shall Meet' will be on view at Parrasch Heijnen Gallery, 1326 S. Boyle Avenue, Los Angeles, from December 1, 2020 – January 9, 2021, by schedule of a timed visit. The gallery has secure, private parking onsite. We will provide a doors-open, socially distanced experience to safely welcome you to view the exhibition. Gallery staff are also available to guide you through our exhibitions virtually via Zoom. For more information, please contact the gallery at +1 (323) 943-9373 or
info@parraschheijnen.com
.