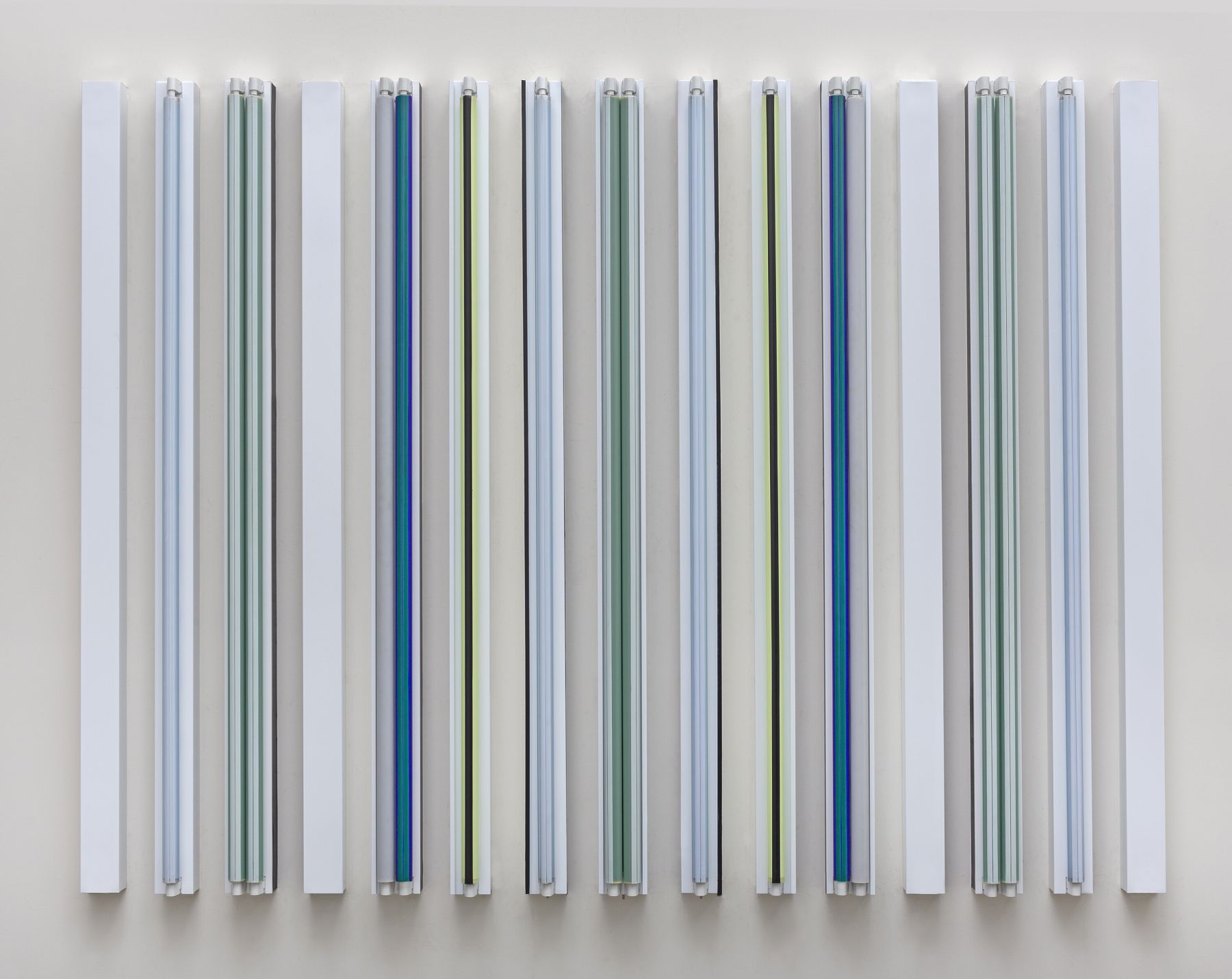 Robert Irwin: Unlights | Huguette Caland: Bronzes
1201 S La Brea Ave, Los Angeles, CA, 90019
Jan 09, 10 AM - 6 PM — ends Feb 27, 2021
Robert Irwin: Unlights
Kayne Griffin Corcoran is pleased to present Unlights, a solo exhibition of sculptural works by Southern California based artist Robert Irwin. This will be Irwin's inaugural exhibition with the gallery and the first time this body of work is being exhibited on the West Coast. This exhibition will be on view from January 9th through February 27th 2021.
Irwin's new works are composed from unlit six-foot fluorescent lights mounted to fixtures and installed in vertical rows directly on the wall. The glass tubes are covered in layers of opulently colored translucent gels and thin strips of electrical tape, allowing the reflective surfaces of unlit glass and anodized aluminum to interact with ambient illumination in the surrounding space and produce shifting patterns of shadow and chromatic tonality. Reflecting his recent turn toward the perceptual possibilities of unlit bulbs, Irwin's new body of work expands the range of possibilities for how we experience sensations of rhythm, pulsation, expansion and intensity, while continuing the artist's long-standing interest in registering the immediacy of our own presence in space.
---------------
Huguette Caland: Bronzes
With a storied pedigree as the daughter of the first president of postcolonial Lebanon, Huguette Caland has been forging a bold artistic career since the early 1960s, creating intricate, playful, and memory-infused paintings, drawings, sculptures, and clothing. "I'm a line person," she has aptly declared, referring to her work's delicate lines that are inspired by the Byzantine mosaics and handwoven rugs that blanketed the walls of her native Beirut and childhood home. At the beginning of her career, she painted and sculpted erotic, semi-abstract bodyscapes, exploring amorousness and anatomy with a humorous, light touch. By 1970, she had moved to Paris, where she designed a line of haute couture caftans for Pierre Cardin and started to create the minutely patterned, textile-like compositions that she pursues to this day.
For press inquiries please email
press@kaynegriffincorcoran.com