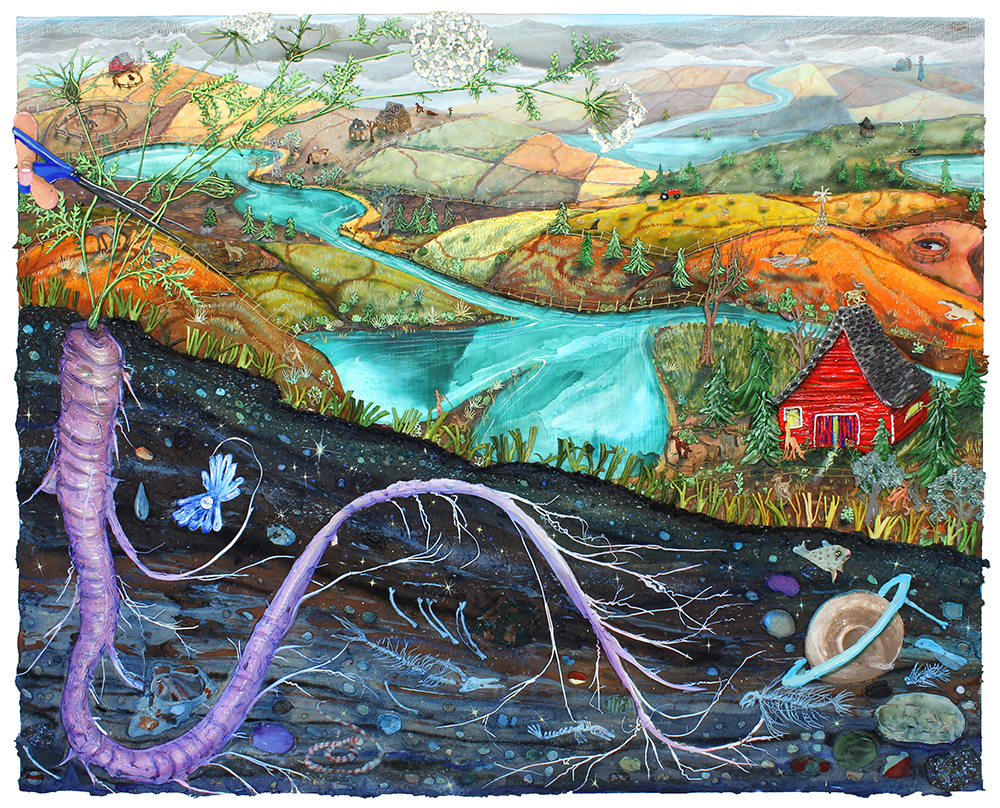 Kate Klingbeil: Grown Woman | Hannah Epstein: Kill Your Captors | Benjamin Cabral: Soliloquy For Past Futures
👀
6830 Santa Monica Blvd. Los Angeles, CA 90038
Jan 09, 11 AM - 6 PM — ends Feb 06, 2021
Kate Klingbeil: Grown Woman
steveturner.la/exhibition/kate-klingbeil
Steve Turner is pleased to present 'Grown Woman,' a solo exhibition by Milwaukee-based Kate Klingbeil which features new anthropomorphic paintings and sculptures that she created upon her return to Wisconsin after the onset of Covid. Her paintings depict fantastical underground landscapes and complex ecosystems that draw upon her upbringing in the rural Midwest and which represent the dark side of her mind. She has an idiosyncratic painting process that involves the construction of painted passages on plastic that she later removes and affixes to her complicated compositions of above and below ground landscapes. The layering of these painted elements yields deeply textured, sculptural paintings. Grown Woman also introduces a new aspect of Klingbeil's practice–cast brass and iron sculpture–that she made during her recent residency in the Arts/Industry program at the John Michael Kohler Arts Center, Sheboygan, Wisconsin. They depict many of the same root characters that are in her paintings, but in casting molten metals, Klingbeil gets even closer to the underground world that is at the core of her practice.
Klingbeil (born 1990, Grosse Pointe, Michigan) received a BFA at California College of the Arts (2012). She had a solo exhibition at SPRING/BREAK, New York with Field Projects (2020); a two-person show with Rebecca Ness at Monya Rowe, New York (2019) and has been in group exhibitions at Steve Turner, Los Angeles (2020); Nevven Gallery, Gothenburg (2019); Andrew Edlin, New York (2019); Paul Kasmin, New York (2018) and Andrew Rafacz, Chicago (2017). This is her first solo exhibition at Steve Turner.
---------------------
Hannah Epstein: Kill Your Captors
steveturner.la/exhibition/hannah-epstein-4
Steve Turner is pleased to present 'Kill Your Captors,' a solo exhibition by Hannah Epstein which features new hooked rugs, most of which she created after moving into an 1886 church in Mahone Bay, a small town one hour from Halifax. The hysteria of 2020 and the meme culture that ensued are depicted in the works on one wall while the wall opposite it displays a group of feline monsters bearing sharp teeth that are eagerly looking on. The meme works relate to Cancel Culture, Elon Musk and Grimes, Xi Jinpeng's China, sacred cows and hyperstimulation. On the center wall is a single large work, the artist's largest to date, one that shows a torch-bearing nude woman astride a flying monster that is approaching another monster as though a battle is about to ensue. An erupting volcano is below and a colorful toothy sun is in the distance. The woman is ready and able. Look out below.
Hannah Epstein earned a BA from Memorial University of Newfoundland (2009) and an MFA from Carnegie Mellon (2017). She has had solo exhibitions at HUB Gallery, Pennsylvania State University (2019); Museum of Contemporary Art, Toronto (2019) and Steve Turner, Los Angeles (2018, 2019 & 2020) as well as group exhibitions at Long Beach Museum of Art (2019); San Jose Museum of Quilts and Textiles (2019) and The Rooms, St. Johns, Newfoundland (2019). This is Epstein's fourth solo exhibition at Steve Turner.
---------------------
Benjamin Cabral: Soliloquy For Past Futures
steveturner.la/exhibition/benjamin-cabral
Steve Turner is pleased to present 'Soliloquy For Past Futures,' a solo exhibition by Chicago-based Benjamin Cabral that consists of a room installation reminiscent of a youth theater in which his paintings and sculpture exist as background, actor and audience. The installation is an extravaganza of color and materials: blue velvet walls, plush purple carpet, a row of theater chairs painted lavender with pink upholstery, brightly colored paintings and sculptures with undulating surfaces of glass beads, rhinestones, mirrors and faux pearls. Central in the works is a youthful, red-haired boy who is either performing, playing, ruminating or remembering. His expression is neither frown nor smile, but has something of both. According to Cabral, he is that boy, constructed from memory and invention. The works are obsessively and meticulously crafted, flamboyant and dazzling with Cabral as Liza, Bette, Judy and a character from Cats. The narrative in any given work is ambiguous, but as a whole, the installation conveys a darkness just below glitz where nostalgia and trauma intersect.
Cabral (born 1993, San Diego) earned a BA at Point Loma Nazarene University, San Diego (2016) and an MFA at the Art Institute of Chicago (2019). He has had solo exhibitions with Lauren Powell at SPRING/BREAK, Los Angeles and SPRING/BREAK, New York (2020). This is his first exhibition with Steve Turner.