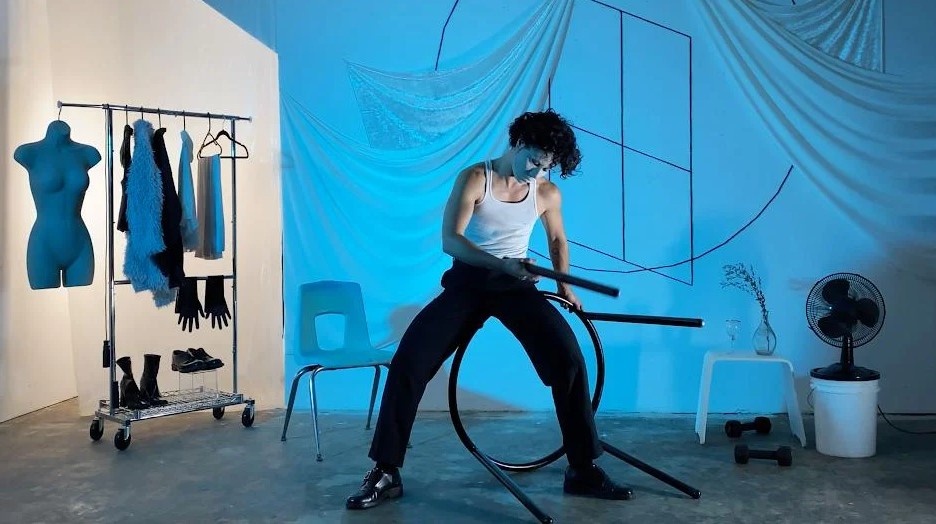 Film Maudit 2.0 (12 days dedicated to outré films + more)
👀
1651 18th St. Santa Monica, CA 90404
Jan 12, 1 AM - 11 PM — ends Jan 24, 2021
Highways presents Film Maudit 2.0 Tuesday, January 12, through Sunday, January 24, 2021, celebrating the work of outré films & artists. The festival program includes 16 feature films and over 100 shorts from around the globe with work from 25 countries along with specially commissioned works & music events by local Los Angeles artists reflecting the diversity of the city.
The festival is entirely FREE online, accessible via Film Maudit 2.0's website,
www.filmmaudit.org
.
Film Maudit 2.0 is a film festival dedicated to outré films, inspired by the legendary artist Jean Cocteau's "1949 Festival Du Film Maudit", which celebrated a group of films that were criminally overlooked and neglected at the time, ie. not the kind of fare you will find at most mainstream film festivals (unless relegated to a sidebar).
Film Maudit 2.0 blends narrative, documentary and experimental films that in style or subject matter are deliberately bold, extreme, confrontational or unusual. These "cinemasations" include work that deals with socio-political issues and taboo subject matter that challenges artistic assumptions and sexual mores.
FESTIVAL HIGHLIGHTS:
SPECIAL ONLINE FUNDRAISER EVENT:
WATER MAKES US WET: a live screening and online conversation hosted by John Fleck with filmmakers Annie Sprinkle and Beth Stephens and additional special guests.
A live screening of WATER MAKES US WET will be followed by an online conversation hosted by John Fleck with filmmakers Annie Sprinkle and Beth Stephens and additional special guests. Donations from this virtual program will support Highways' future programming.
SPECIAL EVENTS:
NSFW Film Fest | Curated by Planet Queer
HI-Kicks Entrails | Curated by Ironstone
QLX: The Performance of Queer Latinx | Curated by QLX Collective
LIVE MUSIC AND FILM:
Sister Mantos scores Jean Cocteau's 'The Blood of a Poet' (1930)
Half Tribe Human scores Jean Genet's 'Un Chant d'Amour' (1950
3D GALLERY:
In the Realm of the Senses curated by Dakota Noot and Christopher Velasco
The human body is a source of turmoil and transformation. Cinema has long captured the possibilities of the body beyond reality, whether filtering, cutting, or splicing it into different forms. "In the Realm of the Senses" draws from cinema in works that include collage, mixed media, painting, and photography. Representation of the self can blur mediums, colors, and realities. The work of these LGBT+ artists will be presented online, drawing from the power of images in film or the internet to validate identity. Each work acts as a film still, but carries experimentation and movement. This exhibition features the work of Erin Adams, Juan Velasquez, and Jorge Gomez Gonzalez.
FEATURES:
A DARK, DARK MAN, 2019. Writer/Director: Adilkhan Yerzhanov. Run-Time: 130 min. Country: Kazakhstan/France (in Kazakh & Russian)
ANONYMOUS ANIMALS, 2021. Writer/Director: Baptiste Rouveure. Run-Time: 64 min. Country: France
ASK ANY BUDDY, 2019. Writer/Director: Evan Purchell. Run-Time: 78 min. Country: USA
BUIO (DARKNESS), 2019. Director: Emanuela Rossi. Run-Time: 98 min. Country: Italy
GET THE HELL OUT, 2020. Director: I.-Fan Wang. Writers: Shih-Keng Chien and I.-Fan Wang. Run-Time: 100 min. Country: Taiwan
KRIYA, 2020. Writer/Director: Sidharth Srinivasan. Run-Time: 95 min. Country: India (in Hindi & English)
MATHIUS MARVELLOUS SHOP, 2019. Directors: Paola Alvarez, Manuel Escorihuela. Run-Time: 94 min. Country: Spain
MEXICALI, 2010. Story: Juan Palacio and Max Herrlander. 55min. Country: Mexico / USA / Sweden.
NIGHT OF THE RUMPUS, 2019. Directed by Jorge Torres-Torres. Country: USA
NINA OF THE WOODS, 2020. Writer & Director: Charlie Griak. Run-Time: 91 min. Country: USA
NINJA BADASS, 2020. Written & directed by: Ryan Harrison. Run-Time: 105 min. Country: USA
PAPI RAMIREZ VS. GIANT SCORPIONS, 2020. Written & directed by: Leslie Rivera. Run-Time: 65 min.
Country: USA
REZA ABDOH - THEATRE VISIONARY, 2015. Director: Adam Soch. Run-Time: 104 min. Country: USA
ROTTEN EARS, 2019. Directed by: Piotr Dylewski. Written by: Magdalena Celmer & Piotr Dylewski. Run-Time: 60 min. Country: Poland
SHASHIN NO ONNA (WOMAN OF THE PHOTOGRAPHS), 2020. Writer/Director: Takeshi Kushida. Run-Time: 89:57 min. Country: Japan (in Japanese)
WATER MAKES US WET, 2017. Directors: Annie Sprinkle, Beth Stephens. Run-Time: 80 min. Country: USA
SHORT FILM SHOWCASES:
The festival's program of shorts spreads over 15 uniquely curated categories, from 'Ms. Fear' to 'Shattering Form' - it will go from animated documentaries to experimental works handmade on film; extreme horror to comic surrealism.
CATEGORIES:
Eat Me
Body Blows
Queer-ing Genre
Ms. Terror
Psychedelic Sanatorium
Going Solo
Life, Animated
Nuclear Nostalgia
Experimenting Reality
High Tension
Surreal Hi-Jinks
Euro Invasion
Dystopic Agenda
Shattering Form
Dark Night of the Soul