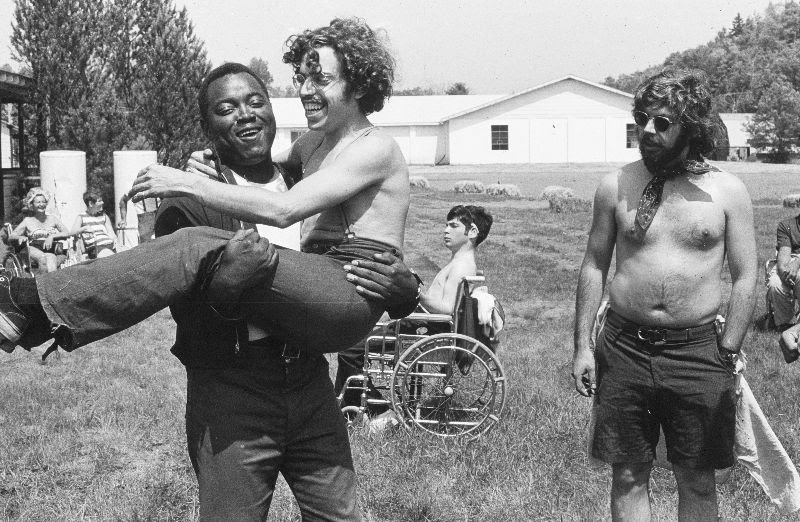 Film Screening: Crip Camp
5905 Wilshire Blvd, Los Angeles, CA 90036
Jan 13, 7 PM - 11:30 PM — ends Jan 14, 2021
Wednesday, January 13–Thursday, January 14, 2021
Available 7–11:30 pm each day.
Free, RSVP required
This screening will be hosted by a Netflix approved third-party screening platform. Visit Netflix to watch the film now.
Join FILM at LACMA for a screening of Crip Camp (108 minutes) followed by a post-screening conversation with co-directors Nicole Newnham and Jim LeBrecht. The conversation will be moderated by Eric Deggans of NPR.
In the early 1970s, teenagers with disabilities faced a future shaped by isolation, discrimination, and institutionalization. Camp Jened, a ramshackle camp "for the handicapped" in the Catskills, exploded those confines. Jened was their freewheeling Utopia, a place with summertime sports, smoking, and makeout sessions awaited everyone, and campers felt fulfilled as human beings. Their bonds endured as they migrated West to Berkeley, California—a promised land for a growing and diverse disability community—where friends from Camp Jened realized that disruption and unity might secure life-changing accessibility for millions.
Co-directed by Emmy®-winning filmmaker Nicole Newnham and film mixer and former camper Jim LeBrecht, this joyous and exuberant documentary arrives the same year as the 30th anniversary of the Americans with Disabilities Act, at a time when the country's largest minority group still battles daily for the freedom to exist. Crip Camp is executive produced by President Barack Obama and Michelle Obama; Tonia Davis and Priya Swaminathan; Oscar® nominee Howard Gertler (How to Survive a Plague) and Raymond Lifchez, and Jonathan Logan and Patty Quillin. LeBrecht, Newnham, and Sara Bolder produce.
RSVP to receive a link and password for this screening. Please note that ticketing will close 24 hours prior to the event.
www.lacma.org/event/film-screening-crip-camp-and-post-screening-conversation-co-directors-nicole-newnham-and-jim