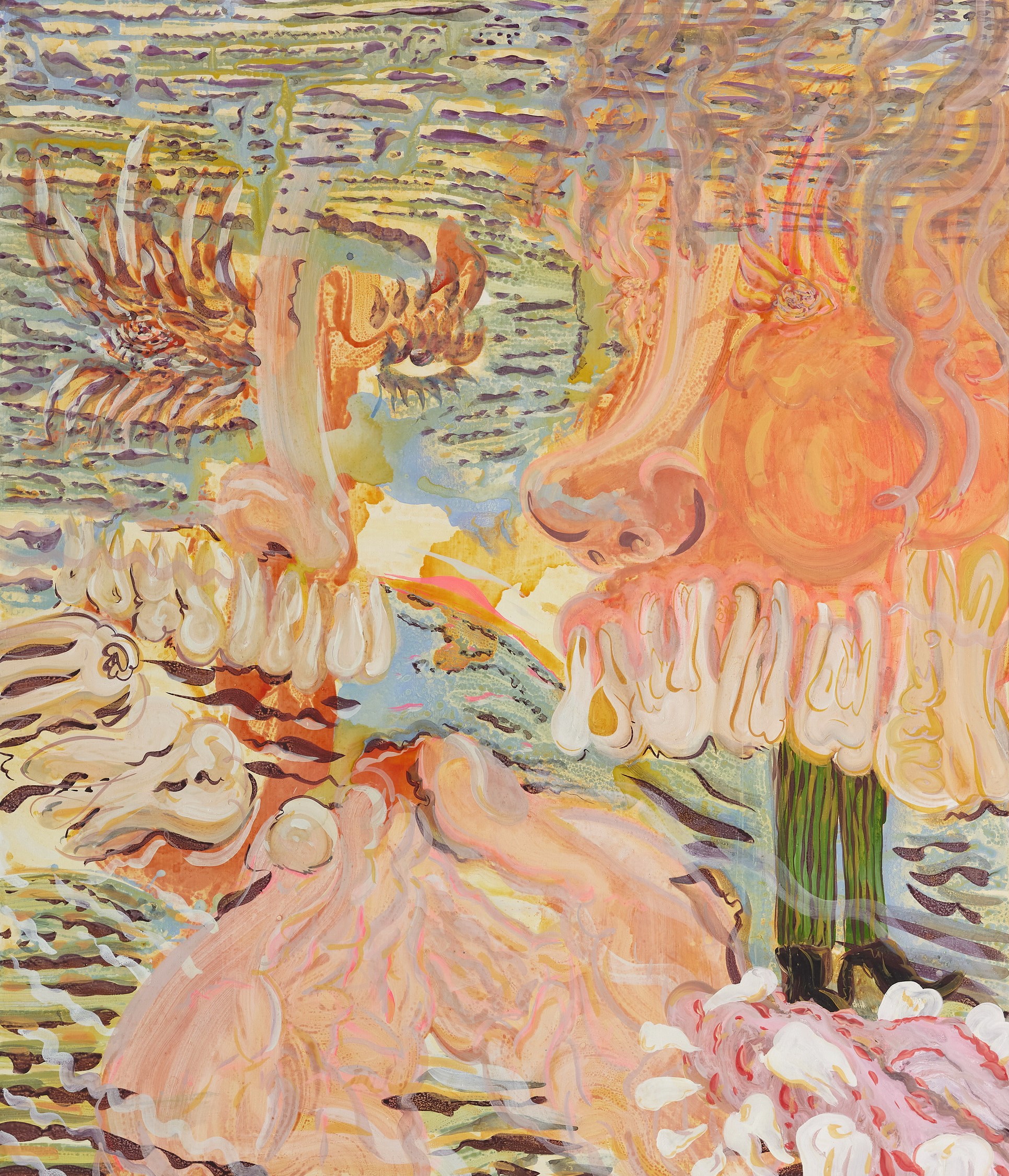 Michael Haight: Paper-Thin Friends | Closing Reception
4852 Santa Monica Blvd., Los Angeles, CA 90029
Feb 27, 5 PM - 8 PM — ends Feb 28, 2021
Closing reception and last day to view Paper-thin friends
Details here:
haight.space/paper-thin-friends
------------------
Michael Haight
Paper-Thin Friends
at SANTA JOSEFINA Jan 9 - Feb 28 2021
4850 Santa Monica Blvd, Los Angeles 90029
Wednesday thru Saturday, 11a - 7p, Sun 12p - 5p or by appointment
SANTA JOSEFINA presents PAPER-THIN FRIENDS a suite of large-scale works by Los Angeles based artist Michael Haight. The title "Paper-Thin Friends" comes from lyrics the artist wrote for a demo in 2010 that describes the way in which we often rely on building ourselves upon the backs of people we think are our friends. The chorus reads, "Always you hold up your vanity / Paper-thin pairs of your friends / Smiling compliments at what you / Made for your self-confidence / Upon a shelf inside your heart." Delusion leads us to build false pillars around those who are merely specters of what we believe them to be. Considering this notion in the realm of contemporary social media culture alongside the notions of 'evil friends' and 'warm friends,' which are part of Buddhist philosophy, Michael set to work on a group of paintings that explored these concepts.
In the Sigalovada Sutta, the Buddha touches upon the kinds of friends, evil and caring, one encounters in their lifetimes. We have all come into contact with the likes of these people and we have been those "friends" ourselves; those friends who steal from us, those friends who gain favor with empty words, those friends who speak ill behind our backs, and those friends who encourage our heedlessness. This body of work presented at SANTA JOSEFINA engages specifically with evil friends in the form narrative portraits of their actions and personae. While four paintings in the group depict such friends in action, the fifth is a cast of the mind reflecting such actions in our daily lives.
Haight considers these paintings 'portraits' to grant the viewer an entrance point to the likenesses involved. Eyes, teeth, and tongues, are laid bare, explode, and languish before the viewer in stark script-like lines of tempera and muddled washes of watercolor. The typical units of a portrait become no longer that which are adorned but instead symbols of actions, thoughts and words.
According to an anonymous Zen Buddhist nun, "The more you adorn yourself, the more you're trying to cover up the void." In such a way these portraits are the seeping out of the void beyond the adornments—the purging of the constructed personality. By barraging the specific facio-graphic points of 'left eye,' 'right eye,' 'nose,' 'mouth,' 'forehead,' 'chin,' with nonsensical flows of script, shreds of tentacles, and ropes of light, the viewer is brought closer to the heart of the nun's words. It is the psychology and personal history of the viewer that then becomes the departure point from the paintings' grotesque subjects. Because of this, these portraits aim to make a muck of the expectations of portraiture—an antithesis to the easily recognizable landmarks in the maps of ourselves.
I want to apologize for ever being a friend who appropriates, who renders lip-service, who flatters, and who brings ruin. I know I have been paper-thin and that is no destiny to keep ahold.