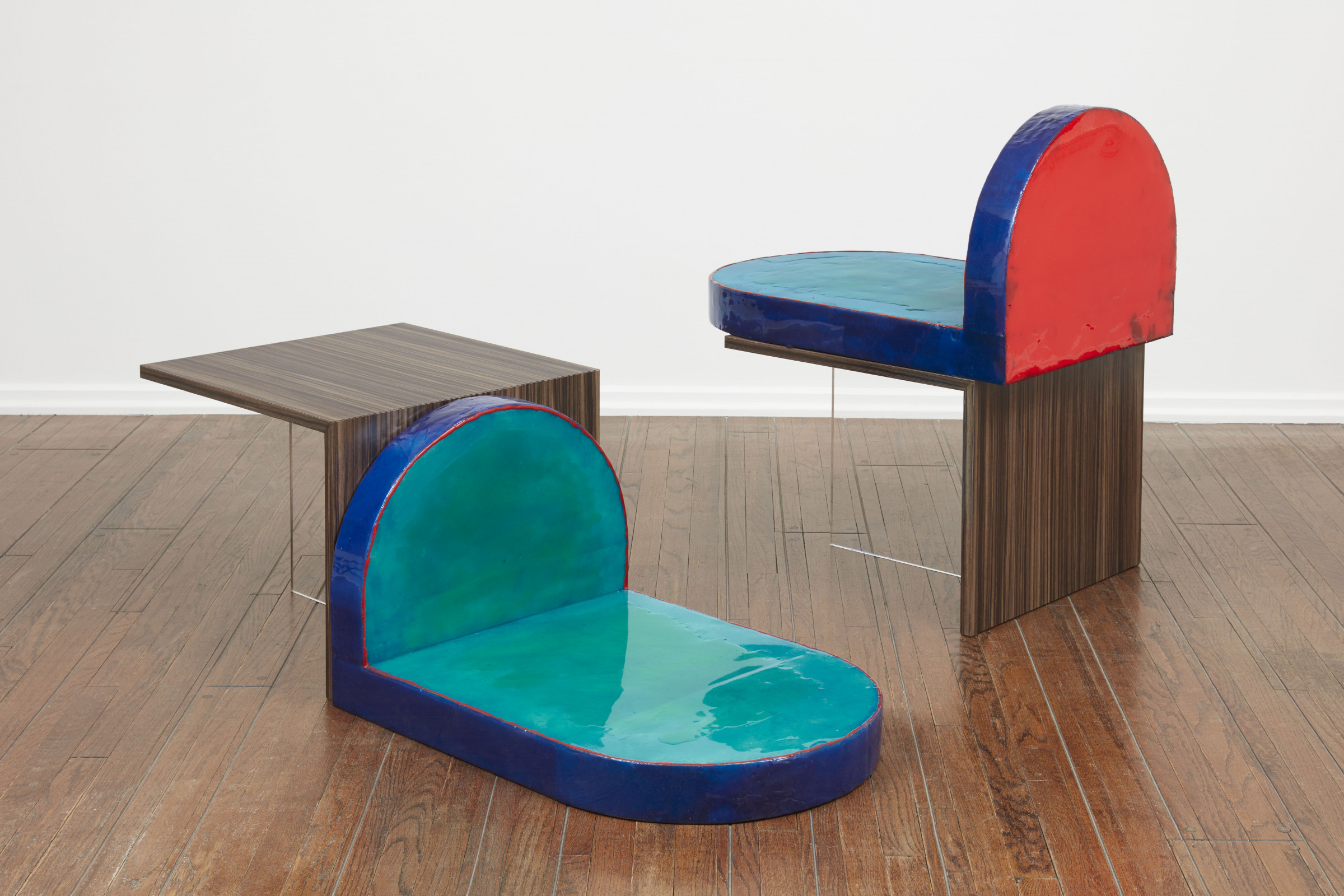 Luam Melake: Sensitive Forms | Melvino Garretti: Vino's Carnival of Ceramic Curiosities, or the Circuitous Path to Calamity
2441 Glendower Ave, Los Angeles, CA 90027
Jan 30, 12 PM - 5 PM — ends Mar 27, 2021
Luam Melake: Sensitive Forms
January 30 - March 27, 2021

Parker Gallery is proud to present the debut solo exhibition of New York-based artist Luam Melake, simultaneously marking the artist's first presentation on the West Coast. The exhibition features a group of wall-based textile sculptures handwoven on the loom and a modular furniture set made during the artist's 2019 residency at the Bemis Center for Contemporary Arts in Omaha, Nebraska.

This exhibition will coincide with Melake's inclusion in Objects: USA 2020 at R & Company, New York, which revisits the groundbreaking 1969–1973 traveling survey that introduced innovators of the American studio craft movement to a broader audience, helping to establish new positions within the art world, including those by Sheila Hicks, Lenore Tawney, Anni Albers and Ron Nagle.

Combining her extensive knowledge of materials with her background in architecture and design, Melake's objects are infused with the textures and feelings of our surroundings. Commonplace industrial materials polyurethane foam, rubber tubes, latex—chosen for their affective qualities are woven together to elicit an emotive response. Some are densely layered, pairing natural and synthetic fibers, hard and soft textures, taut and droopy silhouettes.

In "Talismanic Quilt (2020)," Melake shrink wrapped sentimental objects in plastic and combined them with well-loved patches of old clothing, creating a quilt narrativizing fond memories and distinct moments in time. As the artist notes, "the work is inspired by a West African practice of packaging found objects that have specific cultural meaning and stitching them to tunics, to create a specific 'energy formula that propels the wearer towards action.'"

Melake's furniture practice employs the same level of experimentation as her textiles. "Better Together Table (2019)" belongs to the artist's ongoing Optimisd series —a wordplay on optimist and optimized. In this example, a combination of two tables and two chairs can be organized in multiple configurations, each offering an opportunity for direct social engagement among its users.

----------------
Melvino Garretti: Vino's Carnival of Ceramic Curiosities, or the Circuitous Path to Calamity
January 30 - March 27, 2021

Parker Gallery is proud to present its first solo exhibition by Melvino Garretti, the artist's first solo gallery presentation in his native Los Angeles since 1985. The exhibition features exuberantly glazed ceramic sculptures displayed on pedestals and wall-hanging ceramic masks incorporating African textiles, all made within the past year.

A series of nine sculptures present a vividly colored tableaux depicting the spectacles and carnival games commonly found at county fairs and circuses, including: milk bottle toss, lion taming, fire-breathing, dancing elephants and acrobatic clowns. These narrative scenes summon the inner child as a means of subverting a superficial, candy-colored innocence. Lurking just beneath the surface glazes is a somewhat demonic reality. The rituals of carnivalesque games are evocative of the trials and tribulations of daily life.

A group of ceramic masks imagine superhuman alter egos, decorated with shredded textiles, like streamers from a kite. It's not hard to imagine the masks animated by a performer in a fantastical ritual, embodied with the spirit of a mystical deity. Some of the masks are almost diaristic, commemorating cultural calamity and new rituals of human behavior.

In the late 1960's, Garretti worked with Studio Watts and Anna Halprin's San Francisco Dancer's Workshop on an "interracial dance encounter," The Ceremony of Us. The work premiered in 1969 at the Mark Taper Forum in Los Angeles, not far from where Garretti grew up. The experience inspired increased awareness and sensitivity to his environment, which Garetti continued to explore as a graduate student at the San Francisco Art Institute (1973–76). These performative acts included a mountain of dirt in the SFAI cafeteria which was transformed into a landscape of mud (1975) and dragging a wagon down Columbus Street to the Transamerica Pyramid (Journey to the Pyramid, 1976). Since these early actions, Garretti's work has sought to activate the viewer's own subjective experience and self-awareness.