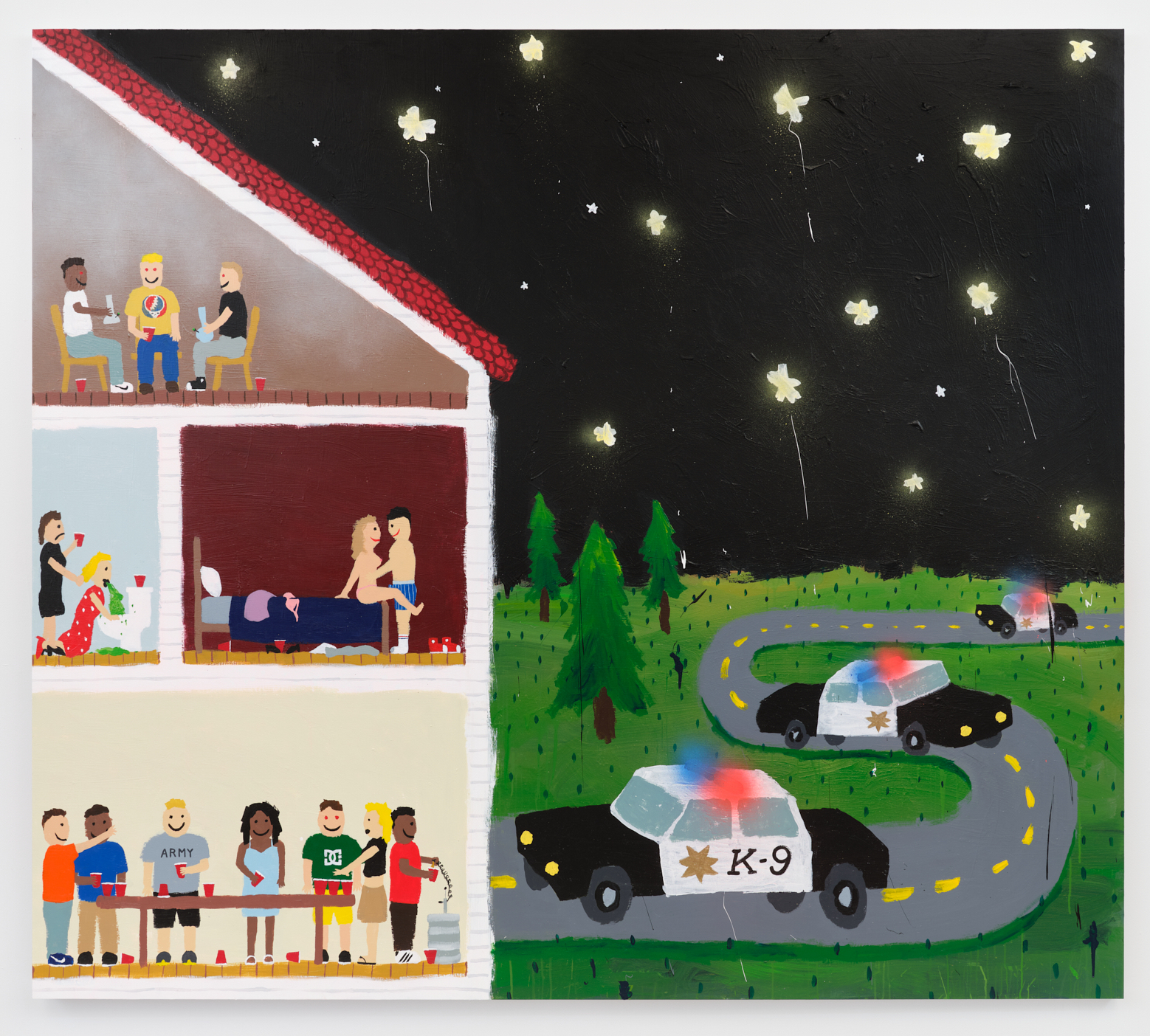 Hunter Potter: I'll Wake Up Older
2525 Michigan Ave., Santa Monica, CA 90404
Feb 20, 2 PM - 2:30 PM — ends Mar 27, 2021
Richard Heller Gallery is pleased to present: Hunter Potter - I'll Wake Up Older.

In Hunter Potter's California solo debut, the artist presents an intentionally exaggerated and overly nostalgic portrayal of what it was like to grow up in a rural American small town, where one chose to become an athlete (as seen in Football Season Is Over), a scholar, a stoner, etc., and subconsciously began to form an identity. The show covers everything from early relationships, to school spirit and comradery, to finding one's early identity as a "good kid" or "bad kid" through partying and mistake making, drug use, and loss. Character building events.

Two types of moments are presented throughout I'll Wake Up Older - those which seemed huge at the time, such as a busted house party in All Good Things Must Come to an End (which, in actuality, was just an insignificant speed bump in the journey of growing up) juxtaposed with events that actually were enormously transformative, such as an early relationship in Could He Be Any Cooler, or the death of a friend in Forever Young (which is the reality check of the exhibition—the moment when the cracks of life began to show themselves).

Potter shares "I don't think I realized how impactful my first funeral was, especially for someone I considered a peer, until many years later. At the time, I was just going through the motions and showing support and now, looking back, it's like 'holy shit.' That was the beginning of adult reality showing its ugly face.

It's an interesting time to document the experience of growing up in small town America. It almost feels like some kind of proof that there was positivity to that upbringing. America is being watched like a car wreck by the world at large and I'd like to think these works somehow sway that tide. I'm proud of how I came to be me.

This exhibition represents a celebration of those times - a gratitude and an indebtedness to those times and how they influenced my adulthood. It's a tribute to the American small town. A thank you letter!"

Hunter Potter was born in 1990 in Syracuse, NY, and raised in "a nice little farm town, about thirty minutes outside of Syracuse." Potter graduated from the University of Vermont with a degree in Studio Art in 2013.

Potter was the recipient of the Roger Smith Artist Fellowship at the Vermont Studio Center in 2018. Other residencies include the Plop Residency 2019, London, UK and The Fores Project, London, UK in 2020.

Recent solo exhibitions include I Ain't Half The Man I Wanted To Be, Public Gallery, London, UK; and Happy To Be Here, Deli Grocery New York, Brooklyn, NY. Recent group exhibitions include, Then & Now, Allouche Benias Gallery, Athens, GR; DontGiveADamns, Marian Cramer Projects, Amsterdam, NL; and Black and White vs. Color, Richard Heller Gallery, Santa Monica, CA.

This will be Potter's first solo exhibition at Richard Heller Gallery. Potter lives and works in Brookyln, NY.