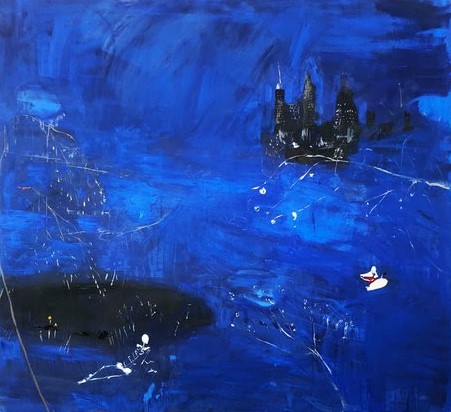 Alissa McKendrick: Electric Guitar Players | Diane Kotila: Boy Kings
👀
3311 East Pico Blvd, Los Angeles, CA
Mar 13, 11 AM - 5 PM — ends Apr 17, 2021
Alissa McKendrick: Electric Guitar Players
March 13 - April 17, 2021
de boer gallery is pleased to announce a solo exhibition and limited edition publication of new paintings by Alissa McKendrick. In McKendrick's first exhibition with de boer, New York based McKendrick presents a collection of paintings depicting female guitarists.
McKendrick composes enigmatic, semi-narrative scenes against fields of emotive color. Her pictures hover between whimsy and the macabre, merging playful daydreams with nightmares. A lightness of painterly touch and stylistic playfulness bely her vaguely ominous subject matter. While never quite sinister, the fantastical scenes always contain a hint of nefarious magic. Her musicians - who all play unplugged electric guitars - perform songs to enchant the likes of skeletons, witches, and mermaids. Fantasy and absurdity, as well as a certain visual precariousness, barely obscure these paintings' heavy symbolism and emotional realities.
The compositions and structural relationships create a complex relational sum. In one large painting, a frail skeleton is seen from behind, laying in a wispily rendered dark blue field. Although the skeleton's posture appears to be one of repose, its torso, propped up by its arms, is strangely alert. It stares at a distant group of skyscrapers; meanwhile, a small female figure, positioned between the foreground figure and the far-off cityscape, clutches an electric guitar, serenading or even necromancing the subject - as well as the viewer. The playful reference to Andrew Wyeth creates a quasi-narrative Edwardian gothic episode. Like Wyeth's painting, which he titled Christina's World (1948), the painting is more a psychological landscape than a pictorial one, a portrayal of a state of mind, rather than a real or imagined place.
There is a reserve and quiet confidence to McKendrik's paintings, which let viewers question and oscillate between their own positions of identification: are we the conjuring musicians, or their bewitched audiences?
Alissa McKendrick (b. 1984) attended Rhode Island School of Design, Providence, RI. She has had solo exhibitions at Collaborations, Copenhagen, Denmark; Team Gallery, New York, NY; Real Fine Arts; Brooklyn, NY. Group exhibitions include; Galerie Crévecoeur, Paris, France; 68 Projects, Berlin, Germany; White Columns, New York, NY; Alex Zachary, New York, NY; Greene Naftali, New York, NY; Y2K Group, New York, NY; and Mercy Pictures, Auckland, New Zealand.
----------------
Diane Kotila: Boy Kings
March 13 - April 17, 2021
de boer gallery is pleased to announce a solo exhibition and limited edition publication of new paintings by Diane Kotila. In Kotila's first exhibition with de boer, New York based Kotila presents oil on linen paintings paired with sketches and works on paper.
In this series of paintings Kotila depicts Pharaoh Tutankhamun, often referred to as the 'boy king,' and images of the young Egyptian water boy Hussein Abdel Raasoul who is tied to the discovery of Tutankhaman's tomb. Writing about her approach, Kotila has described her painting as "an exploration of historically and culturally familiar portraiture." A research heavy examination similar to the excavation of tombs; dirty and messy with moments of clarity and discovery.
In one painting, the young boy king is represented with black eyes and a gaze as dark and uneasy as the rudimentary set of marks it is treated with, a gaze that evokes the full range of human emotion. No absolutes exist in this realm of interpretation, isolating figures whose sexual ambiguity is slippery and deceptive. The coarseness of Kotila's brushwork creates an absence of the idealization of this historical event. The end result is a richly varied handling of paint, deeply layered and often intentionally haphazard, which suggests form and space in both an illusory and highly individual manner.
Matthew Higgs has described Kotila's paintings "as distinct as Philip Guston, Leon Golub, Bruce Nauman, and Joyce Pensato, among others, Kotila's work ultimately seeks to both illuminate and interrogate the violence – emotional, psychological, and societal – that continues to shape and condition La Comédie humaine." Rupture and fragmentation prevail in these visceral works that are characterized by oppositional formal devices, with a sharp emotion that actively explores uncomfortable truths.
Diane Kotila (b. 1965) Studied Fine Art at Western Michigan University, Kalamazoo graduating in 1986. She lives in Seattle and New York and has exhibited at Sotheby's S2 in London and White Columns, New York, NY. Her work has also been presented at Miart, Milan by Anthony Reynolds Gallery (2018); S|2 London gallery, Sotheby's, London (2019); and by Kenny Schachter at the Felix Art Fair, Los Angeles (2020.)
----------------
de boer gallery is located at 3311 E. Pico Boulevard in Los Angeles. For further information and images, please visit deboergallery.com or email the gallery at
info@deboergallery.com
.
Pictured: Alissa McKendrick, Untitled, 2021, oil on canvas, 70 x 75 in. ( 178 x 191 cm.)