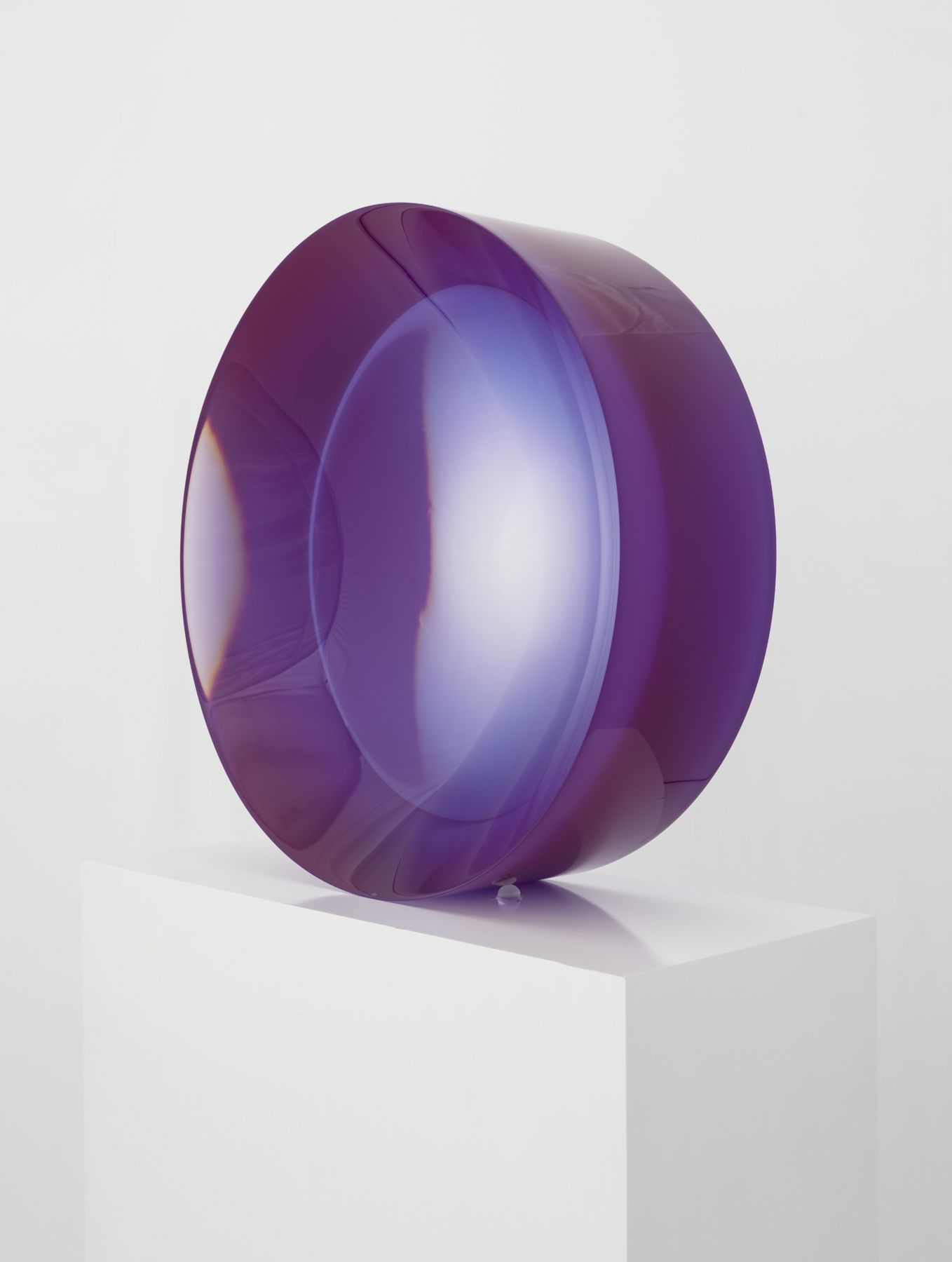 Fred Eversley: Recent Sculpture | Lucy Bull: Skunk Grove | Tom of Finland: Pen and Ink 1965 – 1989
5130 W. Edgewood Pl. Los Angeles, CA 90019
Mar 20, 10:30 AM - 5 PM — ends May 01, 2021
The gallery is open by appointment only and visits are free. Reservations are available at
www.davidkordanskygallery.com/reservations
------------------------
Fred Eversley: Recent Sculpture
March 20 – May 1, 2021
www.davidkordanskygallery.com/exhibitions/fred-eversley2
'Recent Sculpture' features the first new work Fred Eversley, 79, made over the last two years in New York, where he has been living and working after leaving the Venice, California studio he had previously occupied for five decades. The exhibition includes constellations of unique Parabolic Lenses and a group of rare horizontal lenses whose subtleties of pooled color provide a dynamic evolution of Eversley's vocabulary and a different physical perspective by which to experience his concerns with energy. Taken together, the works in the show find Eversley exploring new chromatic relationships and the broadest spectrum of transparency and luminosity.
A key member of the group of artists associated with West Coast Light and Space, Fred Eversley spent his formative years as an engineer in the aerospace industry before developing a series of processes and specialized tools that enabled him to produce the first of his iconic Parabolic Lens sculptures in the late 1960s. The lenses, which Eversley continues to refine and elaborate today, constitute a sustained body of research and investigation that has few equals in the postwar era. As visual and metaphysical focal points, they are immersive and enigmatic objects that are focused in presentation but cosmic in scope. Eversley's ability to harness the naturally occurring energies brought into relation by the parabola results in effects of light and color that are responsive to a multitude of real-time factors: the ambient conditions of the viewing space; the position of the viewer's body; and the psychological qualities and philosophical considerations that are inseparable from perception itself.
------------------
Lucy Bull: Skunk Grove
March 20 – May 1, 2021
www.davidkordanskygallery.com/exhibitions/lucy-bull
'Skunk Grove' at David Kordansky Gallery presents new paintings by abstract painter Lucy Bull. Bull's paintings are visceral works that appeal directly to the senses. Synesthetic fields of shape and color, her paintings are described in sonic, tactile, or even emotional terms that evade rational logic and are distinctive to each viewer. This tension between the paintings' bracing, unexpected materiality and the subjective responses it elicits engenders something akin to transformation: as their formal attributes function as visual bait, the eye is drawn into the atmospheric spaces of each composition before encountering a seemingly limitless number of associative openings. Worlds take shape across their varied surfaces and just as quickly fall away again; similarly, just when the act of looking generates optical overload or disruptive dissonance, Bull's accumulations of marks reveal discernible traces of planning and hard-fought negotiations with her materials, leading the viewer back toward the concrete realities of pigment, medium, and surface.
The gestures that animate the works in 'Skunk Grove' gravitate toward several overlapping categories. They include daubed, gauzy veils; illusionistic swirls and stratifications; and networks of scratched marks that give way to underlying areas of paint. When followed from one work to the next, these serve as guides into the unknown territories that crystallize on the canvas. But they also allow Bull to break down the temporal experiences of producing—and seeing—painting. Unable to discern what came first or last, time and space appear for artist and viewer alike as elliptical, self-generating feedback loops. The effect is a kind of rapturous disorientation, one made more intense by Bull's color combinations, which reach toward the ethereal, border on the grotesque, and expose the tender, vulnerable places where conscious and unconscious collide. As she engages in these open-ended painterly experiments, Bull makes room for both precision and abandon, inviting viewers to participate in ever-unfinished processes of creation that she can choreograph but never fully control.
------------------
Tom of Finland: Pen and Ink 1965 – 1989
March 20 – May 1, 2021
www.davidkordanskygallery.com/exhibitions/tom-of-finland2
Curated in close collaboration with Tom of Finland Foundation, 'Tom of Finland: Pen and Ink 1965 – 1989' features finished and preparatory drawings in a range of media, including pencil, pen, ink, marker, and gouache by Tom of Finland (born Touko Laaksonen), who has long been recognized as one of the 20th century's great visual innovators. The works on view in this exhibition demonstrate the breadth of graphic production key to Tom of Finland's creative output throughout his lifetime.
A masterful draftsman, Tom produced an expressive body of work that depicts masculine, empowered gay men fully enjoying their sexuality, engulfed in intimate moments of unabashed joy and pleasure. This exhibition showcases the artist's diverse material approaches to his meticulous figurations—including sharp pen and marker linework, ink washes, as well as delicate pencil shading—that exemplify the boldness of his vision and the virtuoso qualities of his hand. With their skillful observation of light and classical composition, and their images of muscular men engaged in complex motions, the drawings reveal formal concerns that call to mind the work of Caravaggio and Rembrandt.
Tom made many of the works featured in 'Tom of Finland: Pen and Ink 1965 – 1989' with pen, ink, and marker for the purpose of reproduction in publications. The printed medium provided a space for Tom to produce and disseminate his fantasies in the fullest possible capacity. An important precursor for many later underground LGBTQ zines, Tom's work was presented in graphic novels such as Trucker's Delivery (1965), Sightseeing the Guards (1973), Circus (1975), Greasy Rider (1978), and perhaps most notably, the collection of 26 Kake comics (1968–1986) titled after the namesake protagonist—the artist's recurring alter ego. A pen and ink picture from Kake in the Wild West (1982), for instance, shows the escapades of a leather-clad Kake in a cowboy western bar, documenting the convergence of two gay communities in an era still grappling with the criminalization of homosexual love. Tom radically hijacked traditional masculine roles; throughout the show, his emboldened cowboys, sailors, and bikers engage in couplings at turns boisterous, erotic, idyllic, and tender.
Throughout his body of work, Tom gave legendary form to an imaginative universe that helped fuel real-world liberation movements and enabled gay men to have agency over their sexuality in new ways. His revolutionary representations of the male body responded to his own desires and real-life experiences, drawing from careers in advertising and the military and existences in Finland and Los Angeles. In turn, he not only imagined but also materialized a world that celebrates the boundlessness of desire, inspiring generations of artists and people of all kinds to embrace the empowering, libidinal forces in each of us.