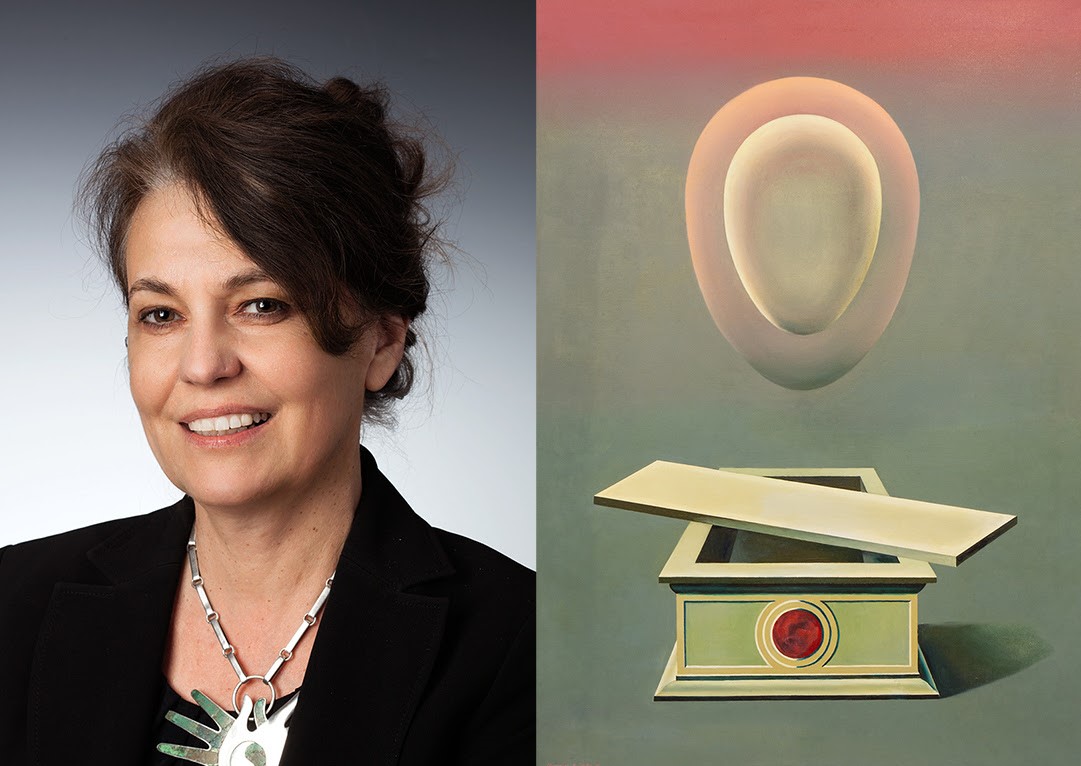 Zoom Tour of Clarence Holbrook Carter: American Surrealist
812 North Highland Avenue Los Angeles, CA 90038
Feb 25, 12 PM - 1 PM — ends Feb 25, 2021
Please join us and art historian Marianne Berardi
for a Zoom tour of
Clarence Holbrook Carter: American Surrealist,
on view at VSF in Los Angeles.
Next Thursday, February 25
12pm PST / 3pm EST
Register here:
us02web.zoom.us/meeting/register/tZYvduygpzMtHtTLZCH4vHT09ZucvRoLMPfA
More info about the exhibition:
www.vsf.la/clarence-holbrook-carter-american-surrealist/
Marianne Berardi holds a PhD from the University of Pittsburgh (1998: Science into Art: Rachel Ruysch's Early Development as a Still-Life Painter). Throughout her art historical career, she has paid particular attention to the contributions of women artists, who were traditionally left out of the art historical canon. Holding degrees in both American and Dutch seventeenth-century art, she has worked in both fields. She has been the recipient of Kress, Mellon, American Association of University Women and Theodore Rousseau Fellowships. She has taught art history at the University of Pittsburgh, the Kansas City Art Institute, John Carroll University, and Case Western Reserve University. She is a former director of the Albrecht-Kemper Museum of Art, St. Joseph, Missouri and the Cleveland Artists Foundation, Cleveland, Ohio, where her tenure at the latter ignited her scholarly interest in the rich art history of Cleveland to which the story of Clarence Carter belongs. Over the course of her career, she has curated over 60 exhibitions; authored books, scholarly and popular articles, and exhibition catalogues in her twin fields; and worked for two auction houses as a painting specialist. Currently, Berardi serves as Senior Specialist and Consignment Director of European Art at Heritage Auctions, Dallas, Texas. A specialist in Dutch still-life painting, she is the recognized scholar on the work of Rachel Ruysch (1664-1750), one of Holland's premier flower painters and its most successful woman artist. Her forthcoming book on Ruysch will be published by Lund Humphries, London; she is also bringing to completion her catalogue raisonné of the artist's oeuvre.
Clarence Holbrook Carter (b. 1904, Portsmouth, OH, 1904—2000) attended the Cleveland School of Art, OH from 1923 - 1927. Carter held solo exhibitions at the Museum of Art, Carnegie Institute, Pittsburgh, PA; High Museum of Art, Atlanta, GA; Minneapolis Institute of Arts, MN; Oklahoma Art Center, Oklahoma City; New Jersey State Museum, Trenton; Cleveland Art Center, OH; Milwaukee Art Institute, WI; Arnot Art Museum, Elmira, NY; Akron Art Institute, OH; Suffolk Art Museum, Stony Brook, NY; Feragil Galleries, New York, NY; and Findlay Galleries, Chicago, IL. He was included in group exhibitions at the Whitney Museum of American Art, New York, NY; Museum of Modern Art, New York, NY; Metropolitan Museum of Art, New York, NY; Corcoran Gallery of Art, Washington, D.C.; Art Institute of Chicago, IL; Brooklyn Museum, New York, NY; Nelson-Atkins Museum of Art, Kansas City, MO; Dallas Museum of Fine Arts, TX; Los Angeles County Museum of Art, CA; Cincinnati Art Museum, OH; Cleveland Museum of Art, OH; Pennsylvania Academy of Fine Arts, Philadelphia; and the National Academy, New York, NY. Carter is included in the public collections of Whitney Museum of American Art, New York, NY; Metropolitan Museum of Art, New York, NY; Museum of Modern Art, New York, NY; Smithsonian American Art Museum, Washington, D.C.; Victoria and Albert Museum, London, UK; Corcoran Gallery of Art, Washington, D.C.; Philadelphia Museum of Art, PA; Brooklyn Museum of Art, NY; Cleveland Museum of Art, OH; and Columbus Museum of Art, OH.