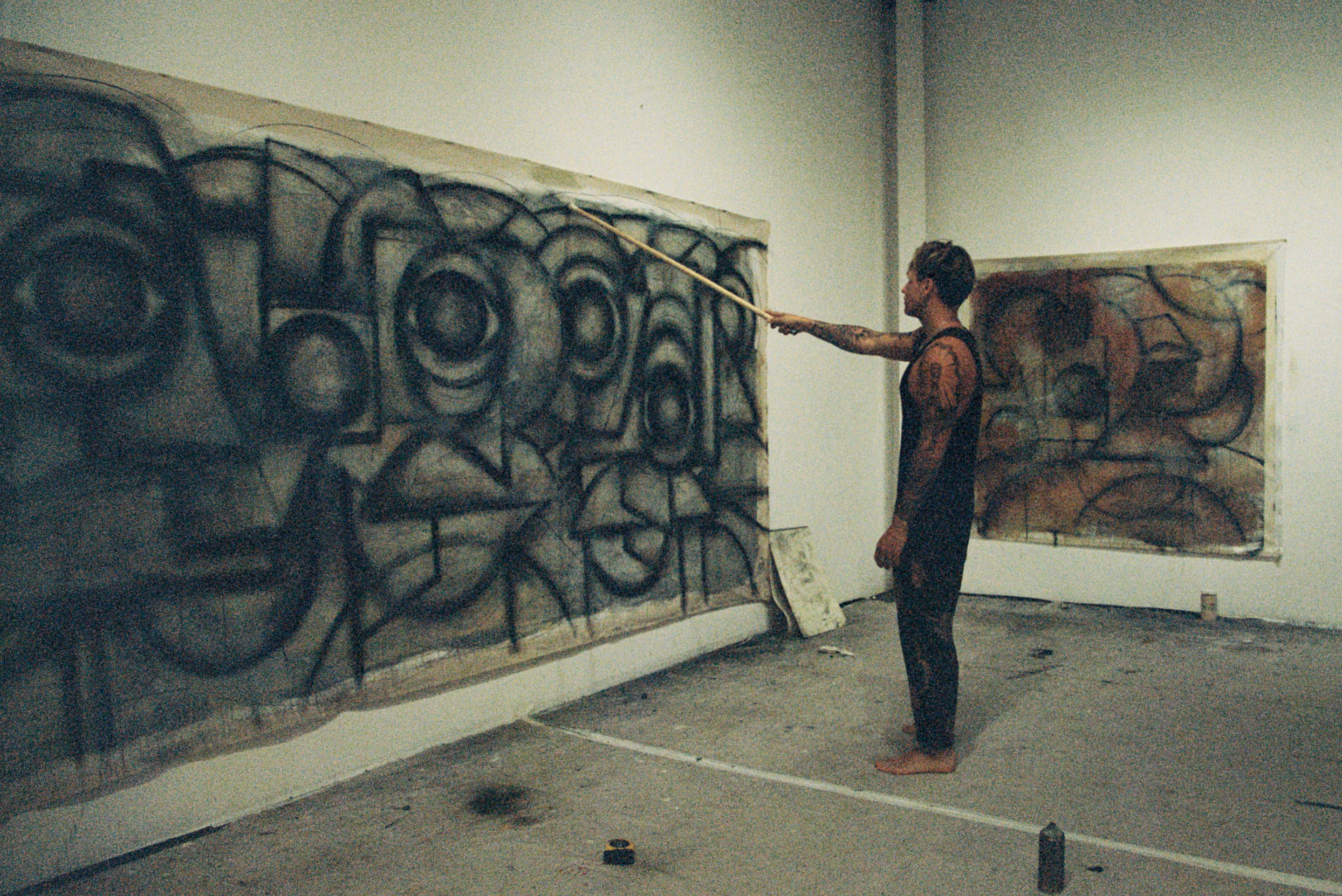 Devon DeJardin: Umgestalter (Shifter of Shapes)
749 E Temple st
Apr 22, 7 PM - 9 PM — ends May 09, 2021
The second solo exhibition from Los Angeles based multimedia artist Devon DeJardin opens at DENK gallery in April. 'Umgestalter', will consist of twenty new works on canvas, paper, and sculpture that complement and evolve from the Guardians series that rose DeJardin to prominence in 2018.

Contrasting the figurative fullness of his Guardians series, DeJardin's new body of abstracted work reflects the current era of pandemic-related strife, and encapsulates the uncertainty faced by all of us, as we wrestle with questions of the future.

The title of the show, Umgestalter, means "shifter of shapes" or the "transformer" in German. It refers to Rilke's The Man Watching which recollects the biblical story of Jacob wrestling with an angel, and the consequential oncoming storm. Rilke suggests that the struggle with that which outmatches us enables humanity to strive against greater and greater things, calling the coming storm of this showdown Umgestalter.

DeJardin draws on this motif of wrestling with the angels, by reflecting upon his own challenges, and the storms that followed them. Umgestalter speaks to the way DeJardin's past depression and anxiety have shifted his own shape, alongside the evolution of how he as an artist has abstracted the forms of his Guardians. Simultaneously, it contemplates how the present pandemic has altered the shape of society.

DeJardin's initial God-like Guardians acted as spiritual custodians, offering universal hope, stability and comforting companionship. In his new works, these part-human, part-animal, part-deity figures have matured to sombre toned geometric forms. In contrast to the bold, deep reds, yellows and purples of the original Guardians, the new paintings adopt storm-like hues, that accurately reflect both this tempestuous period, and our stony resilience to it.

About Devon DeJardin

Devon DeJardin is a self-taught, multimedia artist from California. Born in 1993, he wrestled in his adolescent years with severe depression and anxiety, finding refuge in crafting art and in pioneering as a fashion designer, where he specialized in men's wear. DeJardin graduated from Azusa Pacific University. During his college years, he studied world religions and how different cultures presented the narrative of spiritual protection before exploring these ideas and narratives on canvas and in sculpture. Coates and Scarry hosted his first exhibition, Guardians, which premiered in 2018 and sold all of its often six-foot-tall canvases.

Umgestalter is DeJardin's second exhibition. DeJardin's new series exists in an abstracted Neo-Cubism, paying homage to great cubists like Picasso and Duchamp while at the same time evoking an abstraction of forms that sits somewhere between the sculpted environments of Louise Nevelson and the whorled webs of Lee Krasner's later oeuvre.