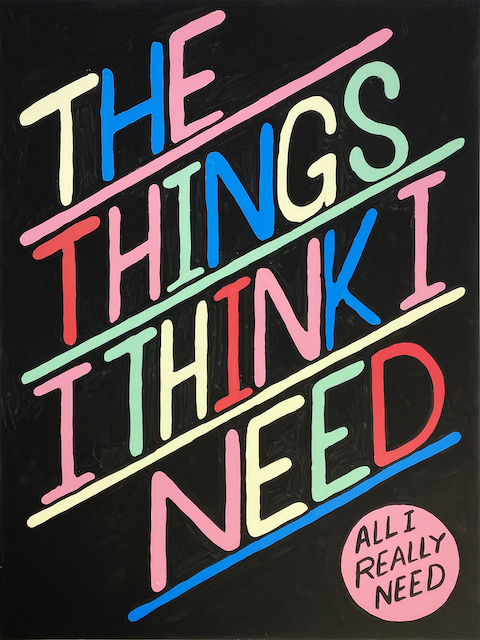 Studio Jeremyville: The Things I Think I Need and What I Really Need
👀
807 S. Los Angeles Street, Los Angeles, CA 90014
Mar 13, 12 PM - 6 PM — ends May 01, 2021
"The Things I Think I Need/ and What I Really Need"

The title work "The Things I Think I Need/ and What I Really Need" is about rethinking the notions of what is truly important to us, and to strip back life to its essence. These artworks are a more developed and pared-back iteration of Jeremyville's 'Community Service Announcements' message-driven art that's been developed since 2010. The painted, graphic style is a progression from that: more abstracted rather than literal.

These works represent Studio Jeremyville's journey through painting, drawing, and sculpture, to arrive at a series of large scale works that helped navigate life during the lockdown months.

The body of work was created almost entirely during the Studio's time in quarantine and represents some of artist Jeremyville's innermost thoughts, and personal reassessment from a sense of solitude that we all felt. A time that brought up lots of questions about life, our future, our relationship to other people, and the things that matter most in life. Self-isolation offers us a time of introspection, to reflect on the things that truly matter, and to re-evaluate and question the way we used to exist in this world, pre lockdown.

"The Streets of Jeremyville"

The exhibit features the latest series of one-off hand carved, hand painted wooden sculptures, from the 'Streets of Jeremyville' ongoing project. A pavement that builds over time, populated by Jeremyville characters in various stages of movement and activity. Pop cultural references are weaved into each character, such as abstracted sneaker logos, skateboards, street art, t-shirt graphics, and characters holding shopping bags from the brands Jeremyville has collaborated with, such as colette in Paris.

Further cultural references will soon be added to this ongoing collection of around 15 inch high sculptures. The stance of Jeremyville's art is connection, and the message is about an egalitarian approach to art, the democratization of beauty and aesthetics, for everyone, not just the elite.

These 7 one of a kind, hand-carved wooden sculptures in the show, are finished in acrylic pastel colors, that bring to mind a stroll along the sidewalk on a Summer's day in New York. This 'Streets of Jeremyville' series brings to life a world of imaginary Jeremyville characters inspired by Jeremyville's observations from the streets of his studio in New York and Brooklyn, or characters taken from the pages of his sketchbook, that he draws in at his favourite cafe.

Jeremyville starts each day by taking his sketchbook to a local cafe. He hangs out and draws the energy of the street, or creates a random imagined character, inspired by the world around him.

These sculptures are named after the streets of New York where the artist often walks, including a giant 7-foot female character in motion, titled "Broadway", reflecting the energy, youth, color and hustle of the streets.