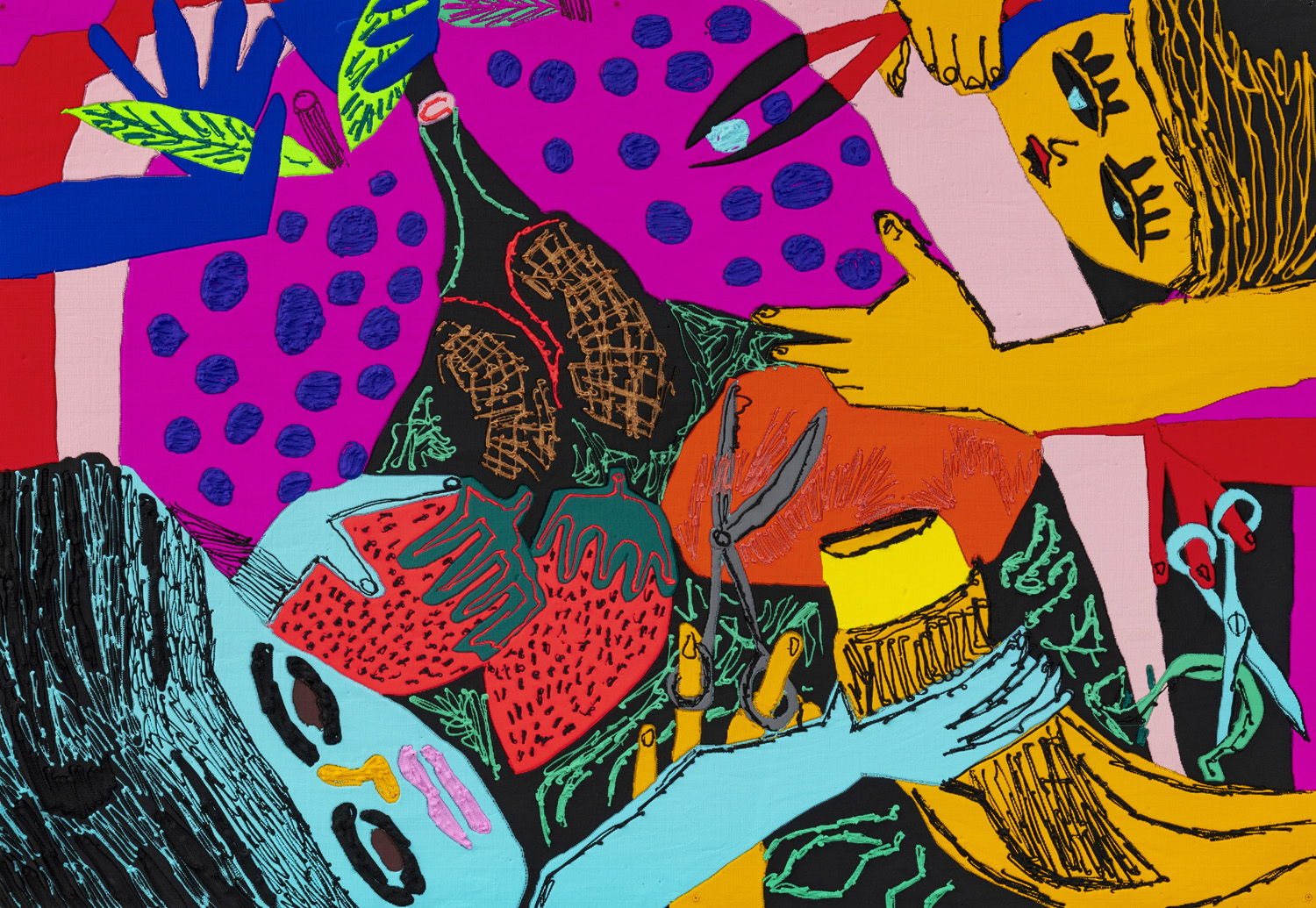 Summer Wheat: Anything Can Happen | Diana Al-Hadid, Sarah Peters, and Sue Williams: High Contrast
👀
616 N. La Brea Los Angeles, CA 90036
Mar 20, 11 AM - 6 PM — ends May 01, 2021
Shulamit Nazarian is pleased to present Anything Can Happen, a solo exhibition by Brooklyn-based artist Summer Wheat. This will be the artist's second solo exhibition with the gallery.

The paintings in Anything Can Happen continue the artist's exploration of gendered archetypes found in history, relationships to labor, and the monumentalizing of the quotidian. Expanding upon these interests, this body of work considers how the destabilization of our present moment can inspire a more wondrous experience of the everyday.

Impacted by how the fabric of society has become unmoored over the past year, Wheat's new body of work renders our moment of absurdity with equal parts anxiety, optimism and play. In this wavering space where definitions of up and down blur, so do others: sustenance, food, care, and the body all enter a new realm of questioning what is possible. Through exploring this newfound capacity to rethink our day-to-day rules and structures, Anything Can Happen imagines a greater sense of lucidity, wonder, and possibility in an all-too-often dark world.

---------------

Shulamit Nazarian is pleased to present High Contrast, a group exhibition curated by New York-based artist Summer Wheat. Presented in the gallery's second exhibition space, High Contrast features works by Diana Al-Hadid, Sarah Peters and Sue Williams. It will be on view concurrently with Wheat's solo exhibition, Anything Can Happen, from March 20 - May 1, 2021

High Contrast has been organized to provide viewers insight into the practices of artists that have been influential to the development and growth of Summer Wheat's aesthetic and material process. Each artist has been selected for a quality of their practice that Wheat has found particularly informative, in turn providing a reciprocal conversation that links both shows. The notion of high contrast refers to images and objects that display a full range of tones, often with bright and bold features, a commonality found either formally or conceptually in each artist's work. Also central to these artists' practice is a critical examination of specific moments in Art History. Further to this, Wheat was selected Diana Al-Hadid to highlight her relentless exploration of material; Sarah Peters for her keen reinterpretation of figuration in Classicism, with a focus on gendered power dynamics; and Sue Williams for her use of line and lyrical forms that bravely critique social and political relations. Together, many of the themes that are central to Wheat's own practice can be found within the work of this curated group exhibition.