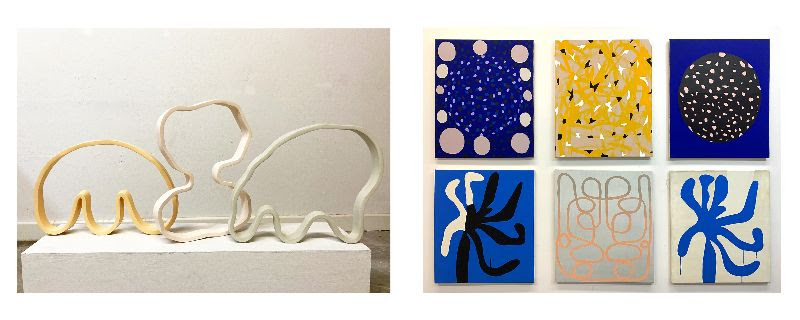 Timothy McMullen and Daniel Alejandro Trejo: Doubt the Edges
1206 Maple Avenue, 5th floor, #523 Los Angeles, CA 90015
Mar 13, 1 PM - 5 PM — ends Apr 25, 2021
On view by appointment only
Email
infomvpmail@gmail.com
to schedule an appointment
Monte Vista Projects is pleased to announce Doubt the Edges, new works by Timothy McMullen and Daniel Alejandro Trejo. In their cross-disciplinary practices, Trejo and McMullen both work with abstract, graphic, ambiguous forms to create works that leave themselves open to the interpretation of the viewer. Doubt the Edges features sculpture works by Trejo and paintings by McMullen. Trejo's linear ceramic sculptures take inspiration from a symbol of violence and loss – the chalk outlines used in forensic investigations. The sculpture's soft pastel hues and open forms encourage exploration while subversively referencing safe spaces, insecurity, and the unknowability of the future. In contrast to Trejo's sculptures, in his recent paintings, McMullen has focused on the practice of making works that escape language by using meditative, simple, and obtuse forms to create a world that allows its inhabitants to re-engage with wonder. Together, the artists' work leaves the viewer to consider forms in space, the various meanings of simple constructions, and the awareness that comes through contemplation.
Los Angeles-based artist Timothy McMullen uses simple forms as portals to re-engage the viewer in the act of looking. Currently he is building The Game of Painter, a studio based game about making decisions without linear outcomes.
Daniel Alejandro Trejo is a Queer, Latinx, visual artist based out of Stockton, CA working in ceramic sculpture with an adjacent practice in curatorial projects. He received his BA in Art Studio and Art History from the University of California, Davis. Subsequent to completing his undergraduate studies, he obtained studio residency at Verge Center for the Arts in Sacramento, where he concurrently taught ceramics to the community as an Educational Associate. Trejo's curatorial projects include organizing Sacramento Zine Fest, and organizing group exhibitions under his collaborative project, Unibrow Collective. The collaborative projects aim to broaden conversations about practices in under-recognized communities in contemporary discourse, and provide curated spaces for many voices, experience, and situations.
Trejo currently holds residency at Verge Center for the Arts in Sacramento, CA where he maintains his studio practice.