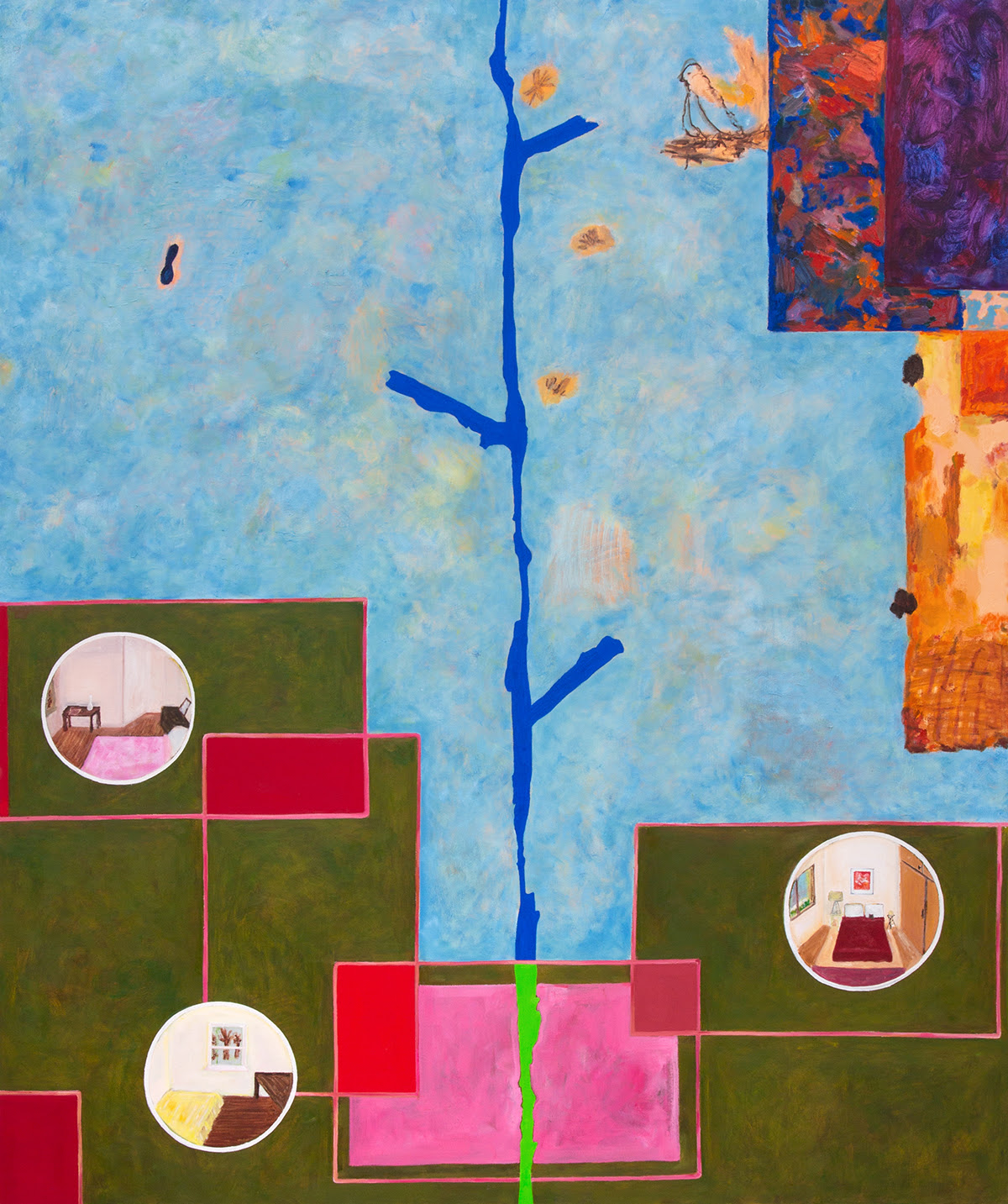 Marisa Takal: Euphoric Recall | Khari Johnson-Ricks: Feel Me?
👀
2276 East 16th Street, Los Angeles, CA 90021
Mar 20, 11 AM - 6 PM — ends May 01, 2021
Schedule an appointment:
nightgalleryappointments.as.me/schedule.php
For inquiries, please email
info@nightgallery.ca
Image above: Marisa Takal, "Understanding," 2021
---------------
Marisa Takal: Euphoric Recall
March 20 – May 1, 2021
OPEN BY APPOINTMENT AND ONLINE STARTING MARCH 20, 2021
Night Gallery is thrilled to present 'Euphoric Recall,' an exhibition of new works by Marisa Takal. This is the artist's third exhibition at the gallery.
Takal's paintings and sculptures concern our idiosyncratic yet routine systems of organization, exploring how each of us make sense of our chaotic worlds, both internal and external. Using vivid colors overlaid with graphic flourishes and bold handmade stenciled texts, Takal's paintings assemble varied motifs into collapsing patterns that brightly echo the repetition, exhaustion, and small triumphs of everyday life. "Euphoric recall" is a psychological term that describes our tendency to remember past experiences in a purely positive light, while omitting all negative associations. Takal's 'Euphoric Recall' is an investigation of the way we connect to ourselves, each other, and the systems we live in.
Throughout the paintings, vignettes of Takal's inner world appear. A corner of a bedroom appears in one painting, a cluster of trees from a birch forest in another, both rendered with curious optimism. Each painting becomes a mirror into the self, both of Takal's and the viewers'. These images serve as portals into dissociative fantasies, illustrations of the artist's own coping mechanisms and the often fragmented and nonlinear nature of our own mental spaces. The intimate memories reflected in these exuberant compositions provide a deeply empathic experience for the viewer, the visual equivalent of a reassuring squeeze, an open-hearted ear.
While themes of domesticity have always been present in Takal's work, here they take on new significance in the wake of "Stay at Home" orders. Her "Psychological Rolodex" is an automated sculpture created to help the artist and viewer reconnect in a moment of extreme historic isolation. Takal's work transforms the former staple of the office into a container for a multitude of emotional descriptors—all in alphabetical order. Takal sourced these emotive words through an online questionnaire circulated at the start of the pandemic. The form requested "three words for each letter of the alphabet to describe your emotional state." By utilizing a mundane and antiquated piece of office equipment, Takal has manifested a literal index of the psychological spectrum we are now collectively experiencing. Her spinning table-top contraption stands as a site of communal catharsis and a monument to our collective perseverance.
Marisa Takal (b. 1991) has shown in numerous solo, duo, and group shows at such venues as Night Gallery, Los Angeles; Marinaro Gallery, New York; Shane Campbell Gallery, Chicago; Otis College of Art and Design Bolsky Gallery, Los Angeles; Jeffrey Stark, New York; Company Gallery, New York; Loyal Gallery, Stockholm; Del Vaz Projects, Los Angeles; and Alter Space, San Francisco. In 2016, she was named the recipient of the Rema Hort Mann Foundation Emerging Artist Award and the Stanley Hollander Award. She lives and works in Los Angeles.
---------------
Khari Johnson-Ricks: Feel Me?
March 20 – May 1, 2021
OPEN BY APPOINTMENT AND ONLINE STARTING MARCH 20, 2021
Night Gallery is delighted to present 'Feel Me?,' an exhibition of new work by Khari Johnson-Ricks. This will be the artist's first solo presentation at Night Gallery, following his inclusion in 2020's group exhibition 'Majeure Force.'
Khari Johnson-Ricks creates intricate, exuberant scenes from paper constructions painted in shellac ink and watercolor. Exploring the illusory potential of paper, the works make use of the medium's graphic flatness to create two forms of depth: one in real space, as cut-out shapes are layered with sculptural dimensionality, and one in the fictive pictorial space conjured from these assemblages. In situ, his tableaux appear like portals to dreamlike realms, while blank passages of paper bring the viewer back into the material plane of the work.
Johnson-Ricks' new work explores fellowship, engaging acts of fiction and poetry to capture moments with kith and kin that feel loving. He asks himself what it means to make a family, community, friendship, when the world is so precarious, when the water rises, when death comes, and when all that is visible is capital. While his older work had been in conversation with vernacular movement traditions and martial arts practices like Shotokan Karate and Jersey Club dancing, which act as covert languages for those most targeted for capital extraction, he now explicitly centers the fantastical and poetic nature of an uninterrupted mundane. The works find their dramatic tension in the context of fragility, addressing his subjects' deep alienation from, and even guilt in the face of, extended moments of peace. In this light, Johnson-Ricks' compositions become testaments to the irrepressible urge of the imagination to metabolize, to reinvent, and to transcend.
Khari Johnson-Ricks (b. 1994) is a multimedia artist whose practice extends across media, including painting, performance, murals, zines, and nightlife spaces. In addition to Night Gallery, his work has been included in group exhibitions at Catinca Tabacaru Gallery, New York; Jeffrey Deitch, Los Angeles; Special Special, New York; and the Elizabeth Foundation, New York, among others. He has created public murals for the city of Newark as part of Mayor Ras Baraka's "Model Neighborhood Initiative" and "Gateways to Newark" Projects. His zines are featured in the library collections of the MET Library, the Whitney Library, and The MOMA Library. He lives and works in New Jersey.