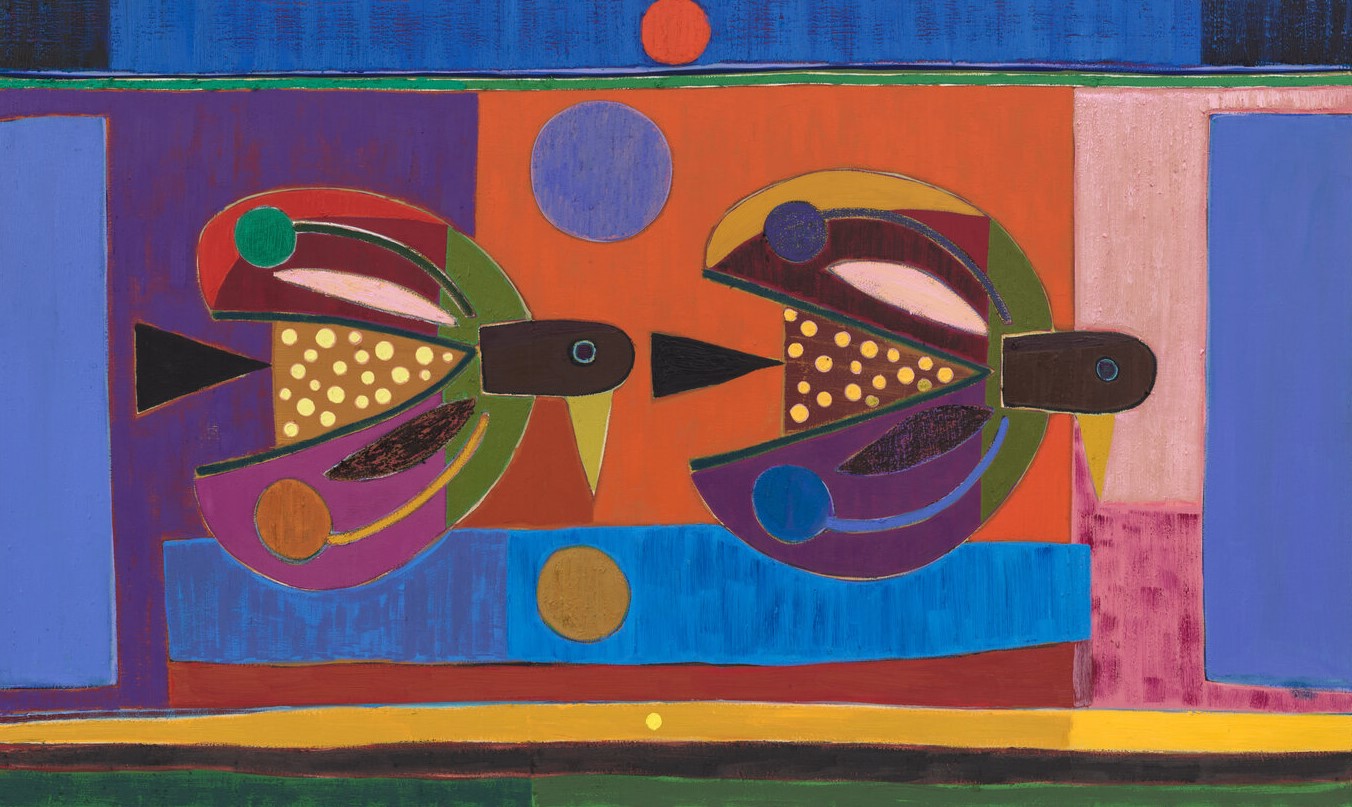 Austin Eddy: Light Reflecting Distance | Craig Kucia & Peter Shire | Erik Frydenborg: Shear Stress
918 Ruberta Ave Glendale, California 91201
Apr 03, 11 AM - 5 PM — ends May 01, 2021
Austin Eddy: Light Reflecting Distance (Pictured)
March 28 - May 1, 2021
The Pit is pleased to present "Light Reflecting Distance", the gallery's first solo show with New York based artist Austin Eddy. On View from March 28th - May 1st, 2021 with a socially-distanced public reception from 11am - 5 pm on Saturday March 27th. The exhibition consists of ten new paintings installed in The Pit's newly constructed third exhibition space.
Austin Eddy's new body of work was conceived and created over the course of the past year. While self-isolating during the pandemic. He became interested in the idea of painting time and light from his Brooklyn studio. At first glance these works call on a sense of sublime escapism through pseudo natural references. During the past decade Eddy has been navigating painting in various forms. Over the past few years his focus has shifted to an exploration of the metaphor of birds and the spaces they occupy. Eddy's semi representational imagery could be considered an attempt to stave off the claustrophobia of anxiety though the visual exploration of widened landscapes and sensory perceptions. The images addressed in these works exist less as singular representations of birds, and more as formal starting points to open a discussion of various aspects of the human condition.
Particularly in this body of work Eddy mines memory and personal experience to construct abstracted narratives alluding to love and longing. Allowing the experience to be constructed through tone and color, the birds become coat racks for emotion. The titles of the works similarly pull together poetic and musical references. He collages geographic locations, weather conditions, light, and literature to allude to muddy feelings and psychological experiences. In particular for this exhibition Eddy has pulled inspiration and the idea for the show title of the poem "Winter Solstice" by Hilda Morley.
All inquiries please email
info@the-pit.la
---------------
Peter Shire & Craig Kucia
March 28 - May 1, 2021
The Pit is pleased to present Peter Shire & Craig Kucia, a two-person exhibition featuring both LA-based artists. On view from March 28 – May 1, 2021, with a socially-distanced public reception from 11am - 5pm on Saturday March 27th, this exhibition pairs new paintings by Kucia with Shire's drawings, ceramics, and two furniture works.
Accessibility is a thematic key that unlocks play in these two artists' oeuvres. Both challenge form and function through serial practices that evoke familiar archetypes and identities by creating attractive, irresistible objects that upon closer investigation, subvert comfortable associations. What Kucia calls a carefully crafted "goofiness" pervades his and Shire's works; a sense of joyous, wild pastiche through uses of repetitive imagery, easily available materials, and bright Pop color schemes invites postmodern conversations about replication's impossibility, aleatory originality, and potentials for resplendence in simulacra.
As Craig Kucia's second exhibition of whale paintings at the gallery, this suite of 17 new works welcomes light bulbs into the mix. What do whales and light bulbs have in common? Two decades deep into painting light bulbs on and off again, this subject is far from new for Kucia. He has refined and scaled down a large-scale canvas practice that proliferated decadent, PoMo-surreal landscapes populated by symbolic objects such as light bulbs, bees, and trees that psychedelically vibrated with early computer graphic vibes. In these new works, sperm whales and light bulbs provide perfect stereotypical fodder for satirical evisceration, operating as vocabulary that taps common conscience despite eluding fixed meanings. Most importantly, they celebrate paint. Lush color, humorous twists, and paradoxical compositional moves generate viewing pleasure and lend these compact paintings magnetic vitality.
Peter Shire's similarly bold aesthetics discombobulate functional objects, like teapots and chairs, as well as public sculptures, like pergolas that provide shade. Shire's works here, that include three framed architectural drawings, two furniture pieces, and six ceramic objects, all reconfigure assumptions about domestic repose, luxury, and vulgarity. Excess is slippery and elastic in Shire's designs; his objects enjoy befuddling judgment. Are minimal forms slathered with emphatic color applications and complicated by drastic scale shifts deviant and grotesque, bastions of elite taste, or both? All the works in this exhibition consider how humans engage with their environments, by reminding us to marvel at unpredictability.
Both artists challenge the notion of function as a basis for their creations. Shire's ceramics continually question what exactly constitutes a "teapot" and whether the viewer is looking at a functional object or abstracted sculpture. Similarly, Kucia's paintings are presented in hand-painted frames. Both bodies of works take inspiration from the domestic space. Kucia's frames create clever plays on narrative and symbolism by creating patterns that play off the scenario painted on the canvases. The frames visually bare more of a resemblance to frames that have been loving painted and discovered at a thrift store than a fine art frame shop. Again, the functional aspect of the object takes a back seat to an opportunity for aesthetic play.
Please email
info@the-pit.la
with inquiries about both artists.
Craig Kucia received his BFA from the Cleveland Institute of Art. Recent solo and group exhibitions include those at The Pit (LA, 2020); Shane Campbell Gallery (Chicago, 2019); IBID Gallery (LA, 2018); and Artist Curated Projects (LA, 2018). His work is included in the collections of Progressive Art, Cleveland OH; Georgia Museum of Art, University of Georgia; Perez Art Museum, Miami FL; High Museum of Art, Atlanta GA; and the Mugrabi Family Collection.
Peter Shire has created ceramics, furniture, toys, interior designs, and public sculptures that reference and parody Bauhaus, Futurism, Art Nouveau, and Art Deco. As a founding member of the Milan-based Memphis design group, Shire has an impressive international exhibition record. Recent and forthcoming exhibitions include a solo exhibition at Nina Johnson (Miami, 2021), and a Memphis Milano retrospective at Vitra Design Museum (Weil am Rein, 2021-2022). Shire attended Chouinard Art Institute in Los Angeles, and his works are included in numerous public collections and museums.
--------------
Erik Frydenborg: Shear Stress
March 28 - May 1, 2021
The Pit is pleased to present Shear Stress, the gallery's third solo exhibition by LA-based Erik Frydenborg. On view from March 28 – May 1, 2021, with a socially-distanced public reception from 11am-5pm on Saturday March 27th, this exhibition consists of five new painted basswood sculptures.
Borrowing concepts and visual grammar from earth science and information studies, Frydenborg continues to collect, warp, and translate graphic sources and illustrated materials from archaic archives and "increasingly obsolete vessels" such as encyclopedias, discarded books, and vintage science journals, into three-dimensional objects that look like remnant, atavistic collisions of primordial past with an unnervingly slick and aggressive future that — if cinema horror holds true — will imminently launch chaos and apocalypse. While his process still includes digitally synthesizing collages to develop design mockups that inspire biomorphic objects, his prior polyurethane plastic and rubber casting practice has morphed into an embrace of quasi-rustic woodworking. A TurboPlane blade on an angle grinder achieves rough shape, while finery occurs through power-sanding; brush-priming; mapping abstract computer-plotted stencils onto surfaces; then hand-painting. This painstaking operation embodies Frydenborg's appreciation of analog / digital interchanges, with nods to handmade toys; vintage anatomical models; indigenous polychrome pottery; and that"country craft aesthetic within a regressively colonial setting" that Folk art occupied in his rural Pennsylvania childhood. While the new materials manipulate and remodel Pop and Kitsch through genre dissection, Frydenborg remains fascinated by disinformation and "well-preserved traces of things that no longer exist." He says that "the idea of even attempting to present a fixed representation of truth seems increasingly outmoded and even ludicrous in the face of our current information ecosystems… The conversion of concrete objectivity into abstract conjecture seems like a good approximation of what memory does to knowledge."
Like fossils or ambered prehistoric insects, these sculptures imply evidence of "intense force: distorting the resting shape of once living information." Shear Stress is a geological term for a deformation response that rocks and land have to environmental disruption, like compression and expansion along fault lines. Evidenced by alterations of texture, partitioning, crenellation, fracturing, or complete mineral restructuring, the study of shear is central to plate tectonics. Along the San Andreas fault, think of how much shear stress surrounds us, manifest in the layered rocks we see exposed in canyons and on hillsides. If information is as unstable and shifty as our physical landscapes, then collection, classification, manipulation, and storage of data is central to survival. Notably, this new body of work was made during what Frydenborg calls "our collective reckoning with epistemic crisis— Q / Stop the Steal / Anti-vaxx … rooted in the balkanization and distortion of facts"; these sculptures indicate poetic efforts to protect, retrieve, and disseminate information. Color palettes borrowed from ergonomic design elements on practical objects such as sneakers and toothbrushes hint at functional use; these are vital communication tools and records as well as natural history museum specimens.
With stretched, extended, and composited lopped off bits of text that accentuate and exaggerate sonic properties, the titles — Krrrilllarrro, Suuulasuuuri — require slurring or speaking in slow motion, like vocals on a Screw Tape or avant-garde poetry. Maybe these utterances are the wood talking, hinting at what details should stick in a dumpster-fire sea of apocryphal anecdote.
Erik Frydenborg received a BFA from the Maryland Institute College of Art, and an MFA from the University of Southern California. Recent solo and group exhibitions include Gated Snare at The Pit(Glendale; 2017); Undertones: Biomorphic Art in Los Angeles at Cal Poly University Art Gallery (San Luis Obispo; 2019) 100 Sculptures at Anonymous (Ciudad de México; 2018) KNOWLEDGES at Mount Wilson Observatory (2017). He has also exhibited at Regina Rex; Team Gallery; Rainbow In Spanish; M+B; M. LeBlanc, Albert Baronian (Brussels), and Shanaynay (Paris).